The proportion of top grades awarded to candidates in this year's Leaving Certificate has risen significantly compared to last year, with the number of students achieving H1s in some popular subjects rising by as much as more than 7 percentage points.
More than 60,000 students have received their results today.
They include just over 3,000 who sat the alternative Leaving Certificate Applied programme.
Grades are up by an average of 2.4 percentage points compared to last year. However the increase is greater across many higher level subjects.
This is likely to fuel a rise in points for many college courses when CAO offers are made next Tuesday.
We need your consent to load this rte-player contentWe use rte-player to manage extra content that can set cookies on your device and collect data about your activity. Please review their details and accept them to load the content.Manage Preferences
The proportion of students receiving a H1 in Maths is up by 6.5 percentage points, from 8.6% to 15.1% of all who sat that exam, while the proportion receiving a H2 is also up, by 2 percentage points.
The proportion receiving a H1 in English is up by 3.2 percentage points, from 4.4% to 7.6% of all candidates.
The proportion receiving a H1 or H2 in Irish has risen by 2.8 and 2 percentage points.
In History the proportion of H1s awarded has risen from 11% to 18.2%.
These increases come on top of 2020 results that were themselves significantly inflated compared to previous years, with a 4.4 percentage average rise recorded last year.
This year's Biology results show the amount of H1s rise from 11.6% last year to 17.4% this year.
Other science subjects have seen similar rises; with rises of 5 and 5.3 percentage points in H1s awarded in Physics and Chemistry, and H1s awarded in Applied Mathematics rising from 29.9% of candidates to 40.9%.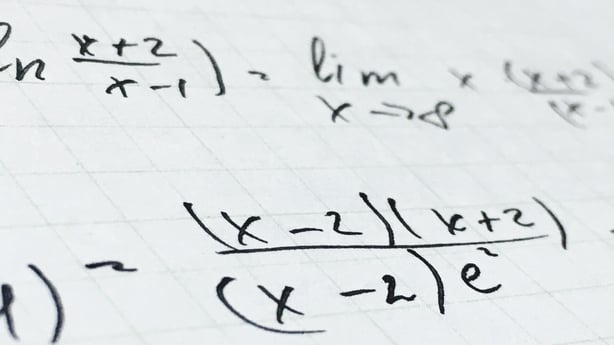 Students can access their results on Candidate Self Service Portal which opened at 10am.
The results come from a combination of accredited grades and exam scores, with students who applied for both receiving whichever grade is higher.
In almost all subjects the majority of candidates - an average of 60% - chose to sit the exams and receive accredited grades.
More than half of all grades awarded will be accredited grades because in 52% of cases it was the accredited grade that was the higher.
But students will not know until next Tuesday which process the marks they have been awarded came from; the exam they sat or the accredited grades process.
Accredited Grades
The vast majority of students (53,680) opted for a combination of exam results and accredited grades.
Accredited grades were arrived at through a process which began with the estimation of marks by teachers and schools, and was followed by a national standardisation process.
While in just over half of cases the accredited grade arrived at by the end of this process was higher than that achieved by the student in the exam.
In almost a third of cases (31%) it was the same, and in 16% of cases it was lower.
The State Examinations Commission (SEC) says estimated marks submitted by schools this year were generally higher than last year.
Most of those estimated marks did not change as a result of the national standardisation process. However 17% of teachers' marks were downgraded, while 6% were increased.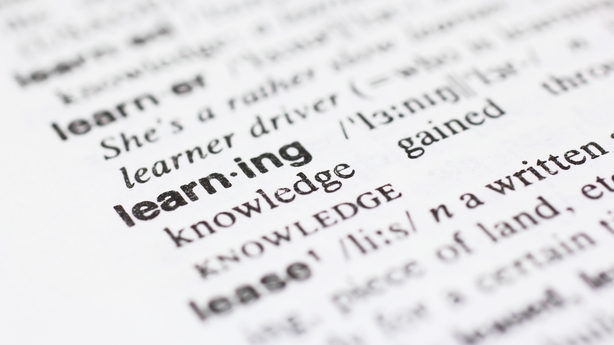 The SEC says standardisation was used to mitigate the effect of over and underestimation in the marks arrived at by schools.
While teachers are good at calculating how an individual student will perform relative to their peer group or former students at the same school, they are less well able to estimate how a student of theirs will perform relative to candidates nationally.
The SEC used aggregate Junior Certificate data from previous years to recalibrate this year's outcomes.
However, no individual student was measured on the basis of her or his performance at Junior cycle.
A significant proportion of candidates registered to sit exams in subjects but later changed their minds.
At the end of this process, the SEC measured the final accredited grades against long established performance patterns related to gender, socio-economic school background, and language of instruction.
Girls generally do better than boys and the SEC found that the accredited grades process resulted in a gender gap that was slightly wider still.
It found the performance gap between DEIS or disadvantaged schools and other schools was less pronounced under accredited grades.
Students who attend Gaelcholáistí normally get better results in Irish. Under accredited grades, this gap persisted but was narrower, the SEC says.
Reduction in numbers sitting exams
The advent of accredited grades meant numbers sitting this year's exams were reduced across the board.
A significant proportion of candidates registered to sit exams in subjects but later changed their minds.
In English, for example, 70% initially indicated a desire to sit the exam and receive assessed grades. However, in the end just over half of all English candidates actually sat the exam.
Meanwhile, 37% of students sat exams in six or more subjects. Just over a quarter of students chose to be examined in three or fewer subjects.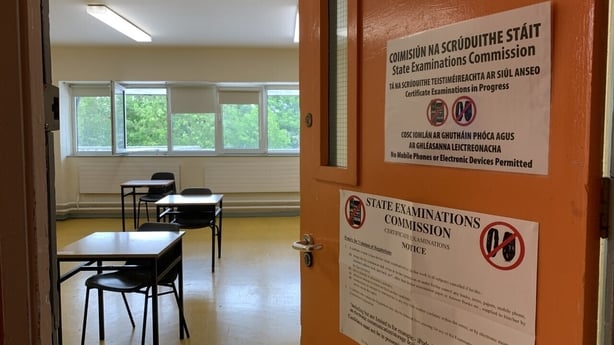 The State Examinations Commission says that, for a variety of reasons, this year's examination results are not comparable to those of any other year.
For one thing there were adjustments made to the papers in order to reduce the pressure on students, both in the exam itself and in the run up.
This year's exams were also marked a little differently.
The SEC says it relied more this year on the expert judgement of its chief examiners and their teams, and less on wider statistical information.
However, notwithstanding this, it says the standard applied was similar to ordinary years.
The Orals
There was some concern expressed earlier this year that the quality of assessment in oral tests may have been compromised by the fact that they were carried out by teachers who were appointed by schools locally.
The SEC reviewed recordings of 940 tests conducted by interviewers across 550 schools.
It says that this review found that the level of variation across this year's oral assessments was "strongly" in line with the norm.
The next steps
Tuesday is the next big day for students for a number of reasons. To those seeking a college place, the CAO will make its first round of offers.
Also from Tuesday evening, candidates will find out how they did in the two separate strands – exams and assessed grades.
They will discover which strand the actual grade they received has emanated from. They will also be able to apply to view their examination scripts and make an application to appeal, should they wish to do so.
A State Examinations Commission helpline for candidates who may need help accessing their examination results is open from 9am this morning, at 1800 111 135 or 1800 111 136.