People are being advised not to book flights or holidays until they have been issued with a valid passport.
The Department of Foreign Affairs made the warning because the Passport Office is currently experiencing what it described as "peak demand" for its services.
It says while passport renewals are being issued within 10-15 working days, first time applications are taking up to 40 working days to process.
TDs across the country are reported to have been inundated with passport queries in recent weeks.
In response, Minister for Foreign Affairs Simon Coveney issued advice that people should not book travel until they are in possession of a valid passport.
In the letter to Oireachtas members on Thursday evening, he said: "Our strong advice to citizens is not to book travel until you are in possession of a valid passport".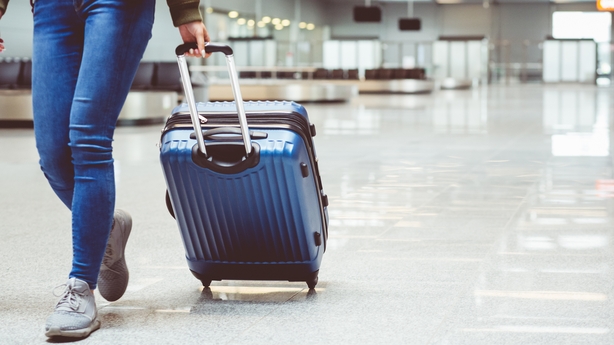 He also advised TDs that current passport turnaround times are: "Ten working days for simple renewals, 15 working days for more complex renewals, and up to 40 working days for first-time applications"
In a statement, the Department of Foreign Affairs said it has issued more than 400,000 passport books and cards in 2021 and that it has now returned to a full service.
But it said first-time applications cannot be expedited due to their complexity and their processing can take longer if the correct supporting documents are not supplied.
In his letter to TDs and Senators, Mr Coveney said his Department will finalise in September a recruitment campaign for more staff for the service.
Sinn Féin's spokesperson on Foreign Affairs John Brady said the issue has arisen because of inadequate staffing in the Passport Office, and he said the minister's inaction has forced people to cancel their international travel plans.
Mr Brady said he had met with the head of the passport office in recent weeks due to the volume of queries he and other TDs have been receiving.
"The core standard in the passport office is approximately 450 staff. At peak times during the summer they would increase that by 200 staff bringing that up to a staff of 650.
"We know there was a massive backlog of 89,000 passport applications due to staff working remotely due to Covid restrictions and a massive influx of first time applications from people in the North as a result of Brexit," he said.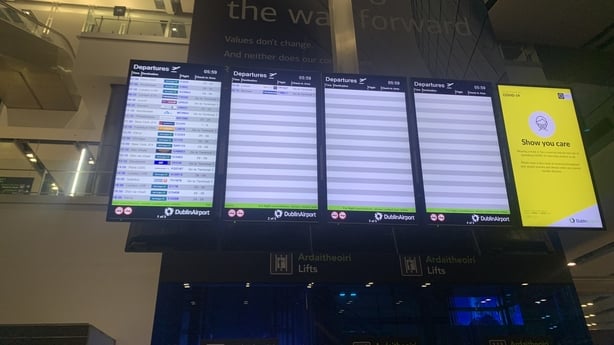 He added: "None of this was taken on board. Unfortunately, the department has only increased staff within the passport service by approximately 50 staff, bringing that up to 500 so there's a shortfall of 150 staff to deal with a massive influx.
"The net result is people unfortunately are having to cancel their travel arrangements due to the inaction by the minister. In September he's hoping to bring forward a recruitment campaign to bring in additional staff within the passport office but unfortunately that will be too late for many families who are in the process of cancelling travel arrangements"
Baby Edmund Bolster was born in March 2021, but lockdown and the cyber attack on the Health Service Executive's IT system, meant his birth certificate was not issued until July.
His parents, who are both frontline workers, immediately applied for his passport but because of a wait of up to two months for first time applications, the passport did not arrive in time for them to make it to a family reunion they had booked in Portugal for early August.
His mother Laura Durcan said: "It was really stressful and miserable and it was incredibly difficult to get hold of anybody who was going to help, and we did not get anyone who was going to help in the end.
"My poor husband, it's been two years since he has seen any of those relatives or any of his family. He works in a hospital, he has had a miserable time and really wanted a little spark of joy to go see people and catch up with his family. It's tough"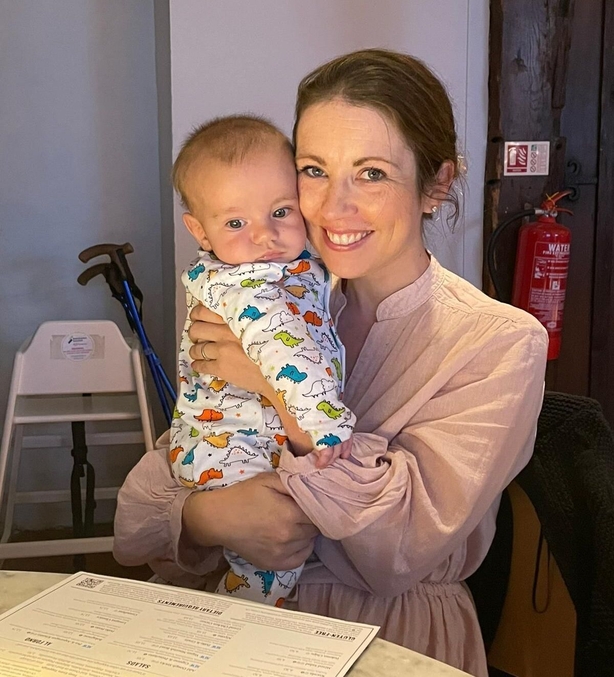 Lydia McDermott also applied for a passport for her baby in July, and fears she will have to cancel her holiday in September because of the issue.
"We were in touch after 20 working days to check on status and they said the application wasn't even opened yet and that it would be at least two months from application being opened. Since then my husband has been trying daily to get in touch with customer service and it seems next to impossible to talk to anyone.
"When their web chat is green and showing available, you click into it and then it is says its full. We have flights booked on 7 September and I don't see us being able to travel. If you look at their tweets and replies you can see some people are chasing for over five months. Surely as an Irish citizen your right to a passport is essential".
A mother of one ten-month-old baby who applied for a passport on 6 June told RTÉ News that she lost all the money she had paid for flights and accommodation when the passport did not arrive in time for the holiday they had booked for 26 July.
"I submitted all our travel details and bookings to try get it speeded up but they didn't accept them. I contacted several local TDs who appealed on my behalf but it didn't make a difference. We lost out on the holiday, flights and accommodation, no refunds.
"I have since checked his application status and the tracking now tells me it won't be processed until 6 October. During my numerous calls I queried why I couldn't go into the passport office and make an appointment to queue up to get it processed. I was told the passport office is still closed due to Covid-19.
"I couldn't believe that it was still closed at this stage when almost everything has reopened, considering that non essential travel dates were announced at the beginning of June.
"Needless to say this has caused a huge amount of stress and upset with having to cancel that kids holiday, especially after having had to cancel their holidays last year due to Covid and losing out on the money for flights and accommodation".
The Irish Travel Agents Association has said it is frustrated and disappointed by the delays people are experiencing in having passports issued.
ITAA CEO Pat Dawson said it is a blow to those wishing to travel and to the travel industry who have had a difficult 18 months.
He said the delays are unacceptable to an industry that is attempting to claw back their business, which he said is at 15-20% of pre-pandemic levels.