The world's youngest country, South Sudan, is marking its first decade in existence today, but while there will be official celebrations, it is a country deeply scarred by conflict and hunger.
"Ordinary people are facing this day in the context where 7 million people are facing the threat of acute food insecurity," says James Wani, Christian Aid's Country Director, speaking from the capital Juba.
"In three out of ten states, there is already a famine-like situation, so this is a very difficult moment for the people of South Sudan. I don't think there is really much to celebrate, other than really a feeling of dreaming and hoping… compared to all the aspirations people had, when looking forward to today."
South Sudan, an oil rich and diverse country of close to 11 million people, won independence from neighbouring Sudan in 2011 after decades of civil war.
At the time there were celebrations and great hopes, but more violence erupted two years later, in late 2013, when South Sudan's President Salva Kiir, from the Dinka ethnic group, sacked Vice President Riek Machar, a Nuer.
The conflict displaced around a third of the population, creating the worst refugee crisis in Africa since the Rwandan genocide in 1994.
The two men have signed many deals to end the war, estimated to have killed more than 400,000 people.
They have repeatedly pushed back deadlines to form a government of national unity, but in February 2020, they finally did so.
Despite the peace deal, violence is still raging in parts of the impoverished East African nation, particularly due to unresolved inter-communal conflict.
"South Sudan is really one of the worst humanitarian crises in the world and one of the most forgotten," UNICEF's Chief of Field Operations in South Sudan Mads Oyen warned this week, saying it had only received a third of the international funding it needed for the country.
"We have the highest percentage of children in need in the world as part of the total population," she said.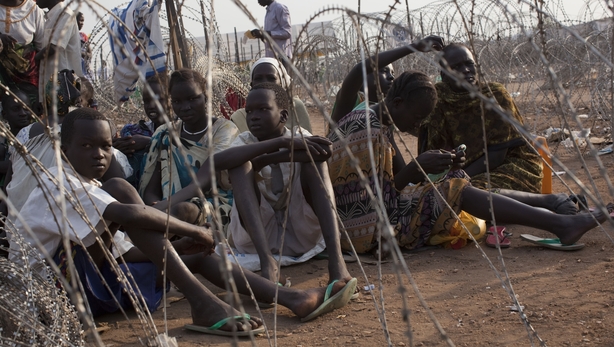 The country has currently 3.2 million refugees who have been forced to flee and 1.6 million internally-displaced people.
James Wani says that peace there has only been "loosely holding" for the last three years, with little real progress made.
"Especially in the implementation of some of the key provisions needed for ushering the country into a much needed era of reform, in which the ordinary people will for the first time, elect their own leader and determine their destiny through a democratic process. That hope has yet to be realised. There are still a lot of militias from the previous conflict that have not been integrated into the peace process, so we have a very fragile situation."
Now, at the start of the rainy season, aid agencies including Christian Aid, are concerned that for the third year in a row, serious flooding could destroy harvests, pushing millions closer to famine.
"We have about 1.5 million children that are facing a very bleak situation," says James Wani. "Eight out of every ten people are now living below the poverty line, which means they don't know when their next meal will be."
"There are a number of reasons why we've gotten ourselves in this situation. We've had conflict raging in the country over the last couple of years and we've also had an Ebola outbreak that has impacted parts of the country and a locust outbreak. Now we have the threat of Covid-19, that has also impacted on the livelihood of the people in the country."
---
Read more: South Sudan's fragile cradle
---
Speaking about the ten-year anniversary, Ireland's Minister for Overseas Development Colm Brophy said: "Ten years after independence, three out of every four people in South Sudan are in need of humanitarian assistance and millions are at risk of famine. South Sudan is currently facing its worst food crisis on record and remains plagued by extreme levels of violence."
Despite last year's formation of a unity government there, twice as many civilians were killed in 2020 compared to 2019 and Minister Brophy says women have been the target of appalling levels of sexual and gender-based violence.
Since it won its two-year term on the UN Security Council in January, he said: "Ireland has brought a focus to protection of civilians and gender issues, highlighting in particular the critical role of South Sudan's women in building lasting peace for their country."
He added: "Since 2012, Ireland has provided €85 million to South Sudan in humanitarian assistance. This makes it the largest recipient of Ireland's humanitarian aid in the Horn of Africa region over that period. This year alone, Ireland has contributed €5 million in humanitarian support to people in South Sudan."
This aid is channelled through the UN and other NGOs working there.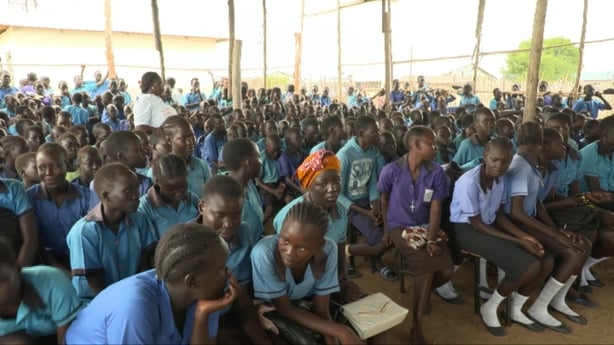 Christian Aid says it has been working locally with the South Sudan Council of Churches to help resolve disagreements peacefully and prevent outbreaks of violence. However, the charity says these efforts have been hampered by a halt in UK Aid, due to cuts to its overseas aid budget, which saw a 59% drop in aid spending in South Sudan. The work is continuing with some funding from Irish Aid.
Support has also been given for communities in the Aweil area, through the provision of farming tools, drought resistant seeds and training in how to plant a wider range of crops.
However Christian Aid says other communities, including Paguir in Jonglei state, are still struggling after heavy rains caused the river Nile to burst its banks last year. The water has barely receded since, forcing some people from their homes, and leaving others in desperate conditions.
The area is now only accessible by canoe, with the nearest market a four-hour canoe ride away. Many people have no choice but to survive by eating lily pads and the situation has been made even more precarious because of the risk of snakebites, as flooding has also pushed snakes to swarm in the same area.
Despite all the obstacles facing his country, James Wani says he has hope for the future.
"I'm very optimistic despite the challenging and more daunting tasks ahead of us, that together, with support from the international community, and people of good will, we can work together and change the situation for the better, but it needs a concerted effort. This is not the time to give up on the people of South Sudan, this is the time to stand up in solidarity with the suffering people of South Sudan."