Democratic Unionist Party leader Edwin Poots has described his first meeting with Taoiseach Micheál Martin as "positive, frank and useful".
Speaking after the talks in Dublin - that lasted for more than an hour - he also confirmed that he will attend a North South Ministerial Council meeting in Dublin on 18 June.
Mr Poots said: "It would be my intention to lead the DUP team to that meeting. I believe that there are important issues that we need to discuss and deal with.
"On the basis that there is going to be a serious attempt to assist in dealing with the (Northern Ireland) Protocol I believe that we should be seeking to help normalise relationships once again."
Mr Martin was pictured elbow bumping Mr Poots as he led them outside Government Buildings after the meeting.
In a statement, the Taoiseach said the two men had "an open exchange of views across a number of issues".
These including political developments, Covid-19, north-south co-operation, and the implementation of the Northern Ireland Protocol.
Mr Martin said he "highlighted the critical importance of the stability and good functioning" of the Northern Ireland Executive and all the Institutions of the Good Friday Agreement "in these challenging times".
The statement also said the two men "agreed to remain in touch over the coming period".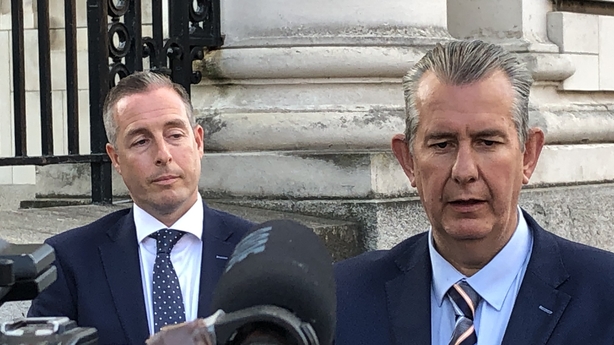 Mr Poots has been highly critical of the Irish Government since his appointment last month, saying its relationship with unionism is "worse than ever".
Speaking before the meeting, he said the Irish Government needed to recognise the damage that has been caused by the protocol.
The talks came amid tensions between the Stormont parties over the non-attendance of DUP ministers at north-south political meetings.
DUP MLA Paul Givan said the north-south relationship is a "very important one", and his party wants to be in a place where it has a "good relationship with our closest neighbours".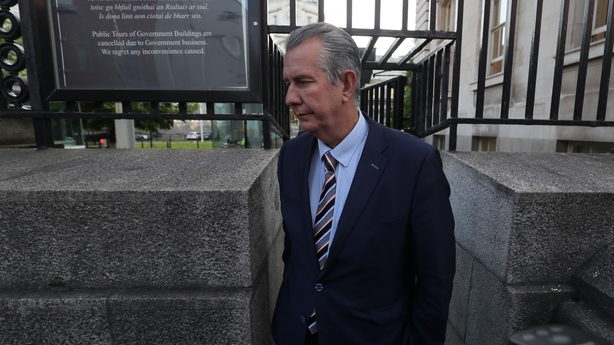 Meanwhile, in an interview with RTÉ's Prime Time, Edwin Poots again criticised Tánaiste Leo Varadkar for his handling of the Brexit negotiations.
The DUP leader said he will not have an issue confronting Mr Varadkar and Minister for Foreign Affairs Simon Coveney and "telling them how disgraceful their actions were".
Mr Poots played down divisions within his party saying he has good support and he had over 70% backing at the meeting where he became leader.
"The DUP haven't done contests before in our 50-year history. It's always been coronations so perhaps we are not the best at doing contests. But nonetheless we all have a vision for our country and we will rally around that vision, the personality things, we will overcome that."
Mr Poots was asked about the perception that he is seen to represent the fundamentalist wing of the DUP and the view that he could accelerate his party's demise.
He replied: "My intention is not to veer to the right or the left. My intention is to broaden the path that we are on and to bring people from the right and left to the Democratic Unionist Party.
He said the DUP is the party that can save the union between Britain and Northern Ireland.
Asked about his comments that relations between Northern Ireland and the Irish Government have never been worse he said that he was referring to his time in politics.
"Since we have had the Belfast (Good Friday) Agreement the relationship has never been as bad and I don't think anyone could argue that is not the case."
Mr Poots was also questioned about how long he would be leaving Arlene Foster in her position as Stormont's First Minister.
He said: "There is a very significant meeting, the British-Irish Council meeting on June 11th. So I believe Arlene would like to lead on that and I would very much like her to do that."
Mr Poots also said he would not be the next first minister as "I want to ensure that I focus on doing some really important work in building our party and I am going to spend a lot of time out in constituency associations and elsewhere doing that."
A spokesperson for Tánaiste Leo Varadkar said that "North-South relations are about more than relations with any one political party.
"The Tánaiste wants to congratulate Mr Poots on his election as Leader of the DUP. He looks forward to working with the new First Minister, Deputy First Minister, and Executive once they are appointed.
"Relations are strained because of Brexit and its knock-on effects which continue to play out.
"Minister Coveney and the Tánaiste were against Brexit as were the majority of people, parties and politicians in Northern Ireland. We are doing our best to minimise the damage to Ireland, North and South. We will not be distracted from that work".