A Dublin city centre bar that held a "boozy brunch" event last year in which social distancing regulations were breached has lost its licences to operate.
The decision by Dublin District Court means Berlin D2 bar on Dame Street will no longer be able to operate as a restaurant or theatre, or as a dance, public music and singing venue.
The footage of a boozy brunch event on 15 August, 2020 at the bar went viral and led to a garda investigation.
A barman danced on the counter and poured shots into customers' mouths during the event, which ran from 1pm to 4pm.
The bar's then manager, Jay Bourke, described it as "30 seconds of madness" at the time. But gardaí examined CCTV footage and lodged an objection to the renewal of its licences.
Inspector John Finucane, from Pearse Street Garda Station, told the court that when he examined the footage, "seconds of madness" was not what he saw.
Prosecuting barrister Tony McGillicuddy said the bar was more concerned with the social media reaction than the public health risks.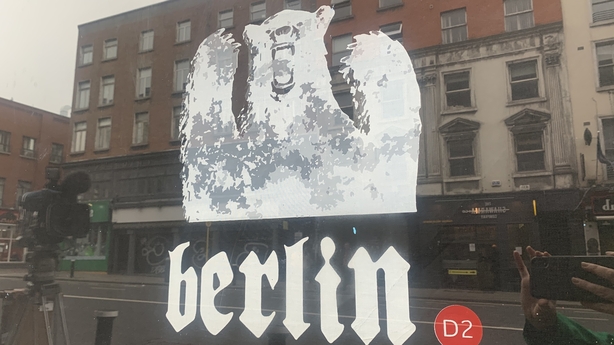 Lawyers for the bar told the judge they conceded public health guidelines were breached in relation to the two-metre social distancing rule, the fact that some staff were not wearing masks at all times and drinks were served at the counter and not at tables.
But barrister Dorothy Collins said no law had been broken.
Mr Bourke had suffered in a trial by social media, she said, and had left the country for a while.
The court heard that the bar was also checked for compliance with regulations on 10 September.
Two revenue officers who booked a table for a meal and some drinks, were told after they reached their time limit, that they could stay longer, if they started a new bill.
Judge Marie Quirke said the venue's conduct on 15 August was "neglectful, irresponsible and disorderly and indifferent to the guidelines". It constituted mismanagement of the venue.
There was a scheme in place to breach guidelines, she said, and the bar's expression of remorse was not borne out by its actions.
The judge said she had considered all alternatives, but found the necessary order was to refuse the company's application to renew its licences for theatre, restaurant, dance and public music and singing, effectively shutting down the venue.