People who have appointments for Covid-19 vaccinations or tests are being encouraged to show up as they are going ahead as planned, despite the ransomware cyber-attack on the HSE's IT systems launched yesterday.
Speaking on RTÉ's Saturday with Katie Hannon programme, HSE Chief Executive Paul Reid said the automated referral from GPs is not functioning but people can go to any of the HSE Covid-19 test sites.
He said close contacts will still be contacted by someone from the contact tracing team and people will get their results as standard.
Mr Reid said the HSE took the online vaccination system offline for a short time yesterday as it wanted to ensure it was stable following the ransomware attack.
He said it is functioning perfectly and urged everyone over the age of 50 to 69 who still needs to register to do so.
The HSE is on target to have administered 250,000 doses by the end of this week, he said.
Overall, 1.5 million people have had their first dose while 11% of the population have had their second dose.
"There is always brief period before moving into the next age group which is the 40s, so later next week that information will be given."
He also said the HSE is expecting notification from the Chief Medical Officer on the National Immunisation Advisory Committee advice that will be given on the use of the AstraZeneca and Johnson & Johnson vaccines.
The Department of Health has said there will be no daily Covid-19 figures update provided today due to the ransomware attack.
Backdated figures will be published "when possible", the Department added.
---
---
Earlier, the HSE's Chief Operations Officer, Anne O'Connor, told RTÉ's Brendan O'Connor programme that testing and vaccinations services are among the organisation's priorities as it deals with the consequences of the cyberattack.
Vaccination centres in Navan, Portlaoise, Longford and Tullamore are now all operating seven days a week, and this is set to continue.
GPs will continue to vaccinate people over the age of 70 and medically vulnerable patients.
Meanwhile, the vaccination centre at the Helix at DCU in Dublin, where GPs from smaller practices can vaccinate their own patients, will operate this weekend.
About 1,800 first doses will be administered there to people in Group 4 who are at high risk of developing severe illness from Covid-19.
In addition, community vaccination teams will continue to vaccinate mental health and disability clients, hospitals will continue to vaccinate the medically vulnerable, while the National Ambulance Service will continue vaccinating housebound people.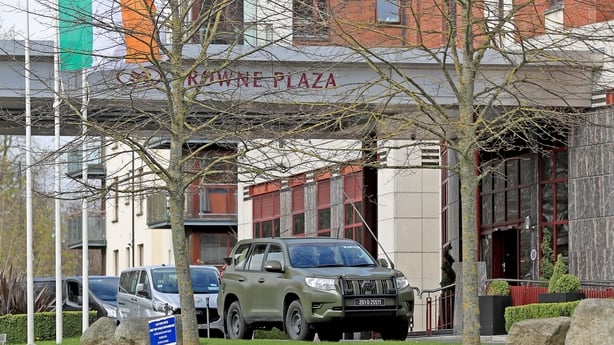 Five nations removed from MHQ list
Meanwhile the Minister for Health has removed five states from the mandatory hotel quarantine list.
People arriving into Ireland from Serbia, Montenegro, Palestine, Iran and Bermuda will no longer have to quarantine in designated hotels on arrival.
However, all arrivals into Ireland must still have a negative pre-departure test for Covid-19 and must observe 'home quarantine'.