The Chief Medical Officer has said it is time for people to "feel hopeful" and to start planning their summer.
From next week inter-county travel resumes for the first time since Christmas, while up to three households can meet outdoors, including in private gardens.
Non-essential retail reopens for click-and-collect, as well as for appointment-only shopping in-store, while personal services such as barbers and hairdressers can also resume trading on an appointment basis.
Galleries, museums, libraries and other cultural attractions can reopen, and adult sports training can resume outdoors in pods of 15.
"We all want the easing of restrictions next week to be a significant turning point in this pandemic," Dr Tony Holohan has said.
"We have worked so hard to reduce the spread of this disease. More than 30% of adults have now been vaccinated with one dose of Covid-19 vaccine in Ireland and it is time to feel hopeful and to start planning our summer.
"The choices we make now are vital to minimise the incidence of Covid-19 throughout May and June. Prioritise being outside and avoid crowds."
Dr Holohan added: "Know the symptoms - self-isolate immediately and phone your GP if you have them. By protecting yourself, you are protecting everyone you know from infection."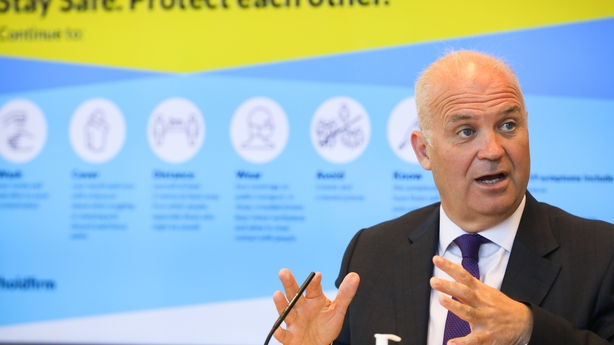 He was speaking after 393 new cases of Covid-19 and eight further Covid-related deaths were reported by the Department of Health.
Three of the deaths notified today occurred in May, two in March and three in February or earlier.
The median age of those who died was 79 years and the age range was 55 - 97 years.
The number of people with coronavirus in ICU is 36, a reduction of one compared to yesterday.
There are 131 Covid patients in hospital in total with 16 additional hospitalisations in the past 24 hours.
Of the cases notified today, 175 are men, 211 are women and 79% are under 45 years of age. The median age is 28-years-old.
---
---
There were 173 cases in Dublin, 42 in Cork, 34 in Kildare, 26 in Donegal, 15 in Meath and the remaining 103 cases are spread across 20 other counties. There were no new cases reported in either Mayo or Sligo.
The total number of people who have died with Covid is now 4,921 while the cumulative number of cases since the pandemic began is 251,474.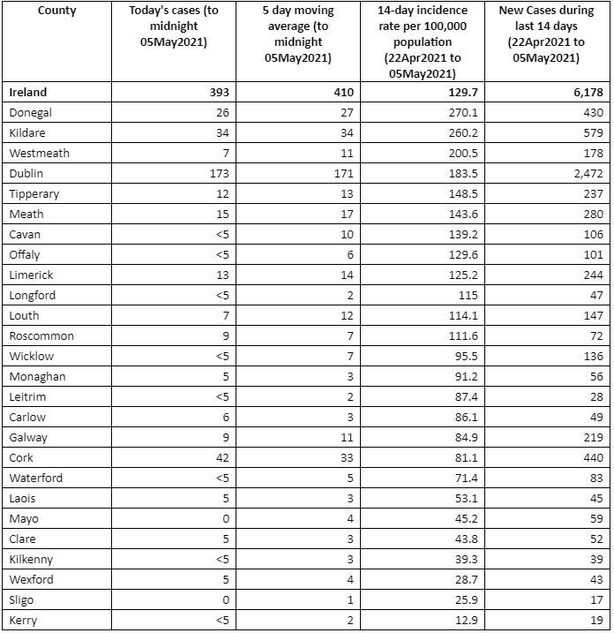 Nationally, the 14-day incidence rate of Covid-19 per 100,000 is 129.7. Counties with the highest infection rates include Donegal (270.1), Kildare (260.2) and Westmeath (200.5).
Counties with the lowest incidence of coronavirus include Kerry (12.9), Sligo (25.9) and Wexford (28.7).
As of Tuesday 4 May, 1,655,866 doses of Covid vaccines have been administered in Ireland. Of these, 1,201,373 are first doses while 454,493 people are now fully vaccinated with two doses.
Earlier, Minister for Health Stephen Donnelly told the Dáil that 2,511 people have entered mandatory hotel quarantine as of 3 May.
72 Covid cases have been detected including nine involving variants of concern but there may be more when more sequencing is done.
Today saw the first doses of the single-shot Johnson & Johnson vaccine being administered through homeless services in Dublin.
Around 700 doses of the Covid-19 vaccine were distributed to a city centre clinic yesterday to vaccinate people who are considered medically vulnerable across 15 services.
It comes as seven confirmed cases of the Covid-19 variant which was first detected in India have been reported in Northern Ireland.
Stormont's Department of Health also reported no further Covid-related deaths along with 102 new cases of the disease.
Also today, an Oireachtas committee heard that young people are under "enormous strain" because of the pandemic and urgent changes to support services are needed to avert a "surefire recipe for a mental health disaster".
Ian Power, CEO of SpunOut.ie, Ireland's youth information website, told the sub-committee on mental health that one in five of young people using a free texting service last year had considered taking their own lives.
The change in restrictions next Monday is bringing about apprehension and anxiety among some people.
Meanwhile it has been announced that Ireland's Olympic and Paralympic athletes will be vaccinated ahead of this summer's Games in Tokyo.
The athletes and support teams, which number in the low hundreds, will receive the Pfizer jab thanks to an agreement between the pharmaceutical company and the International Olympic Committee (IOC).
---
Walk-in Covid test centres - where to go
The Minister for Health, Stephen Donnelly, has revealed that another walk-in Covid test centre for asymptomatic people will open tomorrow in Wexford town.
According to the HSE's South East Community Healthcare Twitter account, it will operate from 10am to 6pm for seven days and no appointment is needed.
It will run in parallel to the existing drive-through (referral only) at the Wexford Test Centre in the town's Whitemill Industrial Estate.
Minister Donnelly also revealed that two additional walk-in centres will open in Donegal at the GAA Centre of Excellence grounds in Convoy (Saturday to Monday, 11am-7pm) and at the GAA Club Car Park, Carndonagh (Tuesday to Thursday next week, 11am-7pm).
?? TWO additional COVID-19 walk in self referral test centres to open in #DONEGAL

GAA Centre of Excellence grounds, Convoy - Sat-Mon 11am-7pm

GAA Club Car Park, Carndonagh - Tuesday-Thursday next week 11am-7pm

Remember these are for people with no symptoms. pic.twitter.com/6c9MB64gDX

— Stephen Donnelly (@DonnellyStephen) May 6, 2021
Other Donegal centres in operation include Milford Co-Op Livestock Mart on Glenkeen in Milford (open until 7pm on Saturday) and St Conal's Hospital Campus in Letterkenny (open until 14 May, 9.30am to 6pm).
A free test centre will also open at Cavan Swimming Pool & Leisure Centre from tomorrow until Monday from 11am to 7pm daily.
Other walk-in Covid swabbing centres open nationwide without an appointment - you just need to bring photo ID and provide a mobile phone number - include:
Randal Óg GAA Club, Dunmanway, Co Cork (until 11 May, 9am to 5pm - closed Sunday 2 May)
TU Dublin, Croí (Block C), Blanchardstown Campus, Blanchardstown Road North (until 16 May, 10am to 6pm)
Ballymun Sports and Fitness Centre, Gateway Crescent, Dublin (until 14 May, 10am to 6pm)
Galway Airport, Co Galway (tomorrow and Monday, 10am to 7.30pm; Saturday and Sunday 10am to 5.30pm)
Ballymullen Barracks, Tralee, Co Kerry (until 11 May, 9.30am to 12pm and 2pm to 5pm, Sunday 2pm to 5pm)
Newbridge Town Hall, Main Street, Newbridge, Co Kildare (until 9 May, 11am to 7pm)
McHale Park, Castlebar, Co Mayo, (until 10 May, 10am to 5pm / Sunday 9am to 12pm)
Stephenites Ground, Carrowcushlaun West, Ballina, Co Mayo (until 7 May, 11am to 5pm)
Clonminch, Tullamore, Co Offaly (until 11 May, 10am to 4.30pm)
Castlerea Fire Station, Castlerea, Co Roscommon (until 10 May, 10am to 5.30pm)
Former Castlebrand Factory, Nenagh, Tipperary (until 16 May, 8.30am to 6pm)
Kilcohan Test Centre, Kilcohan, Waterford (until 15 May, 10am to 6pm)
St Loman's Hospital Campus, Mullingar, Co Westmeath (until 11 May, 10am to 4.30pm)