The first doses of the single-shot Johnson & Johnson vaccine are being administered through homeless services in Dublin.
Seven hundred doses of the Covid-19 vaccine were distributed to a clinic in Dublin city centre yesterday to vaccinate people who are considered medically vulnerable across 15 services.
The single-shot vaccine is regarded as the best jab for hard to reach communities, including people who are homeless.
In clinical trials the vaccine reduced the risk of people getting Covid-19 by 66% and of being hospitalised with severe Covid by 85%.
Health Service Executive Clinical Homeless Covid Lead Dr Austin O'Carroll said they are starting with the most medically vulnerable people and the vaccine offers a triple protection from catching the disease, being hospitalised, and death.
"The response has been excellent so far and we expect between 80% and 100% uptake for people based at the Dublin Regional Homeless Executive shielding units for homeless in the city centre.
It takes two full weeks to be protected from Covid-19 with the Johnson & Johnson vaccine.
Dermot Dwyer, 49, is among the first people in the country to receive the vaccine. Mr Dwyer said it was a big "relief" to finally get the shot after a year living in shielded accommodation.
"It will allow me to get back to normal and hopefully I won't have to wear a face mask as much!", he said.
---
How many vaccines have been administered so far?
Latest coronavirus stories
---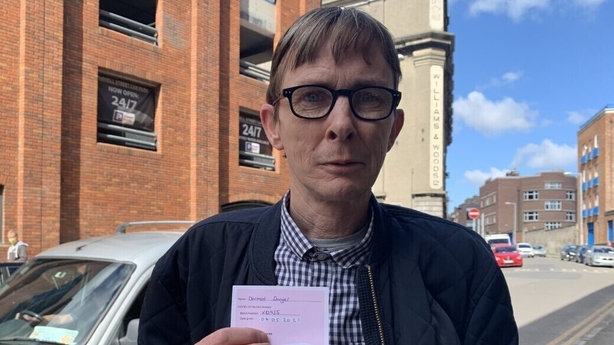 The HSE already has just over 26,000 doses of the vaccine in stock, with another 75,000 due in the next two weeks, but today will be the first time this single-shot vaccine will be administered to the public.
Other vulnerable and hard to reach groups likely to receive the Johnson & Johnson vaccine include the Roma community, Travellers, people living in direct provision, people with addictions, and people in prison.
From today, 57-year-olds can register for Covid-19 vaccination appointments through the Health Service Executive online portal or the HSE Live phone line from today.
More than 80,000 people aged 58 and 59 registered over the past two days.
Meanwhile, HSE Chief Executive Paul Reid issued a special plea for the public to keep an extra focus on protecting schools and childcare facilities.
Mr Reid asked for people to especially watch out for Leaving Certificate students who plan to sit exams.
He said public health measures outside of school are key to keeping them safe.
As we see great progress with #COVID19, just a special plea to keep an extra focus to protect our schools & child care facilities. A special watch for Leaving Cert Students, who plan to sit exams.The public health measures outside school are really key to keep them safe. @HSELive

— Paul Reid (@paulreiddublin) May 5, 2021
Tánaiste Leo Varadkar said the new vaccination plan is likely to be decided on next week, but will continue to be as fair as possible in allocations and work down through the age groups.
He said that no generation or decade would be skipped and the use of the Johnson & Johnson vaccine in the under 50s is being considered to avoid having supply left unused later in the summer.
Speaking on RTÉ's News at One, he said the HSE has done a brilliant job and said 95% of vaccines are in people's arms within seven days of arriving here.
Earlier, Green Party leader Eamon Ryan said that securing the purchase of new versions of the Pfizer vaccine for the coming two years as part of an EU-wide agreement is key to a full reopening of the economy from late summer.
Speaking on RTÉ's Morning Ireland, he said the Government does not want to have a stop/start reopening of the economy and that the "critical thing going into autumn" is the backup of vaccines for any emerging variants of the virus.
On the #Covid19 vaccine roll-out, @EamonRyan tells RTÉ's @MorningIreland 'We have to be careful particularly in the next few weeks but we are very close now to being in a much safer place, and yes I expect further measures of relaxation in June and then again in July and August' pic.twitter.com/nIWtfzCseO

— RTÉ News (@rtenews) May 6, 2021
Minister Ryan said that people need to remain careful over the next few weeks, but "we are closer to being in a much safer place".
He said there will be a further relaxation of restrictions in June, July, and August, including the opening up of international travel and a return to college and to workplaces.
He said that "Covid is not going away, it will probably convert from being a pandemic to an epidemic" and measures to combat it need to be considered in a two to three-year time frame.
He said the emerging north/south divide globally in tackling the virus remains a real issue.
Mr Ryan said that the roll-out of rapid self-testing Covid kits will play a significant part in the return to college.
He said that, administered twice-weekly, these kits can allow a screening process to identify clusters of the virus sooner.
Additional reporting George Lee, Dimitri O'Donnell