ESB Networks has acknowledged that industrial action by some network technicians has caused limited impact to customers, and called on the Independent Workers Union to cancel a further two-day strike due to get under way tomorrow morning.
The network technicians belonging to the Independent Workers Union have been engaged in a work-to-rule since 19 April, and have also held two 24-hour strikes.
They say the dispute is over the right to be consulted about outsourcing of certain work to private contractors - and claim to represent over 500 of the company's 1500 network technicians.
However, the company does not recognise the IWU, which rejects suggestions that the dispute is really over union recognition.
Last week ESB Networks issued legal proceedings against the IWU for defamation, conspiracy, inducement of breach of contract, unlawful interference with contractual relations and unlawful interference with its business.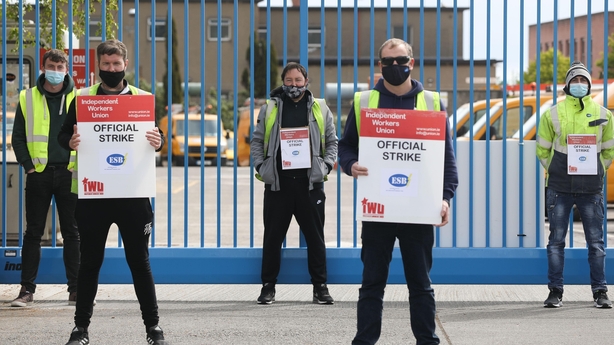 In an update on the industrial action issued this evening, the ESB stated: "We?again?call on the IWU to desist from further action at this time of national need."
It described the industrial action as "unnecessary".
It said that contingency planning was continuing for the next 48 hours "and beyond" and that it was working to mitigate any impact on customers.
It expressed concern that the IWU had not cooperated with emergency cover since the action began two weeks ago, stating: "This is unprecedented in ESB's experience."
ESB Networks said real time updates on electricity faults could be found on www.powercheck.ie.
The company acknowledged what it called the "strong support" provided by staff belonging to affiliated trade unions (Connect, SIPTU and Unite) who have said they are not involved in this dispute.
The Chairman of the Independent Workers Union Strike Committee Brian Baitson has confirmed that tomorrow's two-day strike will go ahead from 8am.
He rejected ESB Networks suggestions that the union had refused to cooperate with emergency cover.
He said they had been prepared to give emergency cover, but that the company had refused to sit down with the union to discuss what was required.
He also confirmed that apart from the legal proceedings served on the IWU, there had been no contact between ESB Networks and the union.