ESB Networks has again appealed to network technicians belonging to the Independent Workers Union to call off their strike action, and warned them that it could have financial consequences for them.
A second one-day strike action by technicians belonging to the IWU began at 8am.
The company has already acknowledged that the union's 10-day work-to-rule and last week's one-day strike have caused limited impact to customers.
It has issued legal proceedings against the union and some of its officers and demanded that the industrial action be called off.
The IWU claims to represent a third of ESB Networks' technicians, and said the dispute centres on the company's failure to consult adequately about the outsourcing of certain work.
However, the ESB does not recognise the IWU.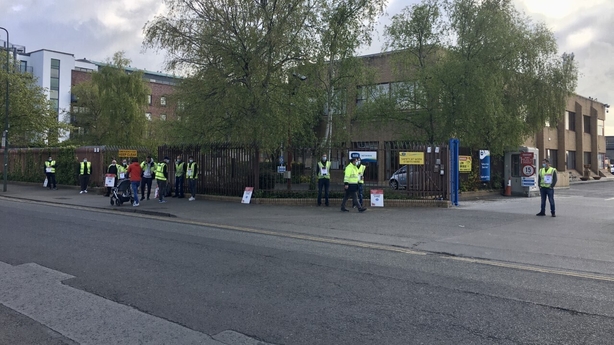 The unions it does recognise - Connect, SIPTU and Unite, who have lost members to the IWU - say they are not in dispute, and some argue this is really a union recognition row.
ESB Networks argues the industrial action is unlawful, and has issued High Court proceedings against the IWU.
However, so far it has stopped short of seeking an injunction, so today's second strike is proceeding. Two further stoppages are scheduled for next Tuesday and Wednesday.
The ESB has already admitted that the ongoing work-to-rule and last week's 24-hour strike have caused what it called "limited impact" for customers.
It is unclear how much worse things could get in the coming days, but so far there is no resolution in sight.
In a letter to staff yesterday evening, ESB HR Manager Glenn Pope cautioned that industrial action in an essential service could affect customers and make contingency planning more difficult.
He warns the staff in question that participation in what he called unlawful industrial action "may also have financial implications for you if you participate in such an action."
Mr Pope notes that the ESB provides an essential service to the wider community, maintaining reliable electrical supplies, including for "critical facilities like hospitals, nursing homes, vaccination centres and, of course, vulnerable customers."
"Given the impact industrial action could have on our customers and the general public at this time of national crisis, IWU's failure to provide timely notification of changes to planned industrial action is hugely concerning, and creates difficulty ensuring that necessary contingency plans are in place for the provision of our essential service and emergency cover," his letter states.
Mr Pope reminds IWU members that they are required to cooperate with reasonable instructions relating to this essential service and to respond to any matters impacting on the provision of this essential service, including matters of system and public safety.
"I remain convinced that the action initiated by IWU is neither justified nor warranted, and will only damage our reputation and standing in the community we take pride in serving. I ask again that you cease the action upon which you are engaged and return to work as normal," he concludes.
He describes the fact that the company had learned of yesterday evening's IWU Strike Committee decision to amend the strike timetable through the media as "very disturbing".
ESB Networks seeks damages from IWU
ESB Networks is seeking damages from the Independent Workers Union alleging defamation and conspiracy, according to legal proceedings issued yesterday.
According to its plenary summons, the company is also seeking damages for inducement of breach of contract, unlawful interference with contractual relations and unlawful interference with its business.
The court document states that ESB Networks rejects IWU claims that it has breached the Employees (Provision of Information and Consultation) Act 2006 - which the union says is the basis of its dispute.
The company wants the High Court to order the union to publish corrections to employees and the media, and to restrain further publication of the allegation.
It also wants the court to declare that the employees are not engaged in "...'industrial action' in furtherance or contemplation of a 'trade dispute'" in line with legal definitions - and that the union did not have "any reasonable belief" that they were engaged in such industrial action.
ESB Networks argues that if the declarations sought are granted, the IWU and its members are not entitled to rely upon legal immunities and protections provided for in Section 13 of the Industrial Relations Act 1990.
The company is also seeking a declaration that the union has "induced" the relevant employees "... to refuse to work in accordance with their contracts of employment based upon the false premise that the Plaintiff had refused to comply with or breached the provisions of the 2006 Act."