President Michael D Higgins has paid tribute to journalist Mike Burns, a former RTÉ London Editor who has died in Dublin at the age of 84.
President Higgins said the news of Mr Burns' death "will have been received with sadness not only by his colleagues but by his many friends in Ireland and abroad.
"The tributes by so many of his colleagues to his geniality and the ease with which he engaged both with people and with complex issues is an appropriate one, and one that is shared by all those who knew him.
"In so many ways, as a journalist Mike Burns was in touch with all aspects of the Irish diaspora. This was demonstrated by his coverage of the Kennedy funerals and later in his work in London where he showed a deep respect for people of different views.
"Sabina and I send our deepest condolences to his family, and to his friends and all his former colleagues."

Taoiseach Micheál Martin said he was "very saddened to hear of the passing of Mike Burns, a giant of broadcasting. Kind and courteous, his pioneering RTÉ shows like This Week and the News at One left a lasting legacy."
He added: "His analysis of the Troubles and work on UK-Irish relations made a real difference that will endure."
Mr Burns was one of the most significant journalists in the history of Irish broadcasting.
In the late 1960s he pioneered three programmes that continue to be the spine of RTÉ radio news output - The News At 1.30 (now the News at One), This Week and World Report.
His ally in the early days of the new programmes was Sean Duignan and their close friendship continued for more than five decades.
The team they assembled included Kevin Healy, Gerald Barry, Olivia O'Leary, Kevin O'Kelly, Brendan Keenan and Dick Hogan.
Remembering his colleague, Mr Duignan said:  "He was a real powerhouse. He transformed RTÉ's radio news back in the 60s."
Speaking to RTÉ's This Week, Mr Duignan said: "At the time we simply ran bulletins, a newscaster reading them, with no actuality.
"He was inspired by some of the British programmes he admired and decided he was going to put on current affairs programmes that would be at least as good as the British programmes. I think he succeeded in that."
He noted that all three radio programmes are still on the air today, 52 years after their creation.
Mr Duignan added: "It's a cliche but we are not going to see the likes of Mike Burns again in this business. We have lost one of the great gentlemen of Irish journalism."
We need your consent to load this rte-player contentWe use rte-player to manage extra content that can set cookies on your device and collect data about your activity. Please review their details and accept them to load the content.Manage Preferences
Later in his career, Mr Burns became RTÉ's Head of News, Radio, before returning to a broadcasting role as RTÉ's London Editor.
A former RTÉ Director of News, Joe Mulholland, said: "Mike Burns was an extraordinary networker. He had an amazing list of contacts. People trusted him.
"He was a news person at heart because he always loved being first with the story."
After he retired from RTÉ, Mr Burns became the Media Officer for the British-Irish Parliamentary Assembly and held that role for several years.
On St Patrick's Day in 2004, he received an MBE from Britain's Queen Elizabeth at Buckingham Palace. The award acknowledged his services to UK-Irish relations throughout his career.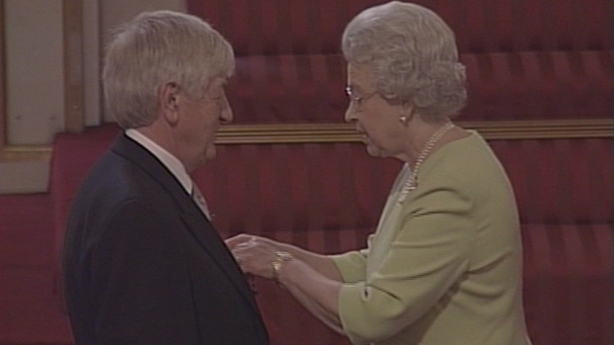 Born in Leicester in 1937, Mr Burns' family moved to Ballintubber, Co Roscommon. He is survived by his two sisters, one living in Galway and a second in Roscommon.
---
'A giant of Irish journalism'
Mike Burns was a giant of Irish journalism, writes Jon Williams, Managing Director of RTÉ News.
He cut his teeth on the Sunday Independent, before joining RTÉ a year after Ireland's TV service began. He began writing for the RTÉ Guide, but soon moved to the newsroom, where one of his first assignments, on the eve of JFK's state funeral, was to report from the Kennedy clan's ancestral home of Dunganstown, Co Wexford.
Five years later, he would report from New York, as the funeral service of President Kennedy's younger brother, Bobby, was held at St Patrick's Cathedral, after he, too, was assassinated.
Mike Burns would become the RTÉ's first Editor of News Features, launching the News at 1.30 (now the RTÉ News at One), World Report and the programme that would make his name, This Week.
Burns and Sean Duignan presented the first edition of the Sunday lunchtime programme just weeks after the Civil Rights March in Derry in October 1968. In the months that followed, they would chart the escalating violence, and the deployment of British troops in the north.
Two years ago, just prior to the programme's 50th anniversary, RTÉ Northern Editor Tommie Gorman likened the pair to an Irish 'Woodward & Bernstein' - the two Washington Post reporters who broke the story of Watergate.
It could all have been so different. Burns, was born in Leicester in the English Midlands, but the family moved to Co Roscommon, where the young Mike became one of the original members of the showband, the Premier Aces in the late 1950s.
A look through the archives sees Mike Burns asking Mick Jagger whether his long hair makes him look like a woman, and questioning Cliff Richard about how much money he earns.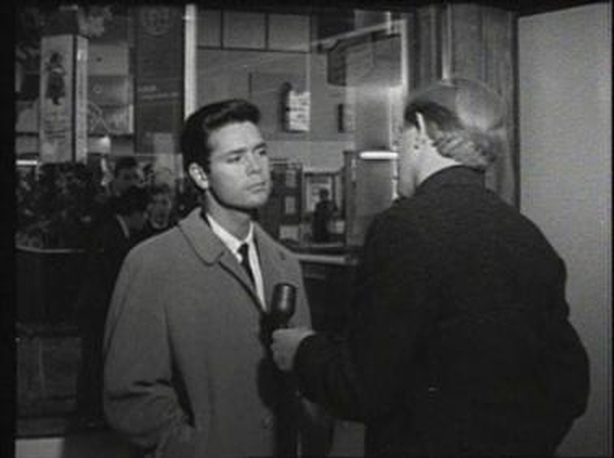 But it was the Troubles, and the deteriorating situation in the North, that made Mike Burns' name. With This Week, and the News at 1.30, the old-style deference to political and establishment figures was replaced by probing, and hard-edged questioning.
At a stroke, Burns and Duignan transformed RTÉ's journalism. Mike would eventually move to London, and as RTÉ's London Editor in the late 1980s, would report on the fall of Margaret Thatcher.
It was a return to the country of his birth - and in 2004, he was honoured by Queen Elizabeth for services to UK-Irish relations.
Mike Burns was a Titan of Irish broadcast journalism and RTÉ News. Half a century after launching the programmes that would shape his career, and which today remain cornerstones of the RTÉ Radio 1 schedule, he was generous with insights and encouragement.
We stand on the shoulders of giants. Ar dheis Dé go raibh a anam.