Minister for Education Norma Foley has said it is the "firm and shared objective" of all those in the education sector that the Leaving Certificate exams will take place this year.
There were challenges ahead and it was necessary for everyone to "commit once again" to delivering on that, she told RTÉ's Primetime.
Earlier, Ms Foley said she confirmed "with regret" that all schools will remain closed to students from Monday, 11 January.
The Cabinet had agreed that Leaving Certificate students would be allowed to attend school three days a week and do remote learning on two other days.
All other students would be taught by remote learning until the end of January.

Special needs education classes and schools were also set to resume in-person teaching from next Monday.
Ms Foley said that the Cabinet decision to partially reopen schools for those two cohorts of students was made in response to calls from parents, students, the leaders of opposition parties and "spokespersons in education".
"I listened, I put that option on the table, unfortunately that was not agreed to by the partners in education but as I say, we begin again tomorrow."
She said that many problems had been "put on the table today" by those partners. "I would prefer to focus on the solutions now." 
Ms Foley said that she was "very cognisant" of the impact the last lockdown had on children with special needs and their families, as well as on Leaving Certificate students. 
The Minister for Education said she "wished" that the schools were reopening for those students next week. 
She said "very clear public health advice was made available to the (teachers') unions that the partial return to school was safe".
Asked if teachers should be moved up the priority list for receiving the Covid-19 vaccine, she said it was "not in her gift" to do that.
However, she has "flagged" the issue and there would be further discussion in relation to it. 
Ms Foley said that by June of this year over one million people will have been vaccinated for Covid-19 in Ireland.
"There is no shortage, there is no doubt, the plan for vaccinations is moving forward," she told Primetime. 
---
---
Safety concerns had been raised by school leaders, parents, teachers, SNAs, and students over the decision to partially reopen schools as Covid-19 infections continued to rise.
In a statement, the Department of Education said its officials met education partners today, including trade unions and school management bodies.
They discussed the "safe provision of in-person learning to pupils in special classes and special schools and to Leaving Certificate students, and remote learning to other students from Monday 11 January".
This meeting was also attended by senior public health specialists.
"In a meeting lasting over two hours Public Health provided their reassurance that it is safe for both students and staff to operate schools at this time utilising the preventative measures that are in place," said the statement.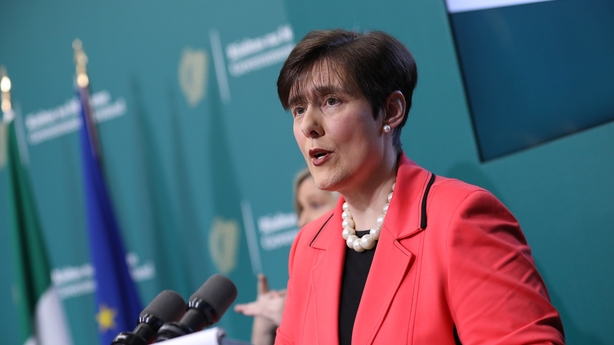 Minister Foley said it was "with regret" that "despite the confirmation by Public Health that schools remain safe", children in special schools and special classes and Leaving Certificate students will not return to in-class learning next week.
"My Department has engaged with the unions and public health officials with a view to maintaining on-site learning for this vulnerable group of students.
"It remains my strong belief that this period of time is crucial for the mental well-being of all children with special needs.
"I also felt it was the right thing to extend in-class teaching to our Leaving Certificate students who are approaching a crucial time in their exam year.
"Unfortunately I am left with no alternative but to pause the limited reopening on Monday to allow further engagement with all education stakeholders."
Sinn Féin spokesperson on Education Donnchadh Ó Laoghaire said that the Minister for Education must "go back to the drawing board" with her plan for Leaving Cert students to return to school.
He said: "The Government's plan to reopen schools for Leaving Cert students next week is in tatters.
"There should have always been a Plan B if schools had to close, but the Government thought differently. Instead we had a plan cobbled together yesterday, which has now collapsed before its eyes.
"I would hope that children with special educational needs can get some form of in-class learning as soon as possible but clearly it needs to be in a manner that is safe, and has the support of workers, as well as families."
Labour leader Alan Kelly welcomed the Government's decision, describing it as the right call.
He also said Minister Norma Foley must consult the unions and make a decision on whether to hold the Leaving Cert exams by 1 February.
Social Democrats TD Gary Gannon said: "It is good that the voices of students, particularly vulnerable students, and teachers were heard and a U-turn performed."
Earlier this evening, the ASTI directed its members not to return to in-school teaching.
The teachers' union said it had not been given the "necessary assurances that schools are sufficiently safe for students and teachers at this time".
The Teachers' Union of Ireland said it welcomed the Government's decision "somewhat belatedly … to finally do the right thing".
The Irish National Teachers' Organisation met officials from the National Public Health Emergency Team this afternoon.
It said afterwards that it remained "dissatisfied with the information presented ... serious questions remain".
The CEO of AsIAm described the closure of special schools as a missed opportunity.
Adam Harris said: "The evidence is indisputable. Remote learning, owing to cognitive differences, does not work for these young people. We saw the devastation this caused during the last lockdown.
"The failure to reopen special classes and schools is missed opportunity all stakeholders must engage to ensure these students return to school as a matter of urgency."
Additional reporting Emma O Kelly, Laura Fletcher