The Government is considering a proposal to close schools for the rest of January.
While no decision has been taken, the high-powered Cabinet sub-committee on Covid-19 will evaluate the issue tomorrow.
A full Cabinet meeting will decide the matter on Wednesday.
It comes as the National Public Health Emergency Team said the level of coronavirus infection in the population is significantly higher than the first wave of the pandemic in March.
Tonight, the Department of Health confirmed an additional 6,110 cases of Covid-19, while six further deaths have been recorded.
Sinn Féin leader Mary Lou McDonald has said she told Taoiseach Micheál Martin that trying to reopen schools next Monday was "not realistic".
In a tweet this evening, Ms McDonald said she spoke with the Taoiseach about the matter today, saying there was "growing concern" about a safe return to schools and childcare.
Ms McDonald said clarity is needed from the Government.
Spoke with Taoiseach to raise growing concern on safe return to school & childcare - return next Monday is not realistic. Imperative that plan to safely open is produced. Clarity needed. Also pressed again for govt to #PayStudentNursesandMidwives who are on the Frontline #COVID19

— Mary Lou McDonald (@MaryLouMcDonald) January 4, 2021
Earlier, the Minister for Health said the Government is expected to make a decision on Wednesday morning about whether or not schools will reopen on 11 January.
Speaking on RTÉ's News at One, Stephen Donnelly said they have not received recommendations from medical experts in infectious diseases or public health to close schools.
This is a big call, he said, and while he understands people want clarity, the experts must be allowed the time they need to examine the latest evidence.
Mr Donnelly said they want to strike a balance between giving schools, parents and students as much time as possible, as well as ensuring they are making the decision with the most up-to-date information available.
Minister @DonnellyStephen has said the Government will make a decision on Wednesday about the reopening of schools from Monday.

He told @RTENewsAtOne that the Govt has not received guidance from public health experts to close schools | Read more: https://t.co/CTdIHe9hqw pic.twitter.com/50TPGxRl9x

— RTÉ News (@rtenews) January 4, 2021
The Teachers' Union of Ireland is recommending that the current closure period for schools be extended to 18 January at a minimum.
TUI General Secretary Michael Gillespie said: "Logically the date for re-opening should be 18th January at a minimum as this will allow for the 14-day period that is required to determine whether or not implementation of the Level 5 measures has been effective in suppressing spread of the virus in the community.
"To re-open too early is recklessly to tempt fate.
"It would be wiser and more prudent to have a short delay, inconvenient as that may be, than to run the risk of having schools become centres for concentrated spread of the virus.".
Minister for Children Roderic O'Gorman said the Government wanted to avoid a "long-scale shutdown" of schools and childcare providers, but he added that the situation is under constant review.
Speaking on RTÉ's Morning Ireland, he said advice from NPHET has always been that schools are safe places, and the decision to delay their reopening was part of a sustained effort to reduce movements.
He said the long shutdown of schools last year was not beneficial for children, particularly those with special needs and from disadvantaged areas.
"We do want to avoid a long-scale shutdown, but we are keeping the situation under review," he said.
"If the public health guidance from NPHET changed at any stage, obviously Government policy would change."
The Government wants to avoid a 'long-scale' shutdown of schools, Minister for Children Roderic O'Gorman has said, but he added the situation will be kept under 'constant review' and says if NPHET guidance changes, Govt policy would change | Read more: https://t.co/CrLWItUQFV pic.twitter.com/BYhEUYp3wT

— RTÉ News (@rtenews) January 4, 2021
Minister for Education Norma Foley met opposition spokespeople this evening to discuss the issue, but she has insisted that schools will reopen as planned on 11 January. She will also meet unions and principals this week.
The Irish Primary Principals Network has said it is not seeking to keep schools closed, but rather actively working to reopen them when it is safe to do so.
The president of the IPPN, Damian White, said the Department of Education and NPHET need to "seriously look at the possibility of keeping school buildings closed" until it can be satisfied that testing and tracing capacity is back to a sustainable level.
Speaking on RTÉ's News at One, he said the IPPN would like to see a return to online learning from 11 January, for a week or possibly two weeks, until an impact on Covid-19 numbers can be seen from Level 5 restrictions.
"In reality, you're probably pitching for an opening of (school) buildings on Monday the 18th," he said.
Mr White said the IPPN's main concern is the capacity of testing and tracing. He also said there is concern that the new strain of the virus affects young people more.
Fórsa trade union, which represents more than 12,000 staff in primary and secondary schools, highlighted safety concerns over schools reopening next Monday, in a meeting with Minister for Education and department officials.
"We believe a relatively brief period of school closures is required. However, Fórsa does not want to see a return to the long-term school closures experienced last year, which caused significant problems for both students and staff alike," said Andy Pike, Fórsa's head of education.
Labour leader Alan Kelly and the party education spokesperson Aodhán Ó Riordáin have written to Chief Medical Officer Dr Tony Holohan seeking an urgent public health assessment be undertaken by NPHET, in the next 24 hours, regarding the Government's plan to reopen schools on Monday.
In the letter, they contend "there is no clarity on whether it will be safe for schools to reopen on that date, as appears to be the current plan of the Government".
The Labour politicians say they are "particularly concerned that without increased testing capacity and a robust tracing system it is very difficult to see how schools can reopen, as there won't be a mechanism to track down cases as they arise".
Social Democrats' education spokesperson Gary Gannon said Minister Foley needs to "give some certainty to parents and teachers" about when schools will reopen.
He contended that "nobody expects" that to happen next Monday and therefore "it is important for the minister to communicate this decision at the earliest possible time so parents and educators can make alternative arrangements".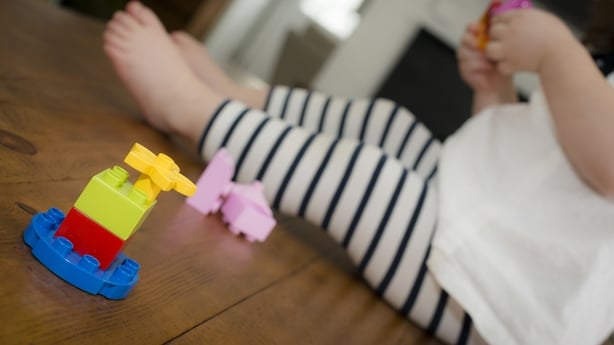 Elsewhere, the CEO of Early Childhood Ireland has called for vaccination priority to be given to childcare workers.
Teresa Heeney said crèches and pre-schools should be given access to paid testing so operators can reassure parents and staff that their services are free from Covid-19.
She said the prioritisation of families is "very, very difficult" and Early Childhood Ireland is hoping that a refinement of the essential worker list will be given soon.
Minister O'Gorman said the list of essential workers is a "complicated and extensive one" that reflects the complexities of the economy, but the list of essential services at Level 5 is the list the Government works on and is asking childcare providers to use.
He said it would not be beneficial to create a separate list for the childcare sector, and would only create additional confusion.
Additional reporting Sandra Hurley