In the centenary of its foundation, Northern Ireland has a new identity challenge because of Brexit.
The United Kingdom's Brexit transition period expired at 11pm last night, ending a 48-year history with the European project.
In the context of the Good Friday Agreement and the peace process, avoiding customs and security infrastructure on the island of Ireland was an agreed principle in the Brexit discussions. Instead the UK and EU negotiators settled on creating a trade border in the Irish Sea.
Customs declarations will be required for goods arriving in Northern Ireland from Great Britain.
Enhanced Inspection facilitates will operate at Northern Ireland's ports, operated by local customs authorities with an EU official's presence.
Many hauliers based in Northern Ireland will keep volumes light for the first few days of 2021 as they wait to see what the impact will be, industry figures have said.
Northern Ireland will be the only UK region to retain unfettered access to EU as well as GB markets.
The protocol will also see Northern Ireland follow certain EU rules on state aid and VAT on goods.
As part of the single market, Northern Ireland will have to adhere to strict EU regulations on food standards and plant and animal health.
This will create additional SPS (sanitary and phytosanitary) checks on certain produce entering from Great Britain.
Supermarkets and other food retailers have been given three months to adapt to the requirements of the new SPS checks.
Uniquely its citizens who hold Irish passports will be able to work freely in the EU.
All of its third-level students will retain access to the EU's student exchange Erasmus programme.
Some unionists are uncomfortable with several aspects of the settlement. Complications and anomalies are likely to surface as the system beds in.
---
Read more: Johnson says UK has 'taken back control' with Brexit
---
The Minister for Foreign Affairs Simon Coveney has said there are "lots of new beginnings" starting this January as he outlined the complexities of Brexit.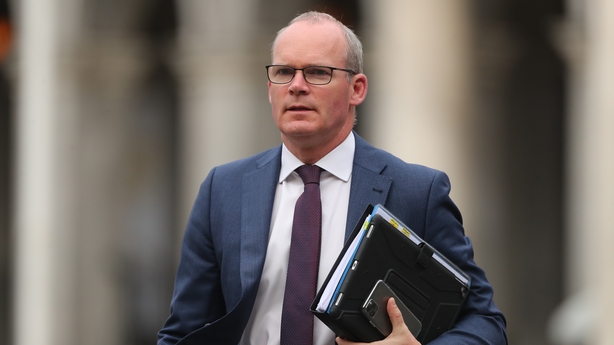 Speaking on RTÉ's Morning Ireland, he said while the agreement struck is a basis for a future relationship, he thinks it won't be "as seamless or as positive" as EU membership was for the UK.
He said while we have "avoided dramatic disruption" of a no-deal Brexit, things are still changing fundamentally.
"Any company making business with or through the UK will face a new reality with custom checks, export declarations, regulatory checks and all the paperwork and delays that goes with that," he said.
Ultimately he said we have to wait and see how Brexit will pan out but he said they have spent more than four years "negotiating something worse than what we started with" which was having the UK in the EU.
He said Britain has been "a huge part" of the EU success.
The Minister said the impact of Brexit is not just about trade but financial services, security, fisheries, road haulage, climate cooperation along with several other sectors.
"A lot of the detail is there now in the new agreement."
Mr Coveney said there are further transition and grace periods and there are dispute resolution mechanisms that may or may not be needed in the future.
He said it is a complex deal with over 2,000 pages of legal text.
Reflecting on Northern Ireland, he said he hopes the DUP, the UUP and others will engage with the Shared Island unit.
"To be fair to the British Prime Minister he has responded positively to that," said Mr Coveney.
He said it is about having a specific unit at the top of government to ensure we share this island as neighbours should, as "we have so many shared interests".
Additional reporting: PA