Nigel Farage has insisted the exit of Boris Johnson's top aide from Downing Street means a "Brexit sell-out" is looming.
Brexit Party leader Mr Farage said he had never liked the British Prime Minister's outgoing chief adviser Dominic Cummings, but admitted he was concerned about the consequences of his departure.
Mr Cummings left Number 10 carrying a box yesterday evening as he quit as Mr Johnson's right-hand man, although he will continue to work for him until mid-December.
Mr Farage tweeted: "It is well documented that I have never liked Dominic Cummings but he has backed Brexit.
"Seeing him leave Number 10 carrying a cardboard box tells me a Brexit sell-out is close."
Mr Cummings's dramatic exit from Number 10 comes at a crucial juncture in the post-Brexit talks between the UK and Brussels.
Mairead McGuinness, European Commissioner for Financial Services, has said there is no indication of what can break the current impasse.
Speaking on RTÉ's Saturday with Katie Hannon, she said negotiators are not "where they need to be" at this point.
"Time is a problem. It was a problem six months ago and a much bigger problem today, as are the sticking points."
She said while there has been some progress made in London this week, the core issues such as fishing remain and both sides are "very far apart".
Ms McGuinness said she was in contact with the EU negotiator Michel Barnier this morning and he remains optimistic.
"He is leading EU efforts and he does respect what the UK wants in terms of sovereignty but equally we need respect for EU autonomy."
As long as negotiations continue, she remains "hopeful" that an agreement can be reached but she is also saying to businesses that they have to prepare for all scenarios.
"We need to hear from the UK side what they intend to do when they officially leave the EU on 1 January and not just on food and agriculture but also on financial services."
Talks on a free trade agreement between the UK and EU are due to resume next week in Brussels.
---
The Great Brexit Bake Off: Why food is central to the NI Protocol
---
Boris Johnson's official spokesman James Slack insisted suggestions that the British government could compromise on key Brexit principles in the wake of Dominic Cummings's departure were "simply false".
Mr Cummings was widely seen as the mastermind behind the victorious Vote Leave campaign in the UK's 2016 referendum on leaving the EU.
Speculation has surrounded the future of the UK's chief Brexit negotiator David Frost but he has remained in his role as talks reach a heightened stage.
Meanwhile former Brexit secretary David Davis said Mr Cummings's exit from Downing Street holding a cardboard box was "entirely deliberate" as he wanted to leave an "image".
The Conservative MP told BBC Breakfast today that Mr Cummings could have left from a less visible entrance to avoid the waiting press, but chose not to.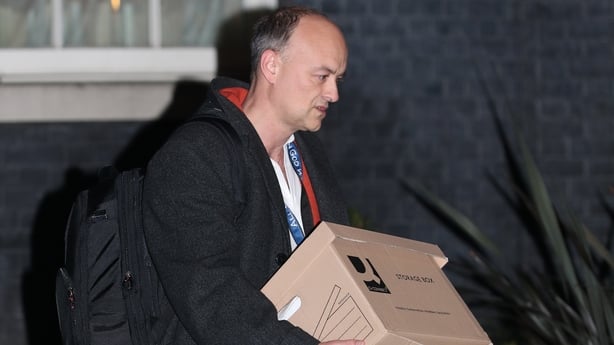 Mr Davis said: "Almost certainly Dominic decided he was going to leave an image. That would have been entirely deliberate.
"He chose to leave that image walking out with a box. He could have perfectly well put his coffee mug or whatever else was in it into his rucksack, but he didn't."
Also today, Conservative MP Crispin Blunt said Boris Johnson should not have supported Dominic Cummings following his controversial trip to Durham and drive to Barnard Castle which led to claims that he broke lockdown rules.
When asked by Times Radio if he was right to back the adviser, Mr Blunt said: "With the benefit of hindsight, no. However, you've got to make a call about what is seen to be fair and proper in the circumstances and Boris made a call on that."