British Prime Minister Boris Johnson has backed his senior adviser Dominic Cummings, despite calls from within his own Conservative Party for the aide to resign for travelling 400km during the country's Covid-19 lockdown.
Mr Cummings, who masterminded the 2016 campaign to leave the European Union, came under pressure when newspapers reported he had travelled from London to Durham in late March, when Britain was under a strict lockdown to combat the coronavirus outbreak.
Mr Johnson said Mr Cummings had acted responsibly, legally, and with integrity.
The row within the governing Conservatives looked set to ripple on however, with those who called for the senior aide's resignation expected to be marginalised.
"I've had extensive face-to-face conversations with Dominic Cummings," Mr Johnson told a news conference.
May 24, 2020
"And I conclude that in travelling to find the right kind of childcare, at the moment when both he and his wife were about to be incapacitated by coronavirus, and when he had no alternative - I think he followed the instincts of every father, and every parent. And I do not mark him down for that."
"I believe that in every respect he has acted responsibly and legally," he added.
Mr Cummings became the focus of criticism late on Friday when the Daily Mirror and Guardian newspapers reported he had travelled 400 km to Durham in northern England with his wife who had Covid-19 symptoms.
Mr Johnson's office said Mr Cummings made the journey to ensure his 4-year-old son could be properly cared for by relatives if he too fell ill.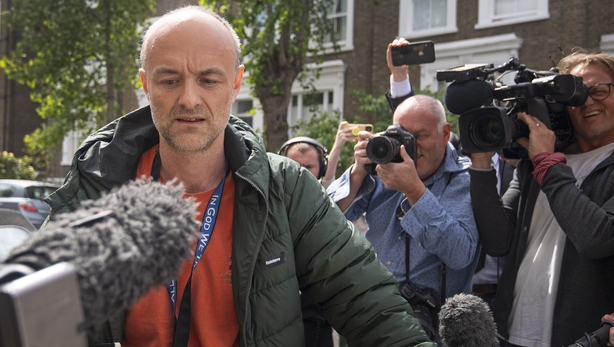 On the issue of coronavirus-related fatalities and infections, Mr Johnson confirmed that 36,793 people had died in hospitals, care homes and the wider community after testing positive for Covid-19 in the UK as of 5pm on Saturday, up by 118 from the day before.
Overall a total of 3,458,905 tests have been carried out and 259,559 cases have been confirmed positive.
Mr Cumming's journey took place at a time when millions of people were staying inside and foregoing contacts with friends and relatives. The government's order at the time was everyone in a household where anyone had symptoms must not leave home.
The newspapers have since reported that Mr Cummings was seen in northern England on other occasions. The government has denied this.
We need your consent to load this rte-player contentWe use rte-player to manage extra content that can set cookies on your device and collect data about your activity. Please review their details and accept them to load the content.Manage Preferences

A number of cabinet ministers and the attorney general have said that the journey was justified. But some Conservatives have said Mr Cummings must go.
Backbench Tories, including 1922 Committee member Steve Baker, have said Mr Cummings "must go", though Transport Secretary Grant Shapps said reports of a second trip were "not true".
It is intolerable that Boris' government is losing so much political capital. Three changes are immediately required:

1 - Govt needs competitive expert advice

2 - Govt must insist on high software engineering standards

3 - Dominic Cummings must gohttps://t.co/zUOCVcDAmN

— Steve Baker MP (@SteveBakerHW) May 24, 2020
Mr Baker told Sky's Sophy Ridge On Sunday programme: "If he doesn't resign, we'll just keep burning through Boris's political capital at a rate we can ill afford in the midst of this crisis.
"It is very clear that Dominic travelled when everybody else understood Dominic's slogans to mean 'stay at home, protect the NHS and save lives'."
Damian Collins, Conservative MP for Folkestone and Hythe, said: "Dominic Cummings has a track record of believing that the rules don't apply to him and treating the scrutiny that should come to anyone in a position of authority with contempt.
"The Government would be better without him."
Mr Shapps, who was also sent out to defend Mr Cummings at the daily Downing Street coronavirus briefing yesterday, faced questioning on the adviser's actions this morning but admitted he had not spoken to him beforehand.
He told Sophy Ridge: "I'm afraid I don't know (about Barnard Castle) but if that date was true that would have been outside the 14-day period. But I'm afraid I don't have the information on that.
"But I do know it is not the case that he has travelled backwards and forwards, which seemed to be a major part of the stories I saw in the paper today."
Pressed by the BBC's Andrew Marr on whether there was an "extreme risk to life", Mr Shapps added: "A four-year-old can't feed themselves, a four-year-old can't bathe themselves and change their clothes, so it is clear they wanted to put some measures in place."
On Saturday, deputy chief medical officer Jenny Harries said everyone should self-isolate unless there was a risk to life.
Tory MP Simon Hoare called on Mr Cummings to "consider his position". 
With the damage Mr Cummings is doing to the Government's reputation he must consider his position. Lockdown has had its challenges for everyone. It's his cavalier "I don't care; I'm cleverer than you" tone that infuriates people. He is now wounding the PM/Govt & I don't like that

— Simon Hoare MP (@Simon4NDorset) May 24, 2020
Craig Whittaker, Conservative MP for Calder Valley in West Yorkshire, said Mr Cummings' position is "untenable".
He tweeted: "I totally agree that Dominic Cummings position is untenable.
"I'm sure he took the decision in the best interests of his family but like every decision we take we also have to take responsibility for those decisions.
"You cannot advise the nation one thing then do the opposite." 
Mr Cummings has said he had behaved reasonably and legally.
Responding to the allegations, a No 10 spokeswoman said: "Yesterday the Mirror and Guardian wrote inaccurate stories about Mr Cummings. 
"Today they are writing more inaccurate stories including claims that Mr Cummings returned to Durham after returning to work in Downing Street on 14 April. 
"We will not waste our time answering a stream of false allegations about Mr Cummings from campaigning newspapers."