Guess what - Arlene and Michelle are getting on.
Don't tell it widely because as soon as you start talking about it, the rows could start up again.The commentator's curse factor.
But for the moment, things are going swimmingly. A bit like the spell of wonderful weather that has accompanied the virus emergency, the sight of the two main figures in Stormont at ease in each other's company is a welcome surprise.
A few days ago they were due to meet Stormont's Executive Office committee members in their capacity of First and Deputy First Ministers.The chairs had been set out in the appropriate format to observe social distancing.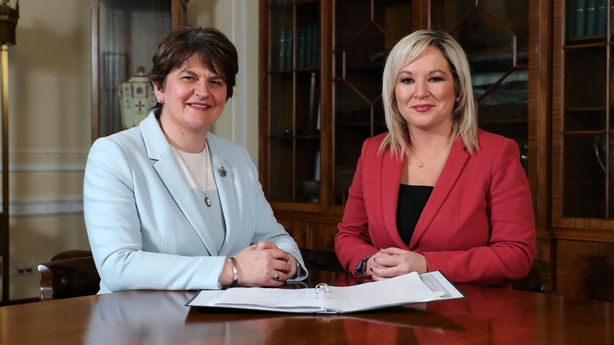 But during the informal chatter among the pair as they arrived for business they noted how they've been seeing so much of each other in recent times that they're almost part of the same household.
It wasn't always that way. Arlene, like many's the Northern Ireland politicians before her, the late Martin McGuinness included, has a reputation for occasionally cutting up rough.
Remember her comment in relation to Sinn Féin's pressure for an Irish language act during the Assembly election campaign in February 2017: "If you feed a crocodile it will come back for more."
Michelle O'Neill was chosen to replace Martin McGuinness after illness felled him in January 2017. But then she was cocooned after the Sinn Féin/DUP row collapsed power-sharing. In her sidelined state she'd set a speed record for word delivery per minute during her rare public outings.
Gradually, after a few public spats since the restoration of power-sharing in January, the chemistry between the pair of them, in public and private, has improved significantly.
Yesterday they published a joint letter in Northern Ireland's three daily newspapers thanking members of the public for their role is responding to the coronavirus emergency.
On Friday the pair sat down, side by side, to record a piece with Sky's David Blevins for use in Sunday's Sophie Ridge programme.
If so much attention wasn't taken up with Covid-19's 'R' number, the 'Harmony On The Hill' might be a bigger talking point. The scale of the unexpected challenge posed by the virus has been a significant factor in the blossoming relationship.
Sisters in Arms.
Arranged Marriages at Stormont
There are very obvious challenges in making power-sharing work. Given Northern Ireland's history, 'shotgun wedding' is not the phrase to describe the arrangement required. But it most certainly is an arranged marriage, and one that involves traditional enemies.
The Ulster Unionist, David Trimble, and the late Seamus Mallon from the SDLP, were the first practitioners of the experiment, established by the 1998 Good Friday Agreement.
It rarely was sweetness and light. Eventually things fell apart, with the critics on the periphery, Sinn Féin and the DUP, playing a significant role in the collapse.
The next couple on the dance floor, Ian Paisley and Martin McGuinness, immediately got ten out of ten for novelty. In practice although the First and Deputy First Ministers titles suggest the opposite, they are supposed to be equals.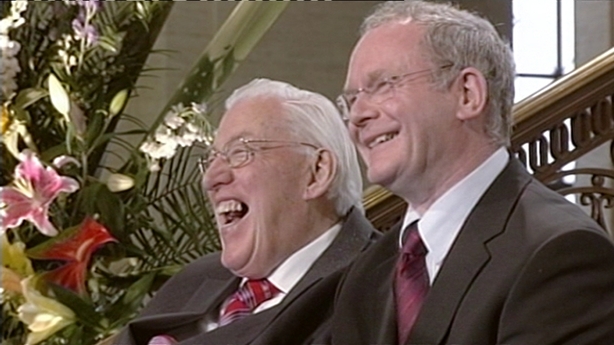 McGuinness was already in the benign stage of his life during that period and he used to smile, acceptingly, as Dr Paisley publicly referred to him as "my deputy". Part of their downfall was they got on too well. Many in the DUP's traditional support base were not ready for it.
It has been a feature since the roles were established that a section of the main parties, especially the DUP and Sinn Féin, see it as a real sign of weakness if the front person is publicly bonding with the partner. Several instances have occurred where a faction in a political party insists on the application of a handbrake and social distancing.
Aidan McAteer and Leo Green were important advisors to Martin McGuinness when he entered government.They had a republican pedigree. McAteer's father, Hugh, had been a leader of the IRA in Belfast during the 1940s and was jailed for it. His uncle, Eddie, was leader of the Nationalist party.
Leo Green was a former hunger striker and his brother John Francis, also an IRA member, was shot by loyalists in 1975. As they sought to make power-sharing work productively during the early years of the Peter Robinson/Martin McGuinness partnership, some within Sinn Féin were uncomfortable with the fruits and consequences of cooperation.
Vincent Parker was another Sinn Féin advisor whose pace of travel irked some in the Sinn Féin shadowland.
Peter Robinson and Martin McGuinness had good times and bad times during their eight years as a front of house double act. The DUP leader has an instinctively shy side but he and McGuinness loved football and talking about it was often the ice-breaker.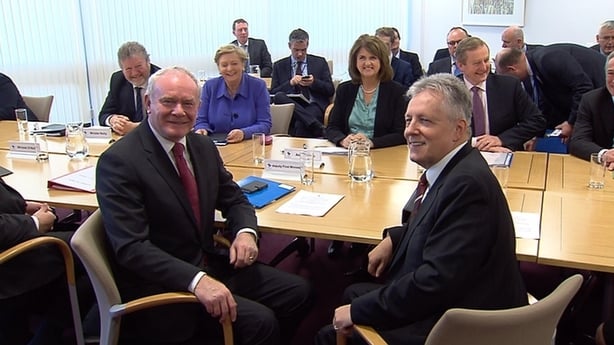 McGuinness was a Manchester United man; Robinson follows Spurs (at his final North-South meeting in Armagh before he retired, Peter Robinson nearly broke into song when then taoiseach Enda Kenny presented him with two tickets for the Spurs-Arsenal London derby).
They had some very significant wobbles. From his holiday home in Florida in August 2008, Robinson dispatched his infamous 'letter from America' in which he outlined how the DUP would be withdrawing support from plans to build a peace centre on the site of the Old Maze prison.
McGuinness felt betrayed. Robinson had yielded to the naysayers. Avoiding DUP infighting mattered most.
They had another very public spat in December 2009 when the then taoiseach, Brian Cowen, and several cabinet ministers were in Limavady for a North-South meeting. Cowen struggled to hide his embarrassment as his two hosts threw eyes skywards and shook heads before the cameras.
But they had enormous respect for one another and at important junctures it made a difference.
McGuinness was genuinely concerned and upset when a heart attack nearly killed Peter Robinson.The former DUP leader grieved his Sinn Féin colleague after his premature death and has said so since several times, in private and in public.
The Foster-McGuinness partnership lasted less than a year. In January 2017 it ended with the collapse of power-sharing. It was very much a case of "what might have been". They knew each other from Arlene Foster's period, working her way up the DUP ranks. She never disguised her deeply-held antipathy towards the IRA.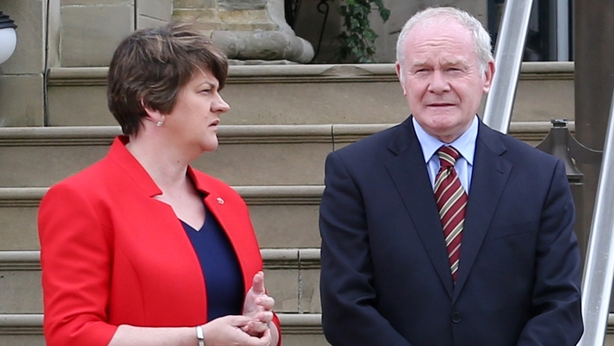 But they had a common desire to advance reconciliation.The fact that they both were from west of the Bann, well beyond the Belfast bubble, was another shared trait.
They missed a trick in the summer of 2016 and that was down to Arlene Foster.
They were both at the Euros (UEFA European Football Championship) in France, where teams from each side of the border were participants.
McGuinness was up for going together to a game involving Northern Ireland and a second one in which the Republic of Ireland featured.The DUP leader wouldn't play ball. Her predecessor, Robinson, would probably have done so.
Martin McGuinness was dead when she went to an Ulster GAA football Final in Clones two summers later. She had attended his funeral in Derry in March 2017, against the wishes of some of her constituents.
Travelling across the border to watch Fermanagh lose to Donegal at St Tiernach's Park, Clones, in June 2018 was a far from simple journey for Foster. Those same roads had been used by the IRA members who tried to kill her father and who forced her family from their rural farm to the town of Lisnaskea.
The First Of Equals
The Michelle-Arlene partnership is exploring new ground. On this island, south or north, this is the first time that two women are leading an administration.
Diane Dodds, Naomi Long, Nichola Mallon and Deirdre Hargey are also members of the Executive's ministerial team. Men (Conor Murphy, Edwin Poots, Robin Swann and Peter Weir) occupy four of the top ten positions.
Northern Ireland's tribal history is well known. It is tinderbox territory for a political row.
The current harmony, with the first and deputy first ministers setting the example, is time-limited.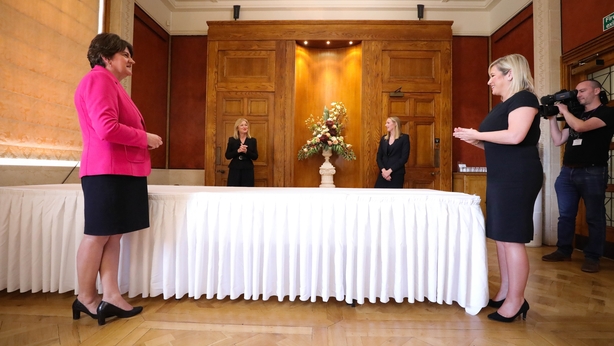 There will be an election season when the parties currently cooperating in government will shift their energies to the shafting of rivals.
But it is worth noting how after a rocky start, the Foster-O'Neill relationship has improved in difficult times and found a new gear.
The Leo-Micheál-Eamon triumvirate in Dublin, currently working up a plan to form a government, wouldn't have time to track what's happening in Stormont.
But for Mary Lou McDonald, the would-be taoiseach outside the Dáil Éireann door and Michelle O'Neill's boss, it must be a difficult watch.