Artwork associated with the Ross O'Carroll Kelly books, which have sold over a million copies in Ireland, have been acquired by the National Library of Ireland.
Director of the NLI Dr Sandra Collins said the archive of illustrations, drawings and sketches by artist Alan Clarke acknowledges Ross's place in Irish popular culture.
The collection comprises 107 interior book illustrations from 15 books as well as 45 individual drawings and preparatory work, which accompanies the award-winning series of books and weekly newspaper columns by Paul Howard which have become an Irish cultural phenomenon.
In addition to acquiring the archive, the National Library of Ireland also commissioned two special illustrations of Ross O'Carroll-Kelly at the NLI from Mr Clarke, including one in the Library's iconic domed Victorian Reading Room.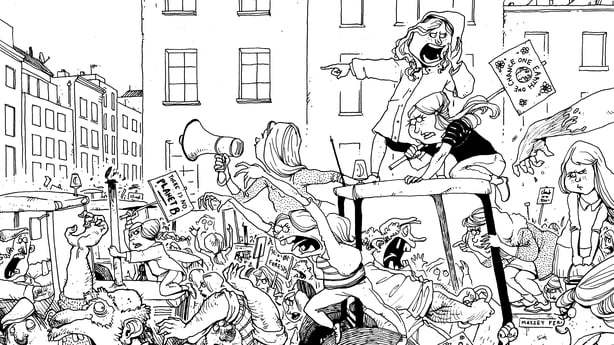 Artist Alan Clarke said: "Ross has grown up alongside an entire generation of Irish people, and has navigated the ups and downs of recent Irish history with a diverse and loyal audience of fans.
"Growing as he has into such a contemporary Irish cultural phenomenon - and something of a national treasure - it feels fitting that he be immortalised in the collections of the Library.
"I am delighted to see my work join the national collections, and grateful to the Library for their support for contemporary artists."