Ministers in the Northern Ireland Executive are tonight working towards an agreement on imposing new restrictions in response to the rising incidence of coronavirus cases. 
The meeting got under way just after 9.30pm for talks on how to tackle spiraling Covid-19 infection rates in the region.
However, the meeting was adjourned after 10 minutes. It is understood SDLP infrastructure minister Nichola Mallon asked for time for the smaller parties in the Executive to read the health paper. 
Northern Ireland First Minister Arlene Foster has insisted the executive will "stand by" any businesses and individuals impacted by new restrictions for the region.
Ahead of the resumption of the meeting, Mrs Foster said: "The measures that we're talking about in those papers (before the executive) are a response to a very critical situation that we find ourselves in and the need to get Northern Ireland to work together to get through all of this.
"As a party we have argued very strongly that we cannot close the country down and there are consequences which would be long term and indeed life changing for many.
"For those who will be impacted by any restrictions that we agree, we will stand with you, and we will help you and financially support you as best we can."
Mrs Foster said it was "critical" that "long term" school closures were avoided. 
She said: "That is something that we feel very, very strongly about"
The DUP leader added: "We are also very clear that whatever we put in place will only be in place for a limited period of time, so that we can find our way out of the restrictions that have to be put in place to try and curb the rise of coronavirus."
Assembly members were told to be on standby for a late-night sitting of the legislature to be briefed on any measure that might be agreed by the Executive.
RTÉ News understands the proposed measures include the closure of pubs and restaurants for a four-week period and the closure of all schools for at least two weeks from next Monday.
Northern Ireland has seen a dramatic increase in positive Covid-19 cases in recent weeks. Seven further deaths and another 863 positive cases of the disease were reported today. 
Stormont ministers are tonight working towards an agreement on new covid-19 restrictions. It is understood the measures include the closure of pubs and restaurants for four weeks, and the closure of all schools for at least a fortnight from Monday next | https://t.co/ZtH6TWENpm pic.twitter.com/vovdFO7sjb

— RTÉ News (@rtenews) October 13, 2020
Four of those deaths were notified in the past 24 hours with three reported from outside this period. The death toll now stands at 598. 
In the past seven days, 6,286 new positive cases of the virus have been detected. The total number of confirmed cases in the North is now 21,898. 
"It has to be considered"

As Stormont ministers meet over proposed new Covid-19 measures in Northern Ireland, Sinn Féin's Pearse Doherty says given where the pandemic is at the moment, school closures do need to be considered | More: https://t.co/WSnYU1Qdd3 pic.twitter.com/ezMHKVrLiA

— RTÉ News (@rtenews) October 13, 2020
A paper from Health Minister Robin Swann has warned that infection rates will continue rising if both schools and the hospitality sector remain open.
First Minister Arlene Foster - who also declared that a deal between the UK and EU would be in "everyone's best interests" - said the decisions that needed to be made were not easy.
"We will have an Executive meeting to discuss the issue and what we can do as an Executive to try and halt the rise of Covid-19," she told the Assembly this afternoon.
"Some people have said it is about health versus wealth, I think that is a completely false analysis... poverty kills and unemployment kills as well.
"Therefore it is a balancing act between making sure that we deal with Covid-19 but that we also try and protect our economy, protect our society as we know it and indeed family life as we know it."
"These are huge decisions, none of them are easy."
Earlier, it emerged that an intensive care unit at Northern Ireland's Nightingale hospital has been reopened in response to escalating Covid admissions in Belfast.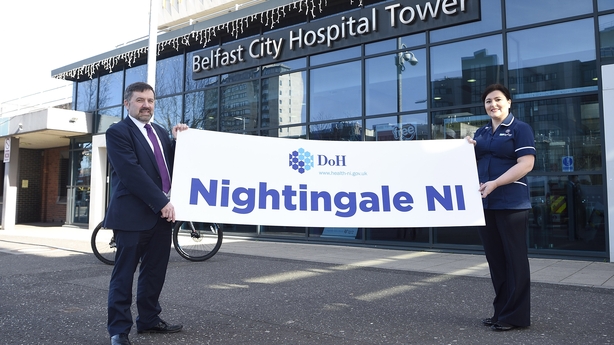 The facility is not yet being stood up on a region-wide basis, but will be accepting Covid-19 patients being treated within the Belfast Trust area.
The Belfast Trust has also cancelled 105 planned surgeries at Belfast City Hospital and Musgrave Park Hospital for the next two weeks to free up staff to respond to the worsening coronavirus situation.
Derry City and Strabane Council area remains the worst hit in Northern Ireland, with a case incidence rate of 970 per 100,000 people over the last seven days. 
That is more than double the next highest rate, which is 462 per 100,000 in Belfast. 
Mid Ulster now has a rate of 401, while the Newry, Mourne and Down Council area has a prevalence of 315 per 100,000. Mid and East Antrim remains the areas with the lowest infection rate, at 95 per 100,000. 
South of the border, the 14-day virus incidence rate per 100,000 is 177.2 nationally. Counties with the highest rates include Cavan (412.2), Donegal (354.9), Monaghan (312.8) and Clare (303).
Call for weekly testing of care home staff
Staff in care homes should be tested for Covid-19 on a weekly basis, the commissioner for older people in Northern Ireland said.
Virologists support the plan to pick up asymptomatic cases sooner, Eddie Lynch added.
Everyone is checked fortnightly at present, to protect vulnerable residents.
Mr Lynch said: "We need to ramp it up."
He told Stormont assembly members that experts had suggested testing every 14 days was too big a gap, and there was scope for catching coronavirus in between.
"Moving from twice weekly to weekly for care workers would be an appropriate response to the level of risk we are currently seeing," Mr Lynch said.
Regular checking of all asymptomatic staff every 14 days, and asymptomatic residents every 28 days, began in August.
That regime applies to care homes with no suspected or confirmed outbreak.
Age NI chief executive Linda Robinson also gave evidence to Stormont's health committee.
She said: "It is very important that we are following the advice of experts in terms of science and medicine."
Ms Robinson said a timely response could involve increased staff on duty and making sure testing was done effectively.
Additional reporting PA