There have been three coronavirus-related deaths and 811 new cases of the disease notified to the Department of Health in the past 24 hours.
This brings to 1,830 the total number of Covid-19 related deaths in Ireland with 44,159 confirmed cases - this includes the denotification of three previously confirmed cases.
Of the cases notified today, 415 are men, 396 are women and 70% are under 45 years of age. The median age of people who are testing positive is 30 years old.
Geographically, 190 are in Dublin, 141 in Cork, 62 in Wexford, 51 in Kerry, 50 in Clare and the remaining 317 cases are spread across all remaining counties.
As of 2pm today, 234 Covid-19 patients were hospitalised, of which 32 were in ICU. There were 22 additional hospitalisations in the past 24 hours.
Cavan General Hospital has the largest number of patients, with 30 Covid-19 cases. There are 25 confirmed cases of the coronavirus at Beaumont in Dublin and 21 in Letterkenny University Hospital.
The 14-day virus incidence rate per 100,000 is 177.2 nationally. Counties with the highest rates include Cavan (412.2), Donegal (354.9), Monaghan (312.8) and Clare (303).
Counties with the lowest incidence rate include Waterford (66.3), Carlow (75.5), Tipperary (77.7) and Mayo (80.5).
The incidence rate in Dublin is 180.9, Cork is 199.1 with Limerick at 183.2 and Galway at 165.5.
Nearly 8,000 new cases of Covid-19 have been confirmed in Ireland in the last two weeks.
Chief Medical Officer Dr Tony Holohan said: "We have widespread community transmission in the country. The spread of Covid-19 is a whole population issue.
"This is why we're appealing to every single individual, every single family, household, organisation, workplace, to act on public health advice. You are the frontline defence against this disease."
Deputy Chief Medical Officer Dr Ronan Glynn said: "If we see community transmission patterns continuing to grow, we're going to see more vulnerable groups being infected.
"The result of that, unfortunately will be further hospitalisations and deaths. Limiting your contacts, avoiding crowds and following basic public health measures will ultimately save lives."
Seven further deaths - four in the past 24 hours and three from outside that period - were reported in Northern Ireland alongside 863 new positive cases of Covid-19. 
Today's figures follow the announcement of Budget 2021 with €8.5 billion going towards public services to address the challenges of Covid-19.
It comes as researchers in the US reported the country's first confirmed case of coronavirus reinfection.
Also today, Johnson & Johnson announced it has temporarily halted its Covid-19 vaccine trial because one of its participants had become sick.
---
Interactive map: Covid-19 cases in your area
Cristiano Ronaldo tests positive for Covid-19
EU agrees common rules for virus travel restrictions
---
The National Public Health Emergency team will be looking for evidence on how well Level 3 measures are working when it meets again on Thursday.
Dr Holohan said that NPHET would like to see "some encouraging signs" by then and will base any further advice to Government on this assessment.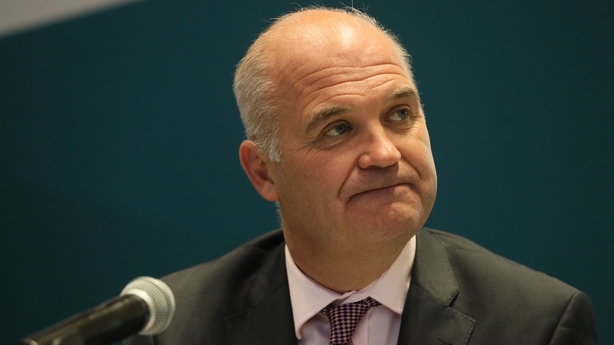 Positivity rates are now rising rapidly in all counties, on a daily basis, while Dr Holohan has said the spread of the virus is a challenge in border counties.
Cavan now has the highest 14-day incidence rate in the country, followed by counties Donegal and Monaghan.
While the growth of the virus in Dublin has now slowed, health officials say it has not turned a corner.
Dr Holohan urged people to stay apart saying that now is not the time for parties or play dates, and that people should work from home if they can. 
He said NPHET wanted to allow at least ten days before deciding whether Level 3 measures are having the "desired impact" and it will be hoping for encouraging signs when the group meets again.
Meanwhile, a GP in Cavan town said her practice is incredibly busy and things have just "taken off" since last week.
Dr Dara Hume said more than 30 patients a day are being referred for Covid-19 tests, the phones are "hopping" and people are "very worried and frightened".
Speaking on RTÉ's Morning Ireland, Dr Hume said she believes the rise in cases is being driven by large private and public gatherings and a lack of adherence to public health guidelines.
The biggest challenge, she said, is contact tracing, which she said is not working quickly enough.
Dr Hume said if people do not know they are a close contact of a positive case then obviously they will not know they need to restrict their movements.
Sinn Féin TD for Cavan-Monaghan Matt Carthy told RTÉ's Today with Claire Byrne that more lives will be lost unless decisive action is taken, describing the Covid-19 situation across Ireland as "very grave".

Additional reporting Laura Hogan and Fergal Bowers