There have been five Covid-19-related deaths and 617 new cases of the disease notified to the Department of Health in the past 24 hours.
This brings the cumulative number of cases here to 40,703 while the death toll stands at 1,821. This includes the denotification of one previously confirmed death.
The latest figures show there are 31 patients being treated for Covid-19 in intensive care units.
It compares to a figure of 25 this morning.
Chief Medical Officer Dr Tony Holohan said: "The profile of the disease continues to deteriorate. There have been an additional 32 hospitalisations and eight ICU admissions in the past 24 hours.
"We are continuing to see a high number of daily cases.
"It is vital that we interrupt the transmission of the virus now.
"NPHET (National Public Health Emergency Team) continues to monitor the situation. However, it is early, individual action that is needed to suppress the virus.
"Please follow public health advice and do your part to make an impact on the disease."
Of the cases notified today, 123 are in Dublin, 107 in Cork, 42 in Meath, 36 in Kerry, 35 in Galway and the remaining 274 cases are located across 21 counties.
310 are men, 307 are women and 73% are under 45 years of age.
A third are confirmed to be associated with outbreaks or are close contacts of a confirmed case, while 72 cases have been identified as community transmission.
The latest figures come as the Cabinet Covid-19 sub-committee considers the question of graduated fines to enforce pandemic-related regulations.
Earlier today, the highest ever daily number of new positive coronavirus cases was recorded in Northern Ireland.
The rise of 1,080 cases brings the overall total number of cases there to 18,190. There were no further deaths, with the toll remaining at 587.
Stormont Health Minister Robin Swann said the situation was "grave and getting more so, on a daily if not hourly basis".
Speaking to RTÉ's News at One, First Minister Arlene Foster said it was "critically important" that financial supports are available for those who will be adversely affected if additional Covid-19 restrictions are put in place in Northern Ireland.
The World Health Organization also reported a record one-day increase in global coronavirus cases with the total rising by 338,779 in the past 24 hours.
Meanwhile, chair of the Special Committee on Covid-19 Michael McNamara has said questions remain unanswered on whether "adequate steps were taken" to protect residents of nursing homes and long-term care facilities during the Covid-19 pandemic.
Mr McNamara said a public inquiry is required "urgently" into what happened at nursing homes during the early stages of the Covid-19 response.
The final report from the Oireachtas Special Committee on Covid-19 also recommended that the Joint Committee on Agriculture and Marine and the Committee on Health pursue a range of issues that have arisen with the spread of the virus in the meat industry.
It said Covid-19 compliance officers should be appointed in all meat plants and advised that the role of Department of Agriculture veterinary inspectors in meat plants be examined.
Also today, a GP in Co Clare said her practice does not have enough flu vaccines to meet demand.
Speaking on RTÉ's Today with Claire Byrne, Dr Maire Finn said there was huge public buy-in for the first time, which she described as "wonderful", but warned: "We are not able to meet demand."
Waiting lists rise again
There has been a small increase in overall hospital waiting lists, which now stand at over 829,300 patients, new figures show.
This represents a rise of around 1,860 patients last month, compared to August.
The number of people waiting to be seen at an outpatient clinic at the end of September was 612,083 compared with 610,996 the previous month.
The figures for September were published this evening by the National Treatment Purchase Fund.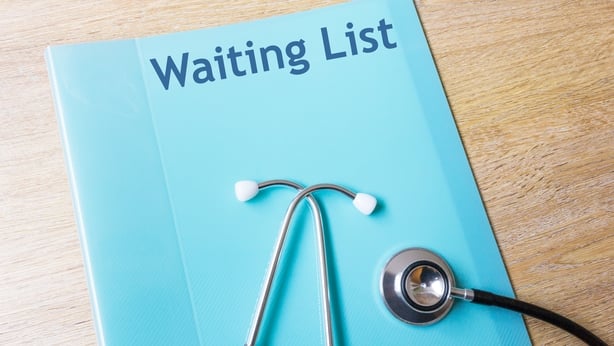 Sinn Féin Health Spokesperson David Cullinane expressed worry at the growth in waiting lists and the potential of a further surge in Covid-19 cases stopping elective care.
"The massive growth in waiting lists over the last number of months is highly concerning," he said.
"Despite the best efforts of our healthcare workers operating at full capacity, waiting lists and waiting times are up again this month.
"As the medical experts and ICU management made clear on Prime Time last night, capacity in critical care units is dangerously low. Overflow surge capacity is there, but it is not safely staffed."
Prof Alan Irvine, president of the Irish Hospital Consultants Association, said 74,599 people had been added to the waiting lists since the beginning of the year.
In a statement, he said: "To address this growing patient backlog, we must immediately fill the 500 vacant hospital consultant posts. Ireland has the lowest number of consultants per capita in the OECD and 40% below the EU average.
"With 1,000 health care professionals now also absent from our hospitals due to Covid-19, these shortages have only been amplified."
Prof Irvine said that "urgent action and leadership" is needed by decision makers.