The First Minister of Northern Ireland has described cooperation between the Stormont Executive and the Irish Government in relation to Covid-19 measures on both sides of the border as "very good".
Speaking on RTÉ's News at One, Arlene Foster said there will be a "continuing conversation" between the Stormont Executive and the Irish Government and both Chief Medical Officers' from the Republic and Northern Ireland are in regular contact.
"If we have to take different decisions it is important that we understand why we have to take different decisions," she said. 
Mrs Foster has said that the North's Ministers are facing "some of the toughest decisions" they have ever had to make in relation to Covid-19.
She also said it is "critically important" that financial supports are available for those who may be adversely affected if additional Covid-19 restrictions are put in place in Northern Ireland.
"There is a need for significant financial support from Westminster, if we take a decision to move in a particular direction," she said.
Mrs Foster was due to speak to UK Chancellor Rishi Sunak about his announcement of financial support for Northern Ireland and parts of the UK.
She also said that a "common-sense approach" should be taken to travelling across the border. 
"People will have to travel for work and other exemptions, but this is about bringing it back to basics and having a common-sense approach to travel, when we should all be limiting our interactions," she said. 
Northern Ireland has seen a record number of Covid-19 cases today, with 1,080 new cases.
This is the highest daily total since the current testing model was introduced.
Meanwhile, the Minister for Foreign Affairs has said the CMOs' from the Republic and Northern Ireland have been speaking today about the spread of the virus on both sides of the border.
Simon Coveney told RTÉ News that he hopes in the coming days there will be much more interaction between politicians in the North and Dublin, to make sure that everything is done to ensure this is a managed as a disease that does not respect any borders.
He said we cannot have a situation where there is a significant disparity in terms of the pace of spread in one jurisdiction right next door to another.
Mr Coveney said we need a collective response and we need to use the good relationships between political and medical officials north and south and that needs to be used to protect public health on both sides of the border.
Earlier, the Minister said he addressed the issue about more funding coming from London yesterday with Secretary of State for Northern Ireland Brandon Lewis.
Speaking on RTÉ's Morning Ireland, he said Mr Lewis has promised that funding for Northern Ireland should be available and Mr Coveney said both jurisdictions need to work together to manage the spread of the coronavirus.
Mr Coveney said he has been assured by Mr Lewis that there is no blockage of Covid-19 funding from the British government to Northern Ireland.
The minister said that while there is a perspective that British Prime Minister Boris Johnson is under pressure to release further funding, that is not what he was told during his meeting with the Northern Ireland Secretary in Belfast yesterday.
"What he is saying is that the British government has already made significant funding to the Executive specifically for Covid in Northern Ireland and the response there," Mr Coveney said.
"I'd like to speak to some of the senior politicians in Northern Ireland today to establish exactly what is the blockage there because certainly Brandon Lewis, the Secretary of State, was very clear with me yesterday that funding should not be the blockage.
"If funding is necessary for a Covid response in terms of public health response in Northern Ireland then London will look at that seriously.
"If there is a blockage based on a lack of funding from London to Northern Ireland then we need to address that and Brandon Lewis, speaking to me yesterday, was happy to address that."
---
---
O'Neill self-isolating after family member tests positive
Meanwhile, Sinn Féin's leader in Northern Ireland and the Deputy First Minister, Michelle O'Neill, is to self-isolate after a family member tested positive for Covid-19.
She expects to be tested today and is adhering to public health guidelines.
The development would only have potential self-isolating consequences for Ms O'Neill's Stormont colleagues if she tests positive for the virus.
A Sinn Féin spokesman said: "Joint head of government Michelle O'Neill has confirmed that she is being tested for coronavirus and is self-isolating after contact with a family member who has tested positive for Covid-19.
"Michelle will continue to follow the public health advice and carry out her duties in Government remotely."
NI Justice Minister suffering from 'long Covid'
Meanwhile, Justice Minister Naomi Long says doctors have told her she was probably infected with coronavirus earlier this year and suffered "long Covid" in the months that followed.
The British Medical Journal says "long Covid" is a term used to describe illness in people who have either recovered from Covid-19 but are still report lasting effects of the infection or have had the usual symptoms for far longer than would be expected.
The Alliance Party leader said she missed the party's conference in March because she was taken to hospital for tests after experiencing chest pains and a high temperature.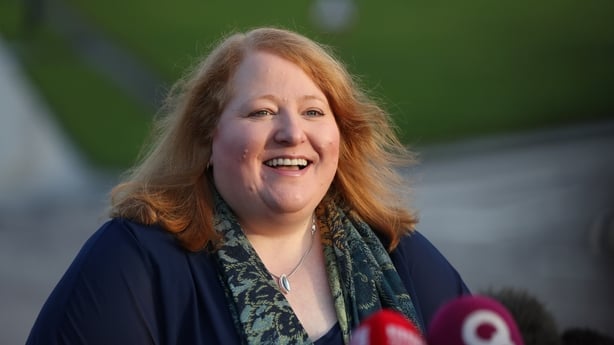 A CT scan revealed a partially collapsed lung, which she told BBC Northern Ireland's 'The View' had made her "quite ill" for two weeks.
She said: "What did start to worry me was the lag after that, because for the next three to four months I suffered from exhaustion, I found it difficult to breathe and it was really quite challenging to get the full recovery.
"When I was referred back to the clinic, in terms of having my lungs checked and all the follow-up on that, it was there that they said it had probably been a form of Covid that I had and that that would explain the very long recovery time, which was consistent symptomatically with other people who had had long Covid, as it's referred to."
She was likely not diagnosed with the virus during her initial time in hospital as she did not have a cough, the minister said.
Her experience made her urge members of the public to undergo a test and isolate if they have any symptoms associated with Covid-19.
She said: "Don't wait until you have all the symptoms because you might never develop all of them.
"I was not aware that I had been exposed. I wasn't aware that I had it and I was never tested for it at the time. But they're pretty sure given the symptoms that that's what it might have been."
It comes as the Northern Ireland public face public face beefed-up coronavirus fines, with fixed penalty notices starting at £200.
The list of locations where people must wear a face covering has also been extended as Stormont ministers try to stem a dramatic surge of Covid-19 cases.