EU fishing member states are taking an increasingly hard line over any concessions to the UK in the current phase of the Brexit negotiations, RTÉ News understands.
Fisheries officials from eight coastal member states yesterday agreed unanimously that the EU's chief negotiator Michel Barnier should take a tougher line in the talks, which are entering a critical phase.
Under the terms of the future relationship negotiations, there can be no overall free trade agreement unless there has been a deal on fisheries.
The UK wants a much greater share of fish quotas from stocks which straddle British and EU waters, and to be able to reduce the level of access European vessels enjoy in British waters.
The EU has sought to maintain as far as possible the quota share and access rights which evolved through the Common Fisheries Policy (CFP).
It's understood Mr Barnier has been probing member states as to the limits of what compromises they are prepared to accept in order to secure an agreement on fisheries.
Member states in turn are understood to be putting pressure on Mr Barnier to stick to his negotiating mandate, which aims to secure as close as possible the status quo for EU fleets.
Mr Barnier has been speaking this week by video link to ministers from the so-called Group of Eight coastal states. These include Ireland, Belgium, Spain, the Netherlands, Denmark, Germany, France and Sweden.
Minister for Agriculture, Food and the Marine Charlie McConalogue spoke to Mr Barnier late this morning.
"Barnier is trying to twist [fisheries ministers'] arms, but my understanding is that he hasn't been successful in doing that," says Sean O'Donoghue, chief executive of the Killybegs Fishermen's Organisation.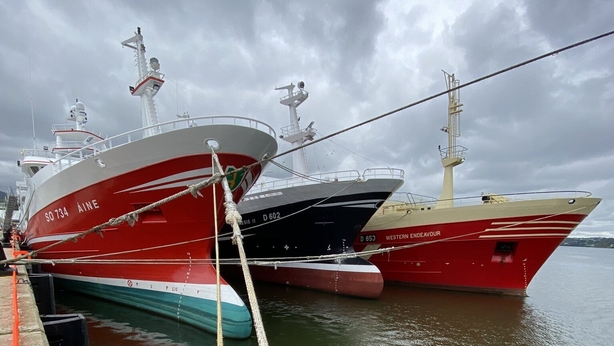 "I think the message he is getting is: you have a mandate, and within that mandate you have a number of cards to play."
British Prime Minister Boris Johnson put a particular emphasis on fisheries during his phone call with the President of the European Commission Ursula von der Leyen on Saturday, it was reported.
Following the ninth round of trade negotiations in Brussels last week, the UK's chief negotiator David Frost also said: "On fisheries the gap between us is unfortunately very large and, without further realism and flexibility from the EU, risks being impossible to bridge. These issues are fundamental to our future status as an independent country."
It is understood member states are pushing Mr Barnier to use the leverage provided by the precondition that a free trade agreement (FTA) cannot be concluded without a side deal on fisheries.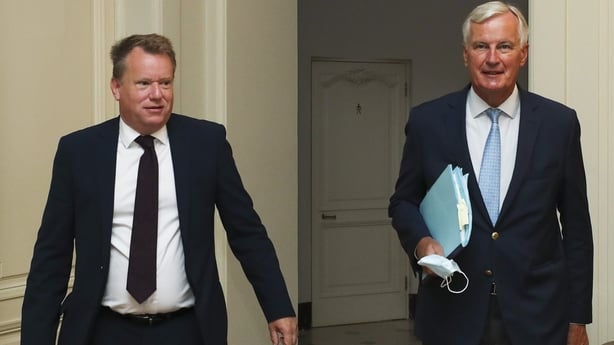 Sources close to the issue say coastal states are coordinating their position and taking a hard line.
"We don't see why there should be any concessions," says one source familiar with developments.
Although the fishing industry represents a small part of the overall GDP of both the UK and the EU, the future access to UK waters by EU fleets, and the potential for the UK to dramatically increase its quota outside the CFP, have become totemic issues for both sides.
Although the UK has long been seen as having a strong hand in the negotiations, as it will become an independent coastal state, EU officials insist that since an FTA will not be possible without a fisheries deal, that gives Michel Barnier considerable leverage.
However, some fisheries organisations fear that the EU's chief negotiator has not yet used that leverage.
"Fisheries is linked to the wider trade negotiations. All we hear is that the linkage is there, but what use of the linkage is being made? There's absolutely zero being said about that," Mr O'Donoghue said.
Irish fishing organisations are also worried that if the European fleet's access to UK waters is drastically reduced then they will turn their attention to Irish waters, and that in turn will put pressure on sensitive spawning grounds.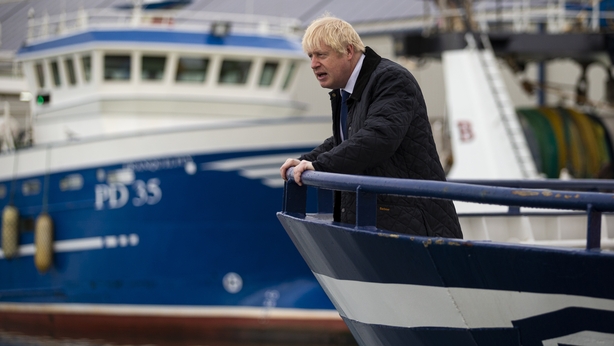 "There are 400 vessels from the EU known to fish between the North Sea, the Irish Sea, the French Channel, off the Shetlands, that fish inside UK waters," says Patrick Murphy, chief executive of the Irish South and West Fish Producers Organisation.
"If they are denied access, where are they going to go? We have 164 [Irish] vessels over 18 metres length. In 2006 we had 280. We've already taken the pain as a nation to sustain the stocks off our coastline for everybody else to fish. We're down nearly 50% of our fleet in 10 years. So, it would be crazy now to see an influx of boats back into that area. That would harm the biologically sensitive areas of our fishing waters. That would harm everybody.
"Michel Barnier was given the task to keep the status quo for the good of everybody," he said. "Including the UK."
During the negotiations the UK has pushed for a method of distributing fish quotas known as Zonal Attachment, which essentially uses data to work out where migrating adult fish are actually caught rather than other factors, such as where they are spawned.
The EU by contrast has pushed for an adherence to the concept of Relative Stability, the criteria under the CFP by which coastal states enjoyed access to UK waters and quota sizes based on historic fishing rights.
In recent weeks both sides set out to draw up lists of "priority" fish, with the UK recommending that a percentage of those fish being allocated according to Zonal Attachment only, with criteria other than Zonal Attachment - such as historical catches - being accorded to other stocks.
It's understood member states, including Ireland, have strongly resisted this approach on the basis that all quotas fished by EU coastal communities are "priority" and that livelihoods will be lost if Zonal Attachment is applied as the main criteria.