US President Donald Trump is receiving an experimental treatment of synthetic antibodies for Covid-19, his doctor said tonight, and is "fatigued but in good spirits".
Mr Trump received a single dose of Regeneron's antibody cocktail, according to a letter issued by White House physician Sean Conley.
The treatment is undergoing clinical trials but has not received any form of regulatory approval.
"He's being evaluated by a team of experts, and together we'll be making recommendations to the President and First Lady in regards to next best steps," Dr Conley said.
Mr Trump is showing "mild symptoms" of Covid-19 after testing positive for the virus, a White House official said earlier.
Mr Trump and First Lady Melania, who is also suffering mild symptoms, are both now in quarantine.
"We will get through this together," Mr Trump said in a tweet as he announced the test result.
Mr Trump's chief of staff Mark Meadows said he was "optimistic" about a rapid recovery and confirmed that the president had "mild symptoms" after testing positive for Covid-19.
"The president and the First Lady... remain in good spirits," Mr Meadows told reporters.
"The president does have mild symptoms and, as we look to try to make sure that not only his health and safety and welfare is good, we continue to look at that for all of the American people."
Mr Meadows added that Mr Trump was "not only on the job, (but) will remain on the job, and I'm optimistic that he'll have a very quick and speedy recovery.
"I am not going to get into any particular treatment that he may or may not have. He has mild symptoms.
"As we we look at that, the doctor will continue to provide expertise in the residence. He is in the residence right now."
Mr Trump's doctor earlier said the president and his wife were "well".
Mrs Trump tweeted: "I have mild symptoms but overall feeling good. I am looking forward to a speedy recovery."
Tonight, @FLOTUS and I tested positive for COVID-19. We will begin our quarantine and recovery process immediately. We will get through this TOGETHER!

— Donald J. Trump (@realDonaldTrump) October 2, 2020
The couple's 14-year-old son Barron has tested negative for coronavirus. Mr Trump's daughter Ivanka and her husband Jared Kushner also tested negative for the virus.
Vice President Mike Pence and his wife Karen have also tested negative for the virus.
Minister for Foreign Affairs Simon Coveney is restricting his movements to "essential work only" following his trip to Washington DC this week, which included a meeting at the White House. 
Thank you for the love you are sending our way. I have mild symptoms but overall feeling good. I am looking forward to a speedy recovery.

— Melania Trump (@FLOTUS) October 2, 2020
A spokesperson said Mr Coveney and his delegation were tested upon re-entry to Ireland as per the guidelines, and will be tested again in a few days' time.
Speaker of the US House of Representatives Nancy Pelosi has been tested for Covid-19 and is awaiting results. She met Minister Coveney on Wednesday on Capitol Hill.
Speaking in Brussels today, Taoiseach Micheál Martin wished the Trumps "the very best" for a "speedy recovery" from Covid-19.
Mr Martin said: "It's difficult for them to have tested positive for Covid-19, but we wish them a speedy recovery.
"I think it reminds us all of the ever-present prevalence of this virus." 
Democratic presidential candidate Joe Biden and his wife Jill both tested negative for the virus this evening. Earlier today, he took to Twitter to wish Mr Trump a "swift recovery". 
Jill and I send our thoughts to President Trump and First Lady Melania Trump for a swift recovery. We will continue to pray for the health and safety of the president and his family.

— Joe Biden (@JoeBiden) October 2, 2020
---
Read more:
Trump timeline: Where has the US President been this week?
Notable Donald Trump quotes on Covid-19
If Trump becomes incapacitated, what happens next?
One month before election, campaign sees biggest twist so far
---
Democratic vice presidential nominee Kamala Harris and her husband Douglas Emhoff both tested negative today for the virus.
In a move that marks a new, event-free reality for Mr Trump, the administration has removed a campaign trip to Florida today from Mr Trump's schedule.
He had been due to hold the event at Sanford airport, but his new agenda just lists a phone call on "Covid-19 support to vulnerable seniors".
As US President Donald Trump and his wife Melania test positive for #Covid19, RTÉ's Washington Correspondent @BrianOD_News talks to @MorningIreland | https://t.co/bAjNWw7c6I https://t.co/riCFg10OOx

— RTÉ News (@rtenews) October 2, 2020
White House adviser Hope Hicks tested positive for the virus and had been in close proximity to Mr Trump in recent days.
Ms Hicks is the former White House Communications Director and is one of Mr Trump's top advisers and closest aides.
US President Donald Trump was upbeat about the coronavirus pandemic when he spoke remotely to an annual fundraising event yesterday, before he and his wife Melania tested positive for #Covid19 | https://t.co/mDmaaBQtoQ pic.twitter.com/u06dwd8Wqn

— RTÉ News (@rtenews) October 2, 2020
She travelled with Mr Trump multiple times this week, including on board Marine One, the presidential helicopter, to a rally in Minnesota on Wednesday, and on Air Force One to Tuesday night's first presidential debate in Ohio.
On Twitter, Mr Trump described Ms Hicks' positive test result as "terrible".
He said he and Ms Trump were awaiting their own test results and in the meantime would be quarantining.
Hope Hicks, who has been working so hard without even taking a small break, has just tested positive for Covid 19. Terrible! The First Lady and I are waiting for our test results. In the meantime, we will begin our quarantine process!

— Donald J. Trump (@realDonaldTrump) October 2, 2020
Mr Trump told Fox News host Sean Hannity that it was difficult for him and those close to him to avoid the virus since so many others, including members of the military, try to interact with them.
A memo just released from @Mike_Pence's doctor says the @VP tested negative for #COVID19, is not considered to have had close contact with @realDonaldTrump & does not need to quarantine. He "remains in good health and is free to go about his normal activities." @rtenews pic.twitter.com/tVrzaXiiCa

— Brian O'Donovan (@BrianOD_News) October 2, 2020
Mr Trump said: "I just went out for a test, it will come back later I guess, and the First Lady also because we spend a lot of time with Hope."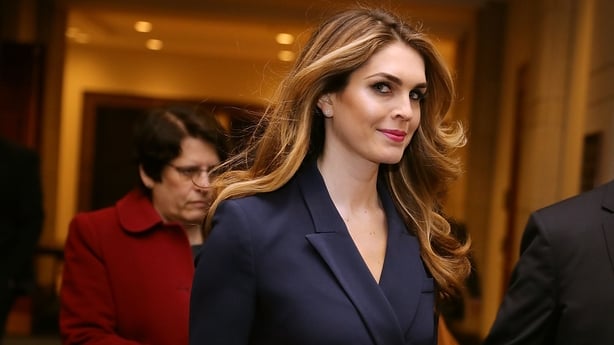 Additional Reporting AFP