Children aged between one and four should take Vitamin D supplements between Halloween and St Patrick's Day every year, under new guidelines issued by the Department of Health.
It said such supplements are needed because children living in Ireland do not get enough of the vitamin in the winter months.
Most of our vitamin D comes from sunlight on our skin. The vitamin forms under the skin in reaction to sunlight.
The guidelines say 5mcg of "Vitamin D only" supplements should be administered to children daily during this period.
The revised guidelines also urge parents to ensure children have enough iron in their diet by offering red meat three times a week and offering breakfast cereals that contain at least 12mg/100g of iron several times a week.
The Dept also said if a child is small for their age, their family should speak to a dietician for advice.
The importance of portion size is also outlined in the guidelines.
It is advised that children's food should be served on small dishes and be approximately one third the size of the adult portion.
Minister for Health Stephen Donnelly, Minister for Children, Roderic O'Gorman and the Minister of State for Public Health and Wellbeing, Frank Feighan, launched the first ever National Healthy Eating Guidelines for one to four-year-olds today.
Are you struggling with what your pre-schoolers eat?
The new children's food pyramid for 1 to 4 year olds will help you decide what your child should be eating and how much.
Launching at 11am this morning.
Watch Minister @StephenDonnelly talk about the guidelines #kidspyramid pic.twitter.com/rtqJzjNnUk

— HealthyIreland (@HealthyIreland) October 1, 2020
Speaking at the launch of the guidelines, Minister Donnelly said: "We all want to give our children the very best start and helping them to establish a healthy relationship with food is something that will benefit them for their entire lives.
"These guidelines will help parents and carers to set their children up for a healthier life and are another step to help make the healthy choice the easier choice for everyone."
The new advice includes a food pyramid outlining the recommended amount of food for young children in various categories including fats, treats and dairy.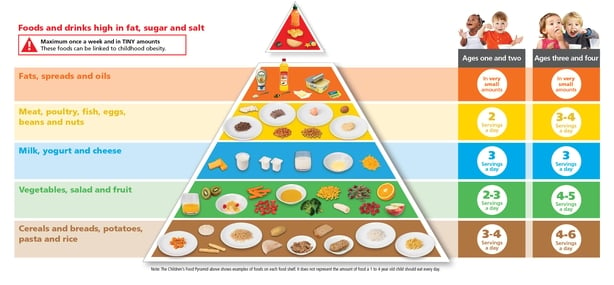 Parents are advised to limit food and drinks that are high in fat, sugar and salt. "If you decide to give your child these foods offer them in tiny amounts and only once a week," said the Department of Health.
One square of chocolate, three crisps or half a biscuit are all examples of a treat food that should only be given to a child once a week.
More resources and information are available here.