Martin Luther King Jr's oldest son has said that US President Donald Trump does not have the moral compass to unify the United States.
Martin Luther King III told RTÉ News that Donald Trump is "not a unifier" but "intentionally a divider" due to a lack of moral centre and Mr Trump's belief that creating division helps him win.
With coronavirus deaths in the United States climbing towards 200,000 and the ongoing protests over racial injustice, Mr King said that a different leadership is needed to bring the nation together.
The human rights advocate was ten years old when his father, the most visible American civil rights activist, was assassinated in 1968.
On RTÉ's 'States of Mind' podcast, Mr King said if his parents were alive, they would be disappointed to learn that the United States has become more divided than ever.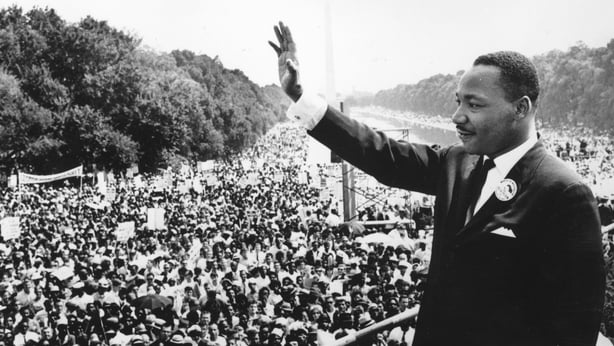 Almost 60 years ago at the Lincoln Memorial in 1963, Martin Luther King Jr delivered his iconic 'I Have A Dream' speech to 250,000 people in which he called for civil and economic rights and end to racism.
"I have a dream that my four children will one day live in a nation where they will not be judged by the colour of their skin, but by the content of their character".
Fifty-seven years later his granddaughter and Mr King's daughter, Yolanda Renee King stood on the same steps telling crowds that she was making it a personal priority to put social justice and equality first after a summer of protests and riots over systemic racism.
"Less than a year before he was assassinated, my grandfather predicted this very moment... he said that we were moving into a new phase of the struggle. The first phase was for civil rights, and the new phase is a struggle for genuine equality" said the 12-year-old at the end of August.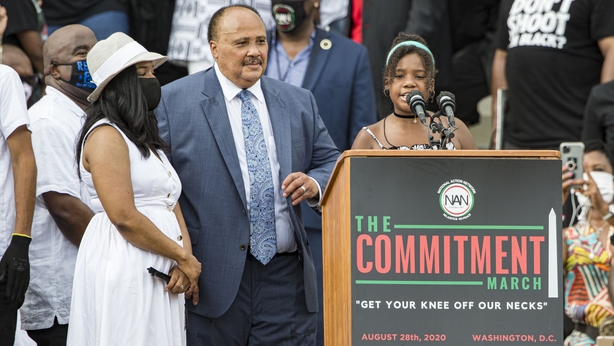 While Martin Luther King III is proud of his daughter's words about fulfilling his father's dream, he said believes his parents would be unhappy by recent events.
"They would be silently saddened by the fact [that] as we as a nation have not made more progress and that we find ourselves at a juncture where our nation is very divided, more divided than it has ever been," he said.
"Nothing is going to change unless he [Donald Trump] is voted out in November," Mr King added.
While Donald Trump has supported the funding of historically black colleges and universities and championed criminal justice reform, Mr King said to say Mr Trump has "done more for the African American community than Abraham Lincoln is just not true".
Donald Trump's attitude towards confederate memorials, housing policies and a denial of systemic racism in the United States highlights the president's 'racist tone', according Mr King.
Mr King acknowledged that the Democrats "should and could have done more" for African-Americans and that Joe Biden has made some gaffes, but those mistakes do not "diminish who he is" and there is a real opportunity with him for change.
"The hope is the majority of the people say 'you know we cannot tolerate this anymore and we must vote for different leadership'," he said.
He said if people are willing to work together, they can create what his father called the "beloved community" - making America what it ought to be.
"My wife always shares this phrase with me: we have to work for change, we have to pray change and we have to be the change, and if love is yet not won then the battle is not yet over" he recited, concluding that November's election should be a "very easy choice" for Americans.
To listen to 'States of Mind' on Apple Podcasts click here
To listen on Spotify click here