An Irish doctor based on the Greek island of Lesbos has described last night's fire at the overcrowded refugee camp of Moria as "absolutely catastrophic".
Dr Claire Dunne, from Co Laois, said she believes the blaze has caused the biggest humanitarian crisis that  the island has faced in living memory.
Fire broke out in more than three places in a short space of time overnight and quickly ripped through the camp, burning tents and belongings.
"People were forced to flee with what few possessions they could carry in the middle of the night. They ran from the fire for their lives into the hills [and] into the forest," she said.
Crowds of people moved towards the nearest town of Mytilene but were stopped from entering by police, said Dr Dunne, who has been working on the island since May 2019.
Last week the camp was placed under quarantine after a Somali migrant tested positive for the coronavirus. Thirty-five people have since been infected.
She said that migrants spent the night sleeping in front of a line of authorities without access to food, water and blankets as they had nowhere else to go.
Around 12,000 asylum seekers, who are fleeing war and persecution, are now essentially sleeping on these streets, she said.
"There are 4,000 children, 400 unaccompanied children, many people living in the camp who are high risk for complications if they got coronavirus… who are now essentially homeless," she added.
Until last night the camp housed over 12,000 people who are waiting for their asylum applications to be processed. About two thirds of those living on the island are from Afghanistan. 
Dr Dunne, who is currently in quarantine on Lesbos after a break from her work, called on Ireland and other European countries to help relocate those affected "in a show of solidarity". 
She added that the asylum seekers have been 'through so much already' by "living in undignified and inhumane environments since they arrived on Lesbos".
The cause of the blaze was not immediately clear, with fires burning both inside and outside the camp.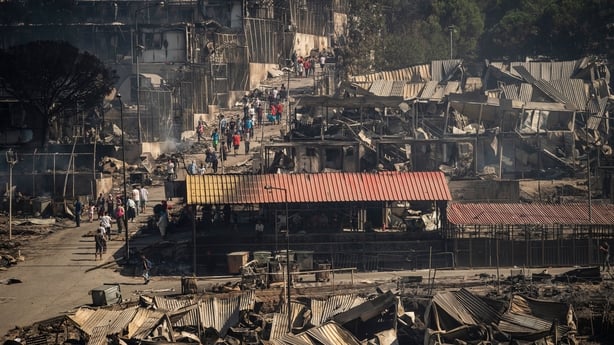 The facility was placed under quarantine last week after authorities confirmed that an asylum seeker had tested positive for the coronavirus.
Confirmed infections have risen to 35 since then.
Lesbos, which lies just off the Turkish coast, was on the frontline of a massive movement of refugees and migrants to Europe in 2015-2016.
We need your consent to load this rte-player contentWe use rte-player to manage extra content that can set cookies on your device and collect data about your activity. Please review their details and accept them to load the content.Manage Preferences
A police official said that migrants were taken to safety and witnesses saw people leaving the camp, carrying their luggage.
At least 28 firemen with nine engines, aided by volunteers, were battling the flames.
It is not the first time the Moria camp has been hit by fire.
Due to the coronavirus pandemic, since the start of March, all migrants reaching the island have been quarantined away from the camps.
In the Moria camp, aid groups have warned that social distancing and basic hygiene measures are impossible to implement due to the cramped living conditions.
Lesbos, which lies just off the Turkish coast, was on the frontline of a massive movement of refugees and migrants to Europe in 2015-2016.
Additional reporting Reuters