A senior police officer who investigated the disappearance of Nóra Quoirin in Malaysia last year has told the inquest into her death that there was no indication the 15-year-old was kidnapped.
Nóra, who had special needs, vanished from a bungalow at the Dusan resort where she was staying with her family in August 2019.
After ten days of searches in the jungle, her body was found by volunteer hikers around 2km from the resort.
A preliminary post-mortem examination result found that Nóra had died of intestinal bleeding, possibility caused by hunger or stress, two or three days before her body was discovered.
Senior police official Mohamad Mat Yusop described today how he inspected the bungalow where Nóra and her family were staying and saw nothing suspicious.
"There was no indication the victim was kidnapped," Mr Mohamad told the inquest in the city of Seremban, which is set to hear from some 64 witnesses, including Nóra's parents.
"We did not receive any telephone calls, usually in this kind of case we will get a call to say the victim has been kidnapped and is in the hands of certain people, and they would demand a ransom.
"I believe the missing person actually climbed out of the window."
A second witness, resort owner Haanim Ahmed Bamadhaj, said the latch of the window Nóra is believed to have climbed out of was broken, and there was no CCTV at the site.
Two windows from the bungalow were shown in court, one of which had a broken latch.
First day of the inquest into Nóra Quoirin's death is over after the coroner heard from the local police chief Mohamad Mat Yusof and one member of staff from the Dusun rainforest resort.

— Jackie Fox (@jackiefox_) August 24, 2020
Police in Malaysia treated Nóra's disappearance as a missing person's case and in January 2020 deemed "no further action" was to be taken.
However, her parents, Meabh and Sebastien Quoirin, have maintained that there was a criminal element to her death as for their daughter to wander off by herself was "out of character".
The Quoirins have fought to keep the case alive after it was closed by police, calling for an inquest to be held into Nóra's death.
The family had support from the Irish, British and French governments.
In July, Meabh and Sebastien Quoirin told RTÉ News that they were "pleased and relieved" that authorities in Malaysia reversed their decision and announced an inquest into her death.
Coroner Maimoonah Aid, who will be presiding over the hearing, recently visited the resort where the family was staying and the site where Nóra's body was found.
The inquest at the Coroner's Court in Seremban is due to run until 4 September.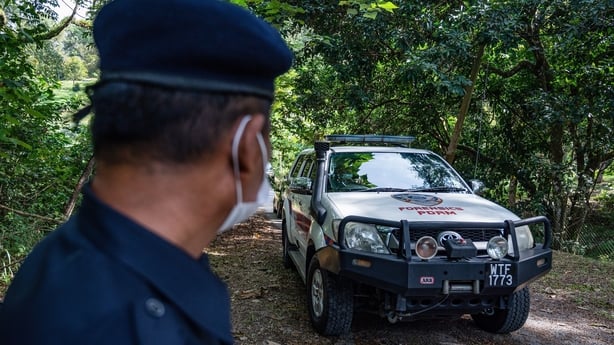 Police, authorities and the hikers who found her body will all be interviewed.
It is understood Nóra's parents are due to speak at the inquest on 1 September via video link because they cannot travel due to the coronavirus.
The coroner's duty is not merely finding the medical cause of death, but extends to establishing the circumstances of death, such as whether the cause of death may be unnatural or involve criminal elements.
However, an inquest is a fact-finding process and not a fault-finding one.
A Malaysian court has begun an inquest into the death of Nóra Quoirin, a year after her body was found in a jungle. Coroner Maimoonah Aid said the inquest will look at when, where and how Nóra died + "whether there is any person who was the primary concern on the cause of death". pic.twitter.com/ywj4TPFtho

— Jackie Fox (@jackiefox_) August 24, 2020
The verdict of a coroner is an expression of non-binding opinion of a proceeding where there is no accusation against any party. Therefore, a verdict cannot amount to a conviction.
The family said they want the "fullest possible picture" on what could have happened to Nóra and an understanding as to how her case was dealt with.
"Nóra disappeared on 4 August and this is happening on 24 August, all of that feels daunting enough. With her by our sides, she will get us through this.
"We feel it is really important not just to stand up for Nóra but all the children who have special needs," Meabh Quoirin said in July.
Additional reporting AFP