An additional 156 cases of Covid-19 and two further deaths have been reported to the Department of Health.
There has now been a total of 1,777 coronavirus-related deaths here and 27,908 cases. This includes the denotification of one death and three cases.
Of the cases notified today, 68 are confirmed to be associated with outbreaks or are close contacts of a confirmed case while 15 cases are from community transmission.
81 are men, 75 are women and 71% are under 45 years of age.
The latest cases include 55 in Dublin, 36 in Kildare, 12 in Tipperary, nine in Limerick, seven in Kilkenny, six in Waterford and the remaining 31 cases are in Carlow, Clare, Cork, Donegal, Galway, Kerry, Laois, Louth, Meath, Monaghan, Offaly, Roscommon, Westmeath, Wexford and Wicklow.
Acting Chief Medical Officer, Dr Ronan Glynn, said: "This weekend, if you are having people over, please have no more than six visitors, from no more than three households, to your home.
"It is vital that people all across the country follow the public health advice. If you have any symptoms, isolate and contact your GP by phone immediately."
Earlier today it was confirmed that the first prisoner in Ireland has tested positive for Covid-19. 
It is understood the woman was confirmed as having coronavirus yesterday. 
RTÉ News has confirmed that she has been in prison for more than a week. 
The woman has been in quarantine since her incarceration and has not mixed with other prisoners and remains in isolation.
It is also understood that the only people the woman would have had contact with are staff, who would have been wearing personal protective equipment. 
The HSE said it cannot comment on individual cases or outbreaks of Covid-19.
Meanwhile, it has been revealed that the highest number of Covid-19 tests completed in a single day in Ireland was recorded yesterday. 
The chief executive officer of the HSE said that 13,000 tests were completed. Paul Reid tweeted that this is "our highest daily number ever". 
Mr Reid said that the mean "end to end" time from referral to the completion of contact tracing is now down to 2.1 days. 
He said that 98% of tests are coming back negative, and that would mean the "vast majority would have been returned in much less than 2 days". 
Health Minister Stephen Donnelly thanked the HSE on Twitter today and said mass rollout for testing in nursing homes, direct provision and meat plants was underway.
Mr Donnelly also revealed that an expert review body on nursing and midwifery has begun its programme of work and said: "Its findings will form a key part of the reform of our health service".
The Irish Nurses and Midwives Organisation said the expert review body must focus "on the unfinished business from the strike settlement of 2019." 
The latest operational data from the HSE shows there are 19 people with Covid-19 being treated in 12 different hospitals around the country as of 8pm last night.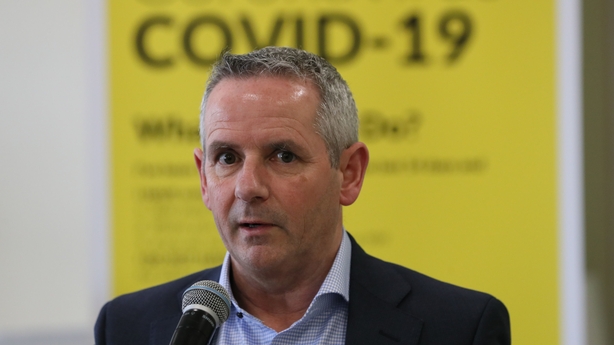 There were four patients each in Tallaght Hospital and University Hospital Limerick, two patients in Connolly Hospital, one patient each in Beaumont, Drogheda, Letterkenny, the Mater Hospital, Mullingar, Naas, South Tipperary, St Vincent's and Tullamore hospital. 
A further 76 people who are suspected of having the virus are also in hospital. 
Six of the 19 patients who have the virus are being treated in intensive care, and three of them are being ventilated. 
Another six suspected cases are also in ICU.
There are currently 351 critical care beds open and staffed, and 279 are occupied.
Yesterday we had the highest number of #Covid tests ever done in 1 day. Time from referral to completion of contact tracing now 2.1 days. Mass rollout for nursing homes, direct provision and meat plants underway. Well done the @HSELive & all involved. 👏https://t.co/gjTdmvI2gw

— Stephen Donnelly (@DonnellyStephen) August 22, 2020
In Northern Ireland has confirmed 71 individuals have tested positive for Covid-19 in the past 24 hours, bringing the total to 6,647.
No further Covid-19 related deaths have been reported. The number of deaths in Northern Ireland remains at 559.
There are 10 confirmed coronavirus patients in hospital, with none in ICU.
Yesterday, the Department of Health was notified of 79 more cases of Covid-19 and no further deaths.
The World Health Organization said data to date suggests 80% of Covid-19 infections are mild or asymptomatic; 15% are severe infection, requiring oxygen and 5% are critical, requiring ventilation.
Generally, you need to be 15 minutes or more in the vicinity of an infected person and within two metres of them, to be considered at-risk, or a close contact.