A criminal has been jailed for 15 years for firing a submachine gun on the streets of Ballymun in Dublin last year.
Derek Devoy, from Balbutcher Lane, was arrested by three unarmed gardaí, one of whom narrowly missed being shot in the head during the struggle to detain him.
The 37-year-old also had a hand grenade. Officers only realised the pin had been removed after Devoy had been restrained.
Today, Mr Justice Tony Hunt said Devoy's actions were disturbing and shocking, and that he was "inches away" from killing three gardaí.
Devoy previously admitted possessing a 9mm Makarov PM63 RAK submachine gun with intent to endanger life and in suspicious circumstances at Cranogue Road, Ballymun, on March 11, 2019.
The convicted criminal had also pleaded guilty to two charges under Section 19 of the Public Order Act for assaulting Garda Conor Garland and Sergeant Andrew O'Connor on the same date.
He had further pleaded guilty to possessing an explosive substance, a Yugoslavian M75 hand grenade, with intent to endanger life or cause serious injury.
Devoy, also known as 'Bottler Devoy', is a north Dublin gangster who has immersed himself in organised crime and terrorised the people of Ballymun in particular for more than 20 years.
His brother Michael was shot dead the day after he got out of prison in 2014 in a gang-related hit.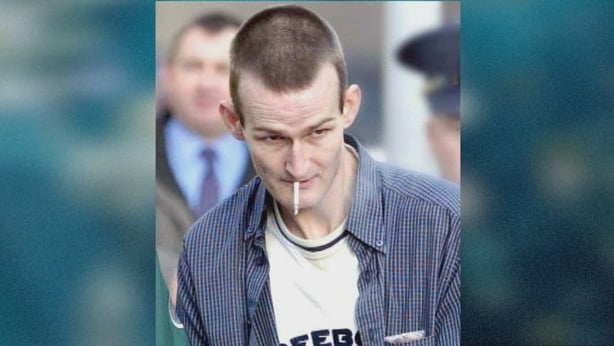 His sister Antoinette and his friend Clinton Shannon were also shot dead in 2017 by a hit team who went to Ballymun to murder Derek.
Devoy claimed the guilt over his sister's murder was the "straw that broke the camel's back in one sense" and led him to have "some sort of breakdown".
On 11 March 2019, he got a submachine gun and a grenade and walked around Ballymun, firing two shots in public.
Three unarmed gardaí arrived and chased him into a house where he sat on a toilet and pointed the gun at them.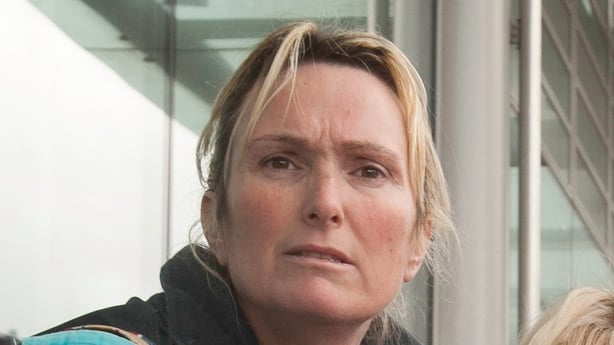 Sergeant Andrew O'Connor, and Garda Conor Garland jumped on Devoy but the gun went off, narrowly missing Garda Niall Minnock's head.
He thought he had been shot when shell casing hit him, but managed to kick the loaded submachine gun away.
The officers and Devoy ended up in the bathtub before he could be restrained.
The gardaí then spotted a hand grenade on the ground with the pin out, but for some reason it did not go off.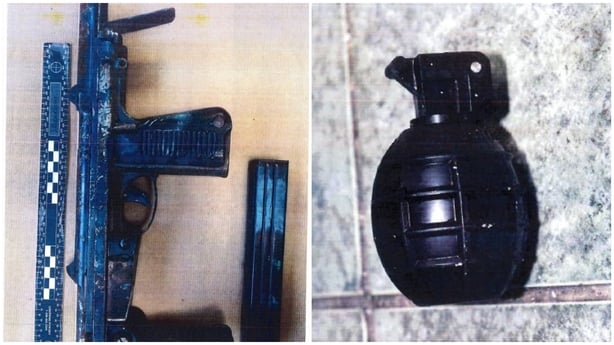 It was later detonated by the Army Bomb Disposal Team, which blew up the bathroom and the back of the house belonging to an innocent family whose home Devoy had run into. The house was uninhabitable for months.
Mr Justice Tony Hunt said Devoy ran amok in a densely populated area in the afternoon.
He said Devoy was inches away from causing serious injury or death to the three gardaí and it was only because of good luck they survived.
The judge sentenced Devoy to 17 years in prison, with the final two years suspended.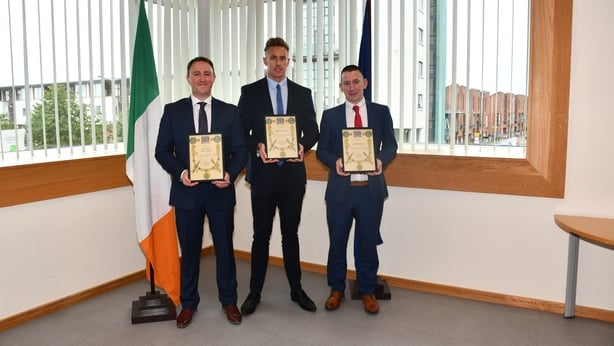 Following the sentencing, Detective Superintendent Paul Scott described the actions of the three gardaí who arrested Devoy as "very brave" and "in the finest traditions of An Garda Síochána.
He also said the case showed the proliferation of lethal weapons, which were invariably linked to the drugs trade. He added that it was good fortune that no-one was killed.
Det Supt Scott said: "It also shows the recklessness used by Mr Devoy ... that firearm discharges 660 rounds per minute and it is imperative that we as a society do all we can to remove them.
"The community of Ballymun is a little safer today."
He said the three gardaí had recovered and were all working. They were well used to dealing with difficult situations, but this was one they would never forget.