There have been two further deaths from Covid-19, bringing the total death toll to 1,746.
The Department of Health has also reported an additional 23 cases of the disease. There is now a total of 25,611 confirmed cases of coronavirus in Ireland after one case was denotified.
Minister for Health Stephen Donnelly yesterday strongly appealed to those going out this weekend to maintain social distancing.
The appeal came amid increasing concern about a rise in the number of new confirmed cases of Covid-19, particularly among younger people.
Taoiseach Micheál Martin said public health doctors' concern about crowded indoor gatherings was something the Government would have to look at very carefully.
The 25 new cases of Covid-19 confirmed yesterday evening was the highest number since the middle of last month. GPs are also reporting a spike in patients reporting symptoms and being diagnosed with the virus.
Last week, publicans warned that the full reopening of pubs on 20 July could be delayed if public health rules are not strictly applied and adhered to.
The Licensed Vintners' Association said images on social media of large crowds drinking outside some pubs in Dublin city centre were "shocking and disgraceful".
The scenes were not repeated this weekend, with the capital noticeably quieter and emptier than the previous Friday.
What a difference a week makes.

Dame Lane c 11.30 on a Friday night. pic.twitter.com/291vXVRqPH

— Abie Philbin Bowman (@AbiePB) July 10, 2020
Gardaí are continuing to monitor compliance with public health measures in licensed premises around the country this weekend.
The Garda Mounted Unit on patrol in Dublin City last night.#InThisTogether#WashYourHands pic.twitter.com/RrGvs5i2zE

— Garda Info (@gardainfo) July 11, 2020
The Minister for Health said that no area or type of pub is going to be targeted. He said there are very clear laws and public health guidelines in place and they just need to be complied with.
Health Minister Stephen Donnelly tells people ahead of the weekend: 'Go out and have a good time'. But please maintain social distancing, he says. Mr Donnelly is also appealing to people to download the Covid-19 tracker app. | More: https://t.co/OYw1tdxWcF pic.twitter.com/Nu7BxJRR6s

— RTÉ News (@rtenews) July 10, 2020
Stephen Donnelly urged people to go out and have a good time over the weekend, but he appealed to people to maintain social distancing and to download the Covid tracker app.
The Taoiseach said overcrowded house parties were a problem and it was an issue the Government would have to look at very carefully.
Mr Martin said the "over-arching priority" of the Government was to get schools open again as well as getting non-Covid related health services up and running again.
He said these objectives could only be achieved if community transmission was kept down.
Young people have had a very difficult few months, says Micheál Martin. 'That said, the same advice applies' for this group. Indoor congregations will have to be looked at closely, he says. | More: https://t.co/OYw1tdxWcF pic.twitter.com/mJV2PraK2J

— RTÉ News (@rtenews) July 10, 2020
---
---
Meanwhile, a potential cluster of Covid-19 cases among a large group of young people who rented accommodation in Killarney in Co Kerry last week is being investigated by public health officials, local GPs have been advised.
Over 30 people travelled from "different parts of the country" to Killarney and stayed a number of days together, according to a letter sent to GPs throughout the region yesterday.
Consultant in Public Health Dr Margaret O'Sullivan wrote to health practitioners in the HSE South region saying that "a cluster of Covid-19 cases is currently being investigated among a group of 30 plus young people who travelled from different parts of the country to Killarney last week and stayed together for a number of days there.
"Our current information is that this group of young people essentially stayed and socialised together - having house parties in their rented accommodation but not attending any other congregate settings like pubs."
The letter from Public Health also states: "Close contacts are being followed up and advised, and are being referred for testing. Several Departments of Public Health in other HSE areas are involved."
Many new cases connected with 'overseas travel'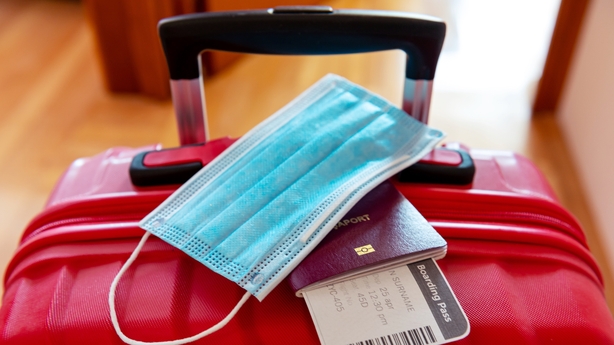 Cillian de Gascun, Director of the UCD National Virus Reference Laboratory, has said a significant number of new cases of Covid-19 are connected with overseas travel, which has led to a secondary spread of clusters.
Speaking on RTÉ's Saturday with Cormac Ó hEadhra, he said there is a positive element to this in "that we know where it is coming from".
The messaging from the National Public Health Emergency Team (NPHET) has been very consistent regarding travel and not to make unnecessary trips abroad at this time, he said.
He said the measures that have been implemented have been successful to date.
Sinn Féin's Finance Spokesperson Pearse Doherty has said the mandatory wearing of masks on public transport needs to be properly policed when it is introduced from Monday and it is not enough to say drivers can monitor it.
In response to that, Minister of State for Trade Promotion Robert Troy of Fianna Fáil said the vast majority of people are law abiding citizens.
Independent TD Michael McNamara, who is chairperson of the Special Committee on Covid Response, has said whatever is being done at airports is "mere tokenism" with an open land border.
Patricia Callan, Director of Drinks Ireland, has said the discussion needs to be moved on as we know the virus is going to be here for a long time. "Now going forward we have to get used to this concept of relative risk."
She said the public health advice should be followed where possible but Ireland is not a country that can just close its borders. "We need to mitigate the risks, for example testing at airports," she said.
Cillian De Gascun said the problem with testing at airports is that it does not detect the virus sufficiently in everyone at the time and there can be false positives and negatives.