Garda sergeants and inspectors say the easing of Covid-19 restrictions has made policing the emergency regulations more difficult and has caused confusion among frontline officers.
A survey by the association representing middle-ranking gardaí has also found that the majority of members felt garda management did not prioritise their welfare, particularly in relation to testing and protective equipment.
The AGSI said that while the public's response to policing has been largely positive, its members want spit hoods to be retained as standard equipment for frontline officers.
General Secretary Antoinette Cunningham said the Department of Justice and garda management must provide operational guidelines and appropriate training along with legislative changes.
More than 1,100 garda sergeants and inspectors took part in the survey in the middle of last month after 12 weeks of Covid policing.
While they found the public's interaction and response to be positive, those surveyed were critical of garda management.
94% said gardaí, like paramedics, should have had access to priority testing for Covid-19 while almost two-thirds (62%) said facilities should have been provided for them to self-isolate away from their families following contact with a suspected case or after being spat at or coughed at deliberately.
We need your consent to load this rte-player contentWe use rte-player to manage extra content that can set cookies on your device and collect data about your activity. Please review their details and accept them to load the content.Manage Preferences
Many, they said, had to make their own arrangements.
Two-thirds (68%) of middle ranking gardaí also felt the personal protective equipment (PPE) was inadequate.
The use of spit hoods by gardaí has been criticised by among others the Irish Council for Civil Liberties and is due to be reviewed.
However, 87% of sergeants and inspectors in this survey welcomed them as additional protection and they want them retained after the pandemic.
94% also said policing had become more difficult as the Covid-19 restrictions have been eased.
The AGSI General Secretary said not only has the guidance and training on how to police the regulations been inadequate, but that confusion has been a factor in border policing and still continues, particularly as regards to Operation Navigation for pub and restaurant inspections.
Ms Cunningham pointed out that gardaí do not know whether it is liquor licensing laws or health regulations that are to be enforced if they are expected to monitor people and businesses for issues such as time on a premises, social distancing and sanitation measures.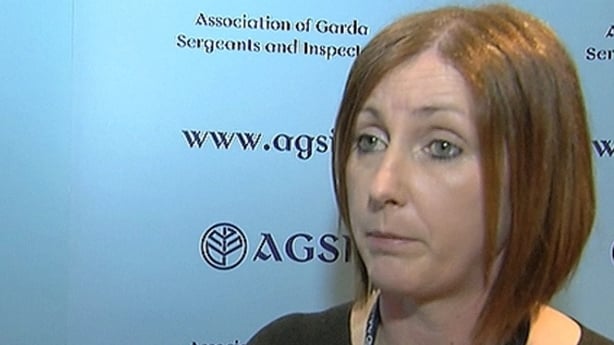 Speaking on RTÉ's Morning Ireland, Ms Cunningham said there had been a hugely positive response and cooperation from the public during the emergency legislation and lockdown.
However, she added that there was real concern around a lack of priority testing for Covid-19 for gardaí.
Ms Cunningham said other institutions, such as the fire brigade, were able to get priority testing and members of the AGSI would have liked management to implement something similar.
She said that anti-spit hoods are only used in exceptional cases and when a real threat exists.
She said there were 93 incidents of deliberate coughing or spitting at gardaí between April and June.
Meanwhile, a statement issued by the Garda Press Office said "from the outset of the Covid-19 crisis, An Garda Síochána has made protecting the public and its personnel in line with public health advice its main priority.
"At all times, An Garda Síochána has operated in line with public health advice from the CMO, National Public Health Emergency Team (NPHET), the Health Service Executive (HSE) and the Garda Chief Medical Officer.
The welfare of Gardaí was at the heart of a wide-range of internal measures introduced by An Garda Síochána from the very start of the pandemic.
"These measures were introduced to ensure An Garda Síochána was in a position to maintain a high level of service at a time of national crisis while protecting the health and welfare of our personnel."
The statement went on to say that "An Garda Síochána has adopted a dynamic risk assessment approach to the wearing of PPE during the Covid-19 pandemic, which incorporates the advices of the National Public Health Emergency Team (NPHET), the Health Service Executive (HSE) and the Garda Chief Medical Officer.
"When public health advice on face masks was updated, the organisation reacted quickly to this. Garda management immediately directed that Gardaí should wear them in enclosed spaces such as shops and public transport; where they were unable to maintain recommended social distancing and may be in close contact with a person or persons for more than 15 minutes, and when two Gardaí were in a vehicle at the same time.
"Many of these measures including the 12 hour shifts, the provision of PPE, anti-spit guards, the wearing of face masks, and the provision of timely advice in relation to public health guidelines remain in place.
"These measures, along with the professionalism and dedication of personnel throughout the organisation, particularly those working on the front-line, have resulted in the organisation having a level of Covid-19 illness well below that experienced by other police services internationally."
"A number of external surveys have found very high levels of public support for An Garda Síochána's approach to supporting the public health guidelines during the Covid-19 crisis.
"The public health regulations are a matter for the Department of Health. An Garda Síochána communicates to the organisation the changes to the regulations when the Department of Health finalises and publishes them."