Forrest like his human counterparts is trying adapt to a new way of life as Covid-19 restrictions lift.
But the guide dog is unaware of the societal changes that have occurred in recent months.
The labrador-German shepherd cross does not know how a one-way system works in shops.
He does not know what a queue is and he is not trained in social distancing.
As more people congregate on streets and businesses move seating space outside, he and his owner Tina Lowe are facing new obstacles every day.
"In beginning of Covid, people gave me a wide berth, but now as we are starting to rejoin the world as such, all those little niceties are starting to be reduced in some ways. I think it's really important that people still understand we can't socially distance", she says.
People with guide dogs are dependent on the public keeping the two-metre distance from them.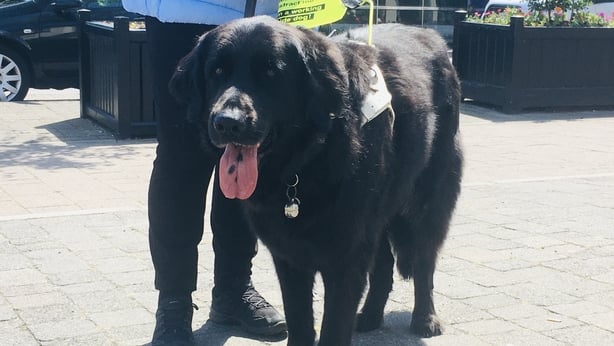 There is anecdotal evidence from Irish guide dog clients about disagreements in shop queues when dogs bring their owners straight to the supermarket door.
When one dog and its owner was accompanied by an able-bodied person, this reportedly caused disagreement in the queue.
Eoin Slattery, who is a Technical Training Manager with the Irish Guide Dogs, says it is not in a dog's nature to join the end of a queue.
"For a guide dog, a queue is a serious of obstacles to be passed to the door," he says, adding: "Public Transport clients are also concerned about how they will operate in a congested environment, where they can't see to keep away from the general public".
Tina Lowe, who takes the bus to work in UCD, points out that Forrest is not going to know if a vacant seat has a Covid sign on it or not. To the dog, it is simply a vacant seat.
Tina believes there may be difficulties with people who are seeking the same space such as wheelchair users or people with buggies.
The IGDB have recommended that their clients do some dry runs with their dogs on quiet days like Sundays, when public transport is not busy and see what obstacles they find on route to work.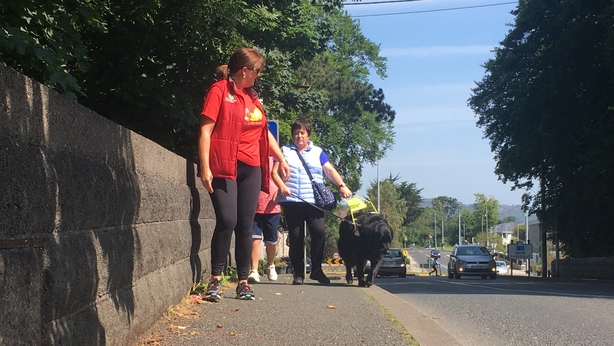 The organisation says it is essential not to trial something under pressure because if the owner is under pressure, the dog cannot be supported.
So, can future guide dogs be retrained for social distancing?
Jack is an eight-week puppy entering a new world compared to his predecessors.
In 19-months' time or so, he will be used to people not approaching him as much, according to Eoin Slattery.
There will be "a moderate change in training technique" which he says will be "no trouble".
For now, the IGDB are asking the public to be mindful and patient.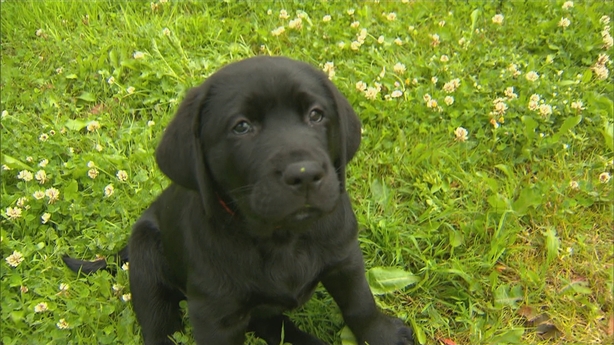 Its General Manager Tim O'Mahony says: "We'd like the public to be more mindful of what the challenges or clients face, be patient with our clients and the dogs, as they navigate the obstacles and the impact Covid-19 has had on infrastructure".
The IGBD has also advised that where a client is in trouble the public could ask if they can help and approach them respectfully.
Ultimately, Tina Lowe believes, people just need to think a bit more.
"Irish people are so nice and there's a huge spirit of volunteerism, but you've to think. We all want to go back (to restrictions lifted) but we have to go back - as the Taoiseach said - in a control and civilised manner."