Two-thirds of Irish people believe that independent journalism is important to a functioning society, according to a report released today.
The Reuters Digital News report found that 36% of those surveyed felt that journalism is "extremely important" to a functioning society, on par with the EU average.
That figure is 41% in North America and 32% in the UK.
The study also found that Irish people appear to have a stronger relationship with local news than anywhere else in the world, with local newspapers the most used source of local news followed by local radio.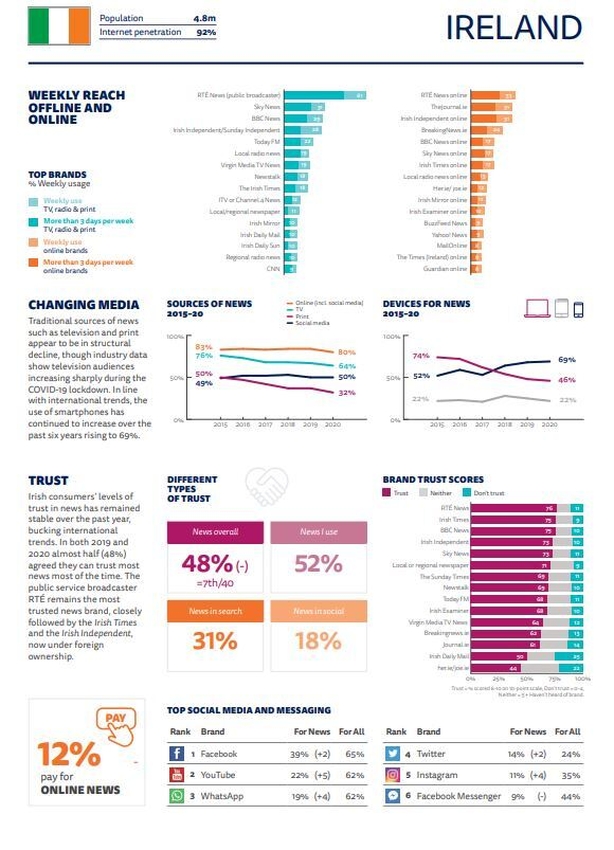 Social media is increasingly the main source of news for 18-24-year-olds, growing from 43% in 2019 to 46% in 2020.
Among 25-44-year-olds, digital news media is the main source, while TV is the main source for over-55s.
While TV remains the main source of news overall (33%), radio (13%) continues to poll strongly in Ireland.
More Irish consumers cited this medium as their main source of news than counterparts in the UK (10%), North America (6%) and the EU (8%).
The research found a growth in listening to podcasts in Ireland, up three percentage points to 40% since last year.
When it comes to television, radio and online brands available in Ireland, RTÉ News topped the study in terms of weekly usage at 61%, almost double that of nearest competitor Sky News (31%).
RTÉ News is also the most popular outlet in terms of usage of online-only outlets in Ireland.
While trust in news been on a downward trend internationally, confidence in news in Ireland has remained stable over the past year.
Almost half (48%) of those who consumed news in Ireland agreed they can trust most news most of the time. RTÉ remains the most trusted news brand with a score of 76%. 
We need your consent to load this YouTube contentWe use YouTube to manage extra content that can set cookies on your device and collect data about your activity. Please review their details and accept them to load the content.Manage Preferences
The Reuters Digital News Report covers 40 countries, with the Irish inclusion funded by the Broadcasting Authority of Ireland and reported on by the Institute of Future Media and Journalism at DCU.
The data for the research was collected between January and February 2020, ahead of the impact of Covid-19.
BAI chief executive Michael O'Keeffe said one of the recurring themes for public health officials during the pandemic has been the importance of accessing reliable information from trusted sources.
He said: "Thankfully, this report shows that citizens in Ireland have access to, and rely on, credible information provided by established news sources.
"However, there is no room for complacency regarding the sustainability of our news provision ecosystem.
"The fragility of the funding model that underpins the provision of indigenous news in Ireland has been a recurring theme in the Digital News Report since it was first published in 2015.
"Traditional revenue sources have been eroded and sustainable new ones have yet to emerge.
"While there is some evidence that online subscriptions have increased during COVID-19, it's not clear if these will be sustained or if any additional revenue from this source will replace lost advertising."
📱 Respondents in most countries were most concerned about @Facebook (29%) than about other platforms.

💬 However, in countries such as 🇧🇷 🇲🇽 🇲🇾 🇨🇱 people say they are more concerned about closed messaging apps like @WhatsApp #DNR20 pic.twitter.com/ErMBHn40Oc

— Reuters Institute (@risj_oxford) June 16, 2020
More digital in future but more economic pain
The coronavirus outbreak has prompted a significant increase in news consumption but the economic turmoil is forcing news businesses to accelerate their move to digital, the Reuters Institute for the Study of Journalism said.
The coronavirus lockdowns prompted a global rise in viewing of television and online news, though concerns about misinformation remain high, with Facebook and WhatsApp seen as the main channels for spreading so-called 'fake news'.
The broader picture is that the outbreak is accelerating the trends wrought by the technological revolution, including the rise of phones as an interface of news consumption, The Reuters Institute said.
"The headline is that we see an accelerated move to digital media and mobile media and various kinds of platforms," said Rasmus Kleis Nielsen, director of the Reuters Institute.
"This is accompanied by a continued decline in trust in news and growing concerns over misinformation, in particular on social media and from some politicians."
The biggest increase in concern over media misinformation was in Hong Kong, where anti-government protesters have opposed attempts by China to tighten its control of the former British colony.
Across the 40 markets covered:

🗞 46% say they trust the news they use
🔗 Trust in search (32%) & social (22%) is even lower.

📉 Trust in news has plummeted in 🇭🇰 (-16)  🇨🇱 (-15) and 🇲🇽 (-11), riven by protests, polarization and attacks from politicians #DNR20 pic.twitter.com/hxHkS8GSpp

— Reuters Institute (@risj_oxford) June 16, 2020
The business of news remains bleak. Media across the world are cutting staff to cope with a dramatic fall in advertising revenue.
But a ray of hope may be that increasing numbers of people are willing to pay for news online, though that may also increase informational inequality as many cannot afford top quality journalism.
And a "winner takes all" process can be seen: Around half of those that subscribe to any online or combined package in the US use the New York Times or the Washington Post, the Reuters Institute found.
A similar trend can be seen in the UK with The Times or the Telegraph.
For those predicting the dominance of video news, the Reuters Institute found that in a number of countries including the United Kingdom, Australia, France, and South Korea, people under 35 preferred to read rather than watch news online.