Chief Medical Officer Dr Tony Holohan has told ministers that the public advice on social distancing remained at two metres.
Dr Holohan said the advice remained the same "for the moment" but was under constant review.
He was today briefing ministers at Government Buildings where he provided an analysis of the current situation with regard to Covid-19 and the progress in reducing the incidence of the disease.
Afterwards, ministers had the opportunity to raise their concerns - among them the two-metre social distancing rule.
At Cabinet last Friday, some ministers argued that if it was reduced to one-metre - in line with guidance from the World Health Organization - it would greatly benefit business and school re-openings.
On Saturday, Taoiseach Leo Varadkar reaffirmed that the two-metre social distancing rule "stands", and there has been "no change" to the public health advice.
In the Dáil today, Fianna Fáil's Jim O'Callaghan called for restrictions to be lifted "sooner rather than later". 
He said he is concerned that too much responsibility is being "casually delegated by Government to public health advisers."  
Mr O'Callaghan said the Government has been "extremely cautious" to date and while the restrictions made sense in March, the process of lifting them should be expedited. 
He said that the purpose of the restrictions was to stop intensive care units being overrun but they are now being used as a means to stopping people getting sick. 
Mr O'Callaghan said it was also important to recognise that it is the responsibility of public health advisers to give public health advice. "It is not their job to weigh that public health advice with other factors - that is the job of Government."  
He said there is a dichotomy taking place between people who are financially secure and people who are financially insecure.
On Monday, Dr Holohan said that the two-metre guidance is not a hard and fast rule, but added that his team thought it was a "reasonable compromise" given where we are currently at with the coronavirus containment.
It's understood CMO Dr Tony Holohan told Ministers that the public advice on social distancing remained "for the moment" at 2-metre. @rtenews

— Paul Cunningham (@RTENewsPaulC) May 27, 2020
Minister of State for Disability Issues Finian McGrath had asked today if Dr Holohan would consider 1.5 metres in order to assist the provision of healthcare such as cancer screening.
Minister McGrath told RTÉ News that Cabinet members had a "positive and constructive" meeting with the Chief Medical Officer.
He said: "I raised the issues on disability and also the issue of the one-metre social distancing."
He added: "We had a very comprehensive debate. He listened to our views and we listened to his views. And I suppose what will happen now is that we will go back into Cabinet on Friday and then make the decision."
A Government spokesman said ministers had a productive meeting with the Chief Medical Officer and the Deputy Chief Medical Office, Dr Ronan Glynn.
Ministers had an opportunity to ask Dr Holohan and Dr Glynn about various aspects of the public health response, and the implementation of the road map to ease restrictions.
Dr Holohan said he would take on board the matters raised.
Ministers also thanked the chief medical officers and and the members of National Public Health Emergency Team for their work and ongoing advice.
Chief Medical Officer Dr Tony Holohan has said the two-metre social distancing guideline is the "right measure for now", but adds that as new information becomes available it will be applied | Read more coverage: https://t.co/eUgkKuZGnU pic.twitter.com/9m7XXkzoBt

— RTÉ News (@rtenews) May 27, 2020
---
1m versus 2m: What expert groups say about social distancing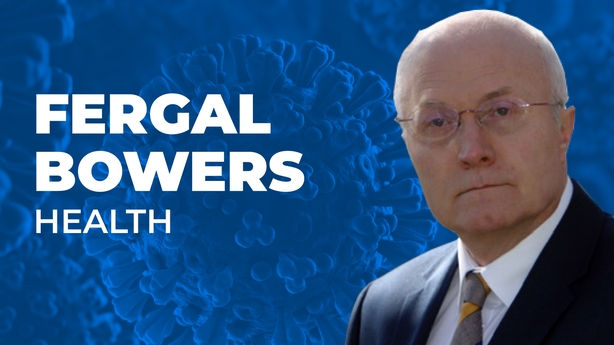 The debate rages on in Ireland over whether the official public health approach on social distancing to help prevent Covid-19 infection should be for people to stay one metre or two metres apart.
The World Health Organization (WHO) recommends that people stay at least one metre and ideally two metres from one another to help limit transmission of the virus.
The European Centre for Disease Prevention and Control (ECDPC) recommends that people stay one metre or more away from people infected with the virus. Read more from Fergal Bowers
We need your consent to load this rte-player contentWe use rte-player to manage extra content that can set cookies on your device and collect data about your activity. Please review their details and accept them to load the content.Manage Preferences
---
This evening, the Department of Health said it had been notified of 17 more Covid-19 deaths, bringing the total number of deaths here to 1,631.
The total number of confirmed cases now stands at 24,803 after 73 new cases were confirmed today.
The Health Service Executive has said Covid-19 has been virtually extinguished in the country, at this point.
Around 80% of cases of Covid-19 will be a mild to moderate illness, close to 14% have severe disease and around 6% are critical. 
Generally, you need to be 15 minutes or more in the vicinity of an infected person and within two metres of them, to be considered at-risk, or a close contact.