Ireland will be dealing with Covid-19 for some considerable time to come, the CEO of the Health Service Executive has said.
Paul Reid told the Dáil's Covid-19 committee that we are still very much in the midst of the pandemic crisis.
The committee is meeting for the first time in public session today.
In his opening statement, Mr Reid said that since the HSE became aware of the virus it has worked tirelessly to protect the public from the virus.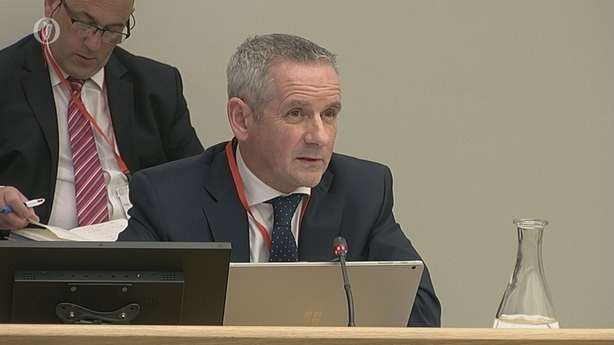 He said the mobilisation to test and trace has been an "extraordinary challenge" and that the HSE is now in a position to conduct over 100,000 tests per week.
Mr Reid said the HSE is anxious to get the health service back to non-Covid services, in particular screening services.
He told the committee that services have to be restored in a way that protects the public but said it would be a "big challenge".
"Nobody will thank us if we restore services in a way and we see public health outbreaks from the virus," he said.
Paul Reid, HSE CEO, says that it is 'still contending with Covid-19 for some considerable time to come' | https://t.co/xoI8agbAdW pic.twitter.com/BXXzpgQ2Im

— RTÉ News (@rtenews) May 19, 2020
He said we cannot assume that the transmission of the virus in the community will stay as it is, adding that as the restrictions are lifted and more people are gathering, there is a risk of a significant surge which has been the experience in some countries.
Mr Reid said the HSE has to plan ahead in relation to capacity.
He revealed that 29 test centres out of 47 testing centres were open yesterday.
The cost of contact tracing and testing had been €35m so far, he said, but the total cost of contract tracing could be several hundred million euro for the year.
In response to Fianna Fáil TD Norma Foley, Mr Reid said the HSE has been working with the Department of Justice over the past few weeks in relation to the Skellig Star Hotel in Cahersiveen in Kerry.
He told the committee that there had been a lot of collaboration in relation to addressing the issues at the Direct Provision centre.
Ms Foley asked if it was correct that the HSE had failed to inform the Department of Justice of a positive case of Covid-19 at a Travel Lodge hotel in Dublin on 8 March, which was home to a large group of asylum seekers.
She said the Department of Justice had also claimed that the HSE had signed off on the movement of people from the travel lodge to the Skellig Star Hotel without testing the group before leaving Dublin or on arrival at the centre.
He said HIQA have reached out and issued guidance to providers about their responsibilities.
Department of Health Secretary General Jim Breslin said this virus was much more infectious than the typical flu, and yet he said, it was hard to keep flu out of a nursing home during the winter.
Chief Medical Officer Dr Tony Holohan told the committee that Ireland was the fastest country to introduce restrictions to visitors in nursing homes following notification of the first case of Covid-19 in a nursing home.
He was responding to questions from Sinn Féin's David Cullinane in relation to the timing of the introduction of those restrictions.
Mr Holohan said they moved to restrict visits to nursing homes on 12 March after an assessment of the disease, he said up until then they did not think it necessary to stop people visiting.
In response to People Before Profit's Richard Boyd Barrett, he said that 31% of frontline healthcare workers have been infected with Covid-19.
Dr Holohan said that while the infection rate was "high" he added that "there has been a substantial fall in the rate of infection among healthcare workers".
He added when healthcare workers were infected they were a source of infection for the people they served.
The figures included all those who were working on the frontline, he said.
In relation to reports that employers had received test results before employees, Dr Holohan said it was a "breach of confidentiality full stop".
Dr Tony Holohan said reports that employers had received their employees Covid-19 test results first was "a breach of confidentiality full stop." @rtenews

— Mícheál Lehane (@MichealLehane) May 19, 2020
Tony Holohan also told the committee that National Public Health Emergency Team had caught up in terms of publishing of minutes of meetings.
He was responding to the Labour Party's Duncan Smith who said that we are behind by "seven sets of minutes".
Dr Holohan said there had been 31 or 32 meetings held often until the early hours of the morning.
Mr Smith also questioned the Chief Medical Officer in relation to the setting of targets for testing.
Labour TD @DuncanSmithTD asks @CMOIreland Dr Tony Holohan about the process involved in setting out targets for #Covid19 testing without first consulting with the HSE | Live blog: https://t.co/qQgcdpCxRz pic.twitter.com/8CPkTbSu9a

— RTÉ News (@rtenews) May 19, 2020
Following a request from Richard Boyd Barrett of People Before Profit, Dr Holohan said the advice of the Expert Advisory group on Covid-19 would be published.
Opening today's hearing, committee Chairman Independent TD Michael McNamara said witnesses would give evidence from Committee Room One by video link.
Deputy McNamara said this would minimise any exposure to a relatively large group of people in the Dáil.

The committee began in private session as concerns around the health and safety of today's hearing were dealt with.
I hear there is ongoing concern from some members of the #Covid19 Dáil Committee about the health and safety aspects of today's session - concerns which will be raised in private session before witnesses give evidence @rtenews

— Paul Cunningham (@RTENewsPaulC) May 19, 2020
In his opening statement, Secretary General at the Department of Health noted "the definite progress in getting virus levels back down through stringent public health restrictions", without which, he states, Ireland could have had 39,000 deaths by now.
Mr Breslin said that this progress allows "calculated risks in extending the range of activities it is permitted to undertake".
However, in a stark analysis he warned: "This is not a one, two or even a three-day storm, after which we move to the recovery phase.
"The acute phase of this crisis will definitely be measured in months and most probably in years, rather than days."
He stated bluntly: "The threat from the virus will be a reality for the foreseeable future."
---
---
In his opening statement, Dr Holohan told the committee that there is no certainty that Ireland can keep the virus suppressed.
Dr Holohan said the cornerstone of the response here has been based on a public health evaluation of risk.
He also said that maintaining open, clear communications with the public has been a central tenet of the health service response - with 52 press briefings held so far.
Dr Holohan says that Ireland first heard of a novel coronavirus infection during the second week of January.
On 30 January, the World Health Organization declared it a public health emergency of international concern.
The first meeting of the National Public Health Emergency Team was on 27 January and it has held 31 meetings so far.
The Irish Congress of Trade Unions, the Health and Safety Authority and Construction Industry Federation are attending the committee this afternoon.
The Construction Industry Federation warned that Covid-19 safety measures could add 5-10% to the cost of a house.
In her statement, ICTU General Secretary Patricia King will call on the Government to empower the Health and Safety Authority to immediately close work sites that are not compliant with Covid-19 safety measures.
Ms King states: "Given the very serious nature of this virus and the possible severe consequences for those who contract it, it's crucial that the implementation and enforcement powers are actively utilised."
Additional reporting Aisling Kenny, David Murphy, Paul Cunningham