Green Party TDs have voted in favour of going into government formation talks with leader Eamon Ryan telling RTÉ he expected negotiations would last "a few weeks".
A statement from the party said: "We are conscious of the huge challenges facing any Government in the Covid-19 crisis. The party will now work with Fianna Fáil and Fine Gael to develop a deal that respects our mandate with a view to presenting that agreement to Green Party members for approval.
"Green Party approval of any programme for government will require support of two thirds of the Green Party voting membership.
"Any proposal must be transformative on climate action and commit to strong progress towards a more sustainable and fairer society.
"If this is not the case, Green Party representatives will withdraw from negotiations and pursue their mandate in opposition and work to hold the government to account."
Speaking to RTÉ, Green Party leader Eamon Ryan said: "It is just the first stage, there's nothing certain, it's very difficult I'm sure to agree any sort of programme.
"What I'll do now is follow up with a meeting with Micheál Martin and Leo Varadkar to decide what sort of approach is taken on that."
When asked if the decision today by party members was unanimous, Mr Ryan said there were "different views and I think that's healthy in a party but the approach was agreed in the end".
He expected talks to take "a few weeks rather than days" adding, "it takes time to put a programme of government together".
We need your consent to load this rte-player contentWe use rte-player to manage extra content that can set cookies on your device and collect data about your activity. Please review their details and accept them to load the content.Manage Preferences
---
Read more: Greens still pondering response to 'baseline' questions
The Green Party's 12 TDs, two senators and two MEPs held four separate meetings to evaluate documentation from Fianna Fáil and Fine Gael on what going into coalition government might mean in policy terms.
It's understood Eamon Ryan sought further clarifications over the weekend from Micheál Martin and Leo Varadkar before the party decided today it had enough certainty over policy to take the next step into formal negotiations on a programme for government.
Today's announcement by the Green Party is a big step towards possible government formation.
However, as its statement confirmed, any final deal would have to be endorsed by two thirds of the party's voting members, something regarded as a very high bar.
It is now 12 weeks after the general election and no formal government negotiations have yet taken place.
An Taoiseach and Fine Gael leader Leo Varadkar welcomed the statement from the Green Party.
"We look forward to constructive discussions on a Programme for Government commencing in the coming days. This is a very welcome decision by the Green Party.
"Ireland needs a stable government to manage the remainder of the Covid emergency and to rebuild and renew our society and economy over the next five years."
Fianna Fáil leader Micheál Martin said he was "confident that working with Fine Gael and the Green Party we will be able to negotiate and agree a Programme for Government that protects people and ensures that the country's economic recovery after Covid-19 is commenced as soon as possible and built on fairness".
"There is important legislation that needs to be passed to allow Irish businesses to access finance and there needs to be a government in place to do this."
Responding to the announcement that the Greens will enter talks on possible government formation, Sinn Féin TD for Cavan/Monaghan Matt Carthy said: "Fianna Fáil and Fine Gael have been working to a plan to exclude Sinn Féin from government and ignore our mandate for some time.
"Both of them in government together - no matter who they are propped up by - is not what people voted for and will not deliver the change that people voted for in February's general election."
He said what was needed now was "a break from the past, not a repeat of it".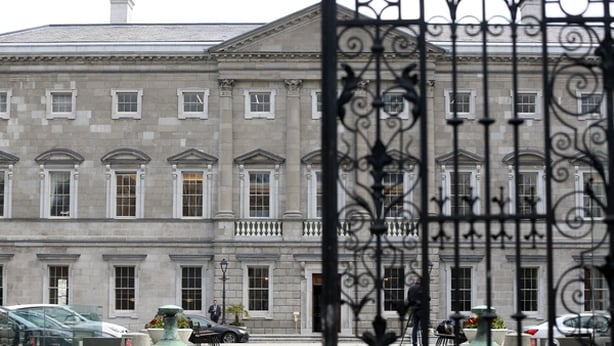 People Before Profit TD Bríd Smith said the formal entry of the Greens into talks with Fine Gael and Fianna Fáil was a historic mistake that would lead to the betrayal of the Climate Action movement.
Ms Smith said the only certainty in the Greens joining a coalition would be a hike in carbon taxes on ordinary people which both parties would gladly implement once the Green Party takes the fall for it.
 "For the last four years we have seen them support the fossil fuel industry, you have to be incredibly naive to believe both parties have undergone a Damascus conversion," she said.
Earlier today, Aontú leader Peadar Tóibín called for urgency to be injected into government formation and for the "neverending slow set" to end.
Speaking on RTÉ's The Week in Politics, Mr Tóibín said it was a complete nonsense that a new government may not be formed until June.
He said that if parties put aside their egos, a new administration could be in place by the end of May.
Fine Gael Minister Regina Doherty said her party was trying to form a government. She said it was needed to pass the legislation to bring in the business supports announced yesterday.
Fianna Fáil TD Dara Calleary said his party had conducted many meetings and it was not its fault that no new government was in place.
He said there were many "change" policies in the Fianna Fáil/Fine Gael framework document.
On the reduced socially-distant Dáil sittings, Mr Calleary said the current system was cumbersome and there was no accountability. He said two Covid-19 committees could be set up.
Sinn Féin TD Imelda Munster said people had voted for change and that was not represented in current discussions. The Greens should remember that Fianna Fáil did not previously deliver on climate change for the party, Ms Munster added.
Social Democrats co-leader Róisín Shortall said the Dáil would sit for two days in the coming week and hopefully next week, a third sitting day of Oireachtas committees would be added.
Additional reporting: Paul Cunningham
---