The Government has signed off on a €6.5bn package of new supports to help businesses reopen as Covid-19 restrictions are slowly lifted.
Speaking at a Government press briefing, Minister for Finance, Public Expenditure and Reform Paschal Donohoe said it was to help businesses in the "gradual recovery phase".
"Today the Government has now agreed further supports to rebuild jobs and rebuild businesses as our public health guidance changes," he added.
The minister said these new measures would build on what has already been done to help businesses.
"They involve up to €2bn in guaranteed loans to help our small and medium businesses and enterprises.
"Up to €2bn of equity and other investment available to medium and larger companies through re-purposing and changing the role of the Ireland Strategic Investment Fund or ISEF. Certainty and support for businesses and up to €2bn of deferred taxes.
"The waiving of €260 million of commercial rates and the new restart fund for micro and small businesses."
However, over €4 billion worth of the supports package cannot be rolled out until a new government is formed.
Mr Donohoe confirmed at the briefing that the €2bn credit guarantee scheme and the €2bn tax deferrals will require new legislation to implement.
This is not possible until a new government is formed, and an incoming Taoiseach needs to appoint 11 Senators so the upper house can pass legislation.
Mr Donohoe said: "This is the reason why we are engaging with other parties to try to form a government".
He said they could prepare to set up the funds but legislation would be required.
Mr Donohoe said these measures are integrated as firstly they provide small, medium and large businesses access to significant funds to support their recovery. And secondly they will give certainty on an extended repayment period of deferred taxes, which he thinks will help.
He described them as "significant" measures which will help in rebuilding the economy.
We need your consent to load this rte-player contentWe use rte-player to manage extra content that can set cookies on your device and collect data about your activity. Please review their details and accept them to load the content.Manage Preferences
---
Read more:
Business groups respond to economic recovery package
Foreign travel this year 'not looking good'
Live coronavirus updates as they happen
Covid-19 and living with the enemy
---
Massive interventions have already been implemented to help businesses during a "time of great threat" in the challenges posed by Covid-19, Mr Donohoe added.
He said the Government has always been open and clear in relation to measures and guidance relating to Covid-19 and it has taken the same approach with regard to the country's "economic health."
He said due to public health choices the economic impact has been severe, and unprecedented in terms of scale and speed.
However, he said we can rebuild and renew our economy and he is confident we will.
"We have already set out government supports during the mitigation and stabilisation phases of this pandemic. Supports that have been implemented have been vital for so many homes and businesses," Mr Donohoe added.
The measures include a waiver on commercial rates for firms that have been forced to close for three months, beginning 27 March.
There will also be new arrangements to help firms deal with accumulated tax liabilities.
Revenue will warehouse these debts at a zero interest rates for a period of 12 months after trading recommences.
During that year there will be no debt enforcement action taken.
There will also be a new Restart Fund, worth €250 million, to assist micro and small businesses through grants.
The funding on offer will be linked to what was paid by each firm in commercial rates last year and will be capped at €10,000.
Calls from business groups for a loan guarantee scheme for SMEs have also been heard, with a €2bn credit guarantee scheme due to be set up.
Loans will range from €10,000 to €1 million and be 80% guaranteed.
Terms will be between three months and six years, and interest rates will be below market rates.
An additional €2bn Pandemic Stabilisation and Recovery Fund will also be established under the auspices of the Irish Strategic Investment Fund.
It will offer capital larger businesses on commercial terms.
It comes after the Government yesterday set out its road map on easing the Covid-19 restrictions.
Minister for Business, Enterprise and Innovation Heather Humphreys said the Government's road map sets out a pathway in "getting Ireland back to work" from 18 May.
Also speaking at today's briefing, she said businesses now need to focus on what is within their control and make plans in accordance with the timeframe the government has set out. 
"I strongly encourage them to engage with State agencies so they can get the guidance and advice they need on what steps they can take now to ensure their workplace is safe to open whenever the time comes."
She said the last few weeks have seen some of the darkest days ever for Irish businesses but there is now some light at the end of the tunnel. 
"If we continue to work together and keep Covid-19 under control, then by 10 August all businesses can open their doors again. My message to businesses, is the government is here to help you."
She said the package of measures the Government announced today is in addition to the measures that were brought in three weeks ago. 
She said they include grants, loans' right off of commercial rates and the deferral of tax liabilities. 
Ms Humphreys said the announcement of the Restart Fund via the local authorities will help small businesses in towns and villages meet fixed costs. 
The plan sets out five stages for unlocking restrictions, at three-week intervals. 
From next Tuesday 5 May, people over 70 who have been cocooning can go outside their homes if they avoid all contact with other people.
The 2km limit on travel that is currently in place for exercise for the general population is to be extended to 5km.
The road map will kick in on 18 May and here's what is scheduled to happen in each stage:
Phase 1 (18 May)
 Allow outdoor meetings between people from different households
Open up childcare for healthcare workers
Phased return of outdoor workers
Open retailers which are primarily outdoor or those which were open during first level of restriction (e.g. opticians)
Opening of certain outdoor public amenities
---
Phase 2 (8 June)
Allow visits to households
Develop plans and supports to open up business with consideration for safety of staff and customers
Open small retail outlets and marts where social distancing can be observed
Open public libraries
---
Phase 3 (29 June)
Allow small social gatherings
Opening of crèches, childminders and pre-schools for children of essential workers in phased manner
Return to work for those with low levels of interaction
Open non-essential retail outlets with street level entrance and exit
Open playgrounds
---
Phase 4 (20 July)
Opening of crèches, childminders and pre-schools for children of all other workers on a gradually increasing basis
Return to work for those who cannot work from home
Gradual easing of restrictions for higher risk services (e.g. hairdressers)
Opening of museums, galleries, places of worship
---
Phase 5  (10 August)
Allow larger social gatherings
Return to work across all sectors
On a phased basis, commencing at the beginning of the academic year 2020/2021, opening of primary and secondary schools and third level institutions
Further easing of restrictions on high risk retail services
---
Speaking on the Late Late Show last night, Taoiseach Leo Varadkar indicated that unemployment and wage supports put in place as a result of Covid-19 restrictions will be extended.
Mr Varadkar said Ireland as a nation had successfully flattened the curve and had saved thousands of lives, however the virus was not suppressed enough to ease restrictions as much as he would have liked.
He suggested that the unemployment and wage supports in place are likely to be extended, saying neither the Covid-19 wage subsidy scheme nor the Covid-19 Pandemic Unemployment Payment can last forever, but it would not be right to unwind it before those sectors can actually reopen.
He said the GAA All Ireland Championship could possibly go ahead behind closed doors in August and September, and suggested some counties could be allowed to ease restrictions to contain the virus quicker than others.
The Taoiseach also said that wearing face masks could be advised in certain scenarios.
Mr Varadkar also said reopening the country could be more difficult than shutting it down.
He said there are going to be difficulties, and there are going to be rows and disputes, but said the country can get through it.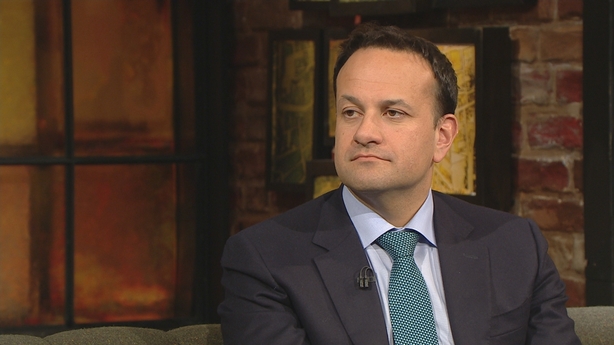 He also said he does not expect there will be a new government until June, saying the country needs it.
The current government is functioning well, he said, but cannot go on like this forever.
The Government said that the risk of a second wave of the virus is ever present.
In a statement yesterday, it said: "As a country, we can only move from one phase to the next if the virus stays under control between each phase".
The statement also reiterated that there will be a long-term need for physical distancing, for good hand hygiene, for respiratory hygiene, regular cleaning and for people to stay at home and isolate if they are sick.