The Government's five-stage roadmap and €6.5bn package of new supports to help businesses recover from the Covid-19 crisis has been broadly welcomed by representative groups including Ibec, the Small Firms' Association (SFA) and Chambers Ireland.
Director of the SFA Sven Spollen-Behrens said: "The reopening roadmap and the further economic packages are important steps ... and will assist small business to survive this difficult time and reopen over the coming months.
"The Government has listened to the feedback we have provided and responded to the needs of small business owners across the country.
"These are hugely worrying times for small businesses, and for many this is going to be a difficult period for much of the year and beyond."
CEO of Ibec Danny McCoy stated: "Business has been calling for this roadmap and its publication will greatly assist with a phased, safe and much needed return for businesses which have been closed as a result of the containment measures."
He also welcomed the further significant package of business liquidity and cashflow supports published today.
"The scale of business collapse in recent weeks has been spectacular and unprecedented ... these measures will support businesses through the worst of the economic collapse and help prepare many for reopening."
Retail Ireland, the Ibec group that represents the Irish retail sector, also welcomed the new measures to address the impact of the Covid-19 crisis on business.
But Retail Ireland Director Arnold Dillon said the phased reopening of the economy "must be kept under constant review and earlier reopening facilitated if public health objectives are met within in a shorter timeframe".
He added: "The focus now must be on protecting viable but vulnerable retailers through this period, followed by major reboot of the economy."
We need your consent to load this rte-player contentWe use rte-player to manage extra content that can set cookies on your device and collect data about your activity. Please review their details and accept them to load the content.Manage Preferences
---
Read more: Latest coronavirus stories
---
Chambers Ireland CEO Ian Talbot said it welcomed Minister for Finance Paschal Donohoe's stimulus package.
"Our message to Government throughout the crisis has been that the risk of under-reacting to these economic challenges is much greater than over-reacting. The economic programme that will be required is unprecedented. This afternoon's announcement shows that this message has been heard.
"Implementation of support is critical. The funds proposed must be capable of rapid drawdown and the organisations charged with delivery are properly resourced to undertake the tasks.
"We reiterate our earlier calls to ensure supports like the Wage Subsidy Scheme are extended beyond the June deadline."
Family-run businesses, the country's largest employers, have given a "conditional welcome" to the new economic supports but said the new measures were a missed opportunity to maximise jobs and accelerate re-employment in communities across the country.
John McGrane, executive director of the Family Business Network, said: "Neither more loans nor unworkable state equity investment are what businesses need to reopen and re-hire. What will get the recovery moving fastest is the extension of the Covid-19 Temporary Wage Supplement Scheme until a reasonable period after the State's current restrictions on businesses are ended."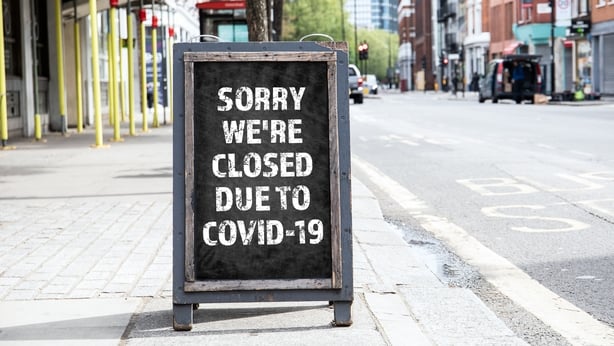 He also criticised the limiting of a waiver of local authority rates charges to firms which have closed down and called for a "fair waiver for all employers".
Retail Excellence said its members "very much welcome the publication of the Government's reopening roadmap. It provides clarity to all retail members as to when they can reopen and re-employ their colleagues."
But the group does not consider the support measures are sufficiently retail-focused and 100,000 jobs in the sector are now at stake.
It called for the cancellation of local authority rates for 12 months and a three month Government rent grant of 60% of rent payable during the closure to be extended to five months.
Banking & Payments Federation Ireland Chief Executive Brian Hayes said: "A €2 billion Covid-19 Credit Guarantee Scheme is an important step in improving the serious liquidity challenges facing SMEs.
"Banks will immediately start working with relevant stakeholders including Government Departments and trade bodies with to view to ensuring that the operation of the scheme is as efficient as possible."
The Irish Hotels Federation (IHF) welcomed the additional measures but IHF president Elaina Fitzgerald Kane said they fall short, given the enormous challenges facing Irish tourism.
"Specific sectoral supports are required for the tourism sector ... we are calling for a permanent reduction in the Tourism VAT rate, a waiver on local authority rates and charges until the impact of Covid-19 restrictions has abated and for a minimum of 12 months."
The IHF also wants targeted liquidity measures to provide working capital for tourism businesses to survive and restart and the continuation of the job subsidy scheme.
"The priority must be to safeguard the 260,000 livelihoods supported by tourism businesses."
"The Reopening Roadmap is a core element of the framework needed to support an essential and phased return to social and economic activity."

Business reacts to roadmap and further significant package of business liquidity and cashflow supports:https://t.co/UavNXvXsqW pic.twitter.com/huzoSc7JIH

— Ibec (@ibec_irl) May 2, 2020
Fianna Fáil's Finance Spokesman Michael McGrath said the measures announced today "will be a help to some businesses who are trying to stay just alive at this stage.
"It is vital these initiatives are put into operation as quickly as possible as the longer the delay, the more businesses that will not be able to reopen.
"Significantly, two of the key measures require legislation to pass through the Oireachtas and this in turn means a new government has to be put in place ... this must inject a new degree of urgency into the process of government formation."
Sinn Féin spokesperson on Finance Pearse Doherty said that the grants scheme for small businesses announced today by the Minister for Finance is "wholly inadequate".
With 280,000 micro and small business operating in the State, he said that the average grant payable to firms could be less than €900.
"The three-month waiver for commercial rates for impacted businesses is long overdue, but doesn't go far enough as the reality is that many affected businesses will still be closed in three months time and this waiver should be extended to at least six months," added Mr Doherty.