How does a Corkonian say no? "I will, yeah." 
Maybe some of that Cork reverse psychology was at play when the Fine Gael lead negotiator and Tánaiste, Simon Coveney, spoke to the Irish Examiner about farming. 
What did he say? He appeared to equate the Green Party's call for a 7% reduction in greenhouse gases with the destruction of Irish agriculture and the decimation of rural Ireland. 
The timing was, well, interesting, given that the Green Party's 10 TDs, two senators and two MEPs are considering whether or not to enter into formal talks on government formation with his own party.
However, what Coveney actually said was: "We are not going to sign up to a programme for government that decimates rural Ireland. That'll never happen. Okay, even if that means another election."
He also clarified: "Nothing has been ruled out effectively. But, there are some things you simply can't say 'yes' to without figuring out how it's going to be done." 
That second sentence echoed what Leo Varadkar and Micheál Martin had already said to the Greens in a joint letter: "We would like to understand and tease out with you through talks, the specific actions that would have to be taken to achieve at least an average 7% a year reduction." 
So, a minister just burnishing his credentials with the farmers by talking tough? A case of a storm in a (Barry's) teacup? 
Not from where Green Party deputy leader Catherine Martin was sitting on Friday - in an RTÉ studio, high up in the stands of Croke Park.
She told Sean O'Rourke bluntly that Coveney's comments were "shocking" and "disturbing". "Alarm bells" were ringing for the party, she said. 
The Dublin Rathdown TD suggested that Fine Gael was endangering any chance that two thirds of the Green Party's membership might approve any proposal on going into government. 
Deputy Martin said: "We need two thirds support from campaigning members and there is unrest with them on how the key questions to our baseline were addressed. To be candid, I share their concerns in relation to how the 7% question was answered, and on key social justice issues." 
So are the coalition talks in crisis mode?
The Green Party talks have certainly hit a bump in the road, but they won't crash and burn because of the comments made by Simon Coveney.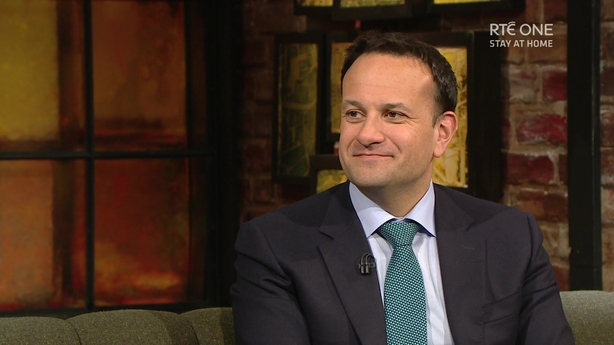 On the Late Late Show, Leo Varadkar seemed to try and claw back some lost ground. He said he "really hoped" the Greens would enter into government formation talks. And then he went further... much further, saying: "I am someone who believes and accepts that we need to be more ambitious when it comes to climate action. We are very keen to meet that 7% target. We really want to sit down with them and work out how that can be done." 
Yet what will determine the outcome is what Ms Martin called "the baseline". The Greens sent 17 questions to Fianna Fáil and Fine Gael about a joint policy document on government formation, and Micheál Martin and Leo Varadkar sent back a six-page response. 
The Green TDs, senators and MEPs are trying to decide if those two documents have given effective guarantees that core Green policies will appear in any programme for government. If they believe there is enough in the documents, the Greens will take the next step - formal negotiations.
The Green Party's approach to such decisions is to seek consensus. At the moment, such consensus does not exist. So a real battle is on between those who believe that they secured a mandate from the electorate to go into government, by jumping from three to 12 Dáil seats, and those on the left of the party who feel that Fianna Fáil and Fine Gael are incapable of delivering on core Green policy. 
That argument is also taking place in the wider party membership. Take for example, Green Fingal councillor Daniel Whooley, who was tweeting on Thursday about what he saw as Fianna Fail's failure to deliver on climate action promises made in the 2007 programme for government between Fianna Fáil and the Greens. He posted on Twitter: "Now we need to implement 20 years of climate action in 10 years and that radical change is not possible with FF/FG."
There is also some anger at every level within the Greens that the Labour Party and the Social Democrats are not under the same level of media scrutiny when it comes to forming a government. 
However, Labour and the Soc Dems have six seats each, whereas the Greens have 12. Given that the combined Dáil seats of Fianna Fáil, Fine Gael and the Greens would create a majority government, that party is going to remain in the white-hot heat of the media spotlight. 
On Friday night, the Greens concluded the third round of discussions on the two documents supplied by Fianna Fáil and Fine Gael. They are due to hold further talks over the weekend, after clarifying certain questions with the other parties. 
One notable fact is that a meeting has not taken place between the Fianna Fáil leader Micheal Martin, the Fine Gael leader Leo Varadkar and the Green Party leader Eamon Ryan. This had been expected - a moment when any difficulties would be ironed out and clarifications supplied. No sit-down leaders meeting has happened. No explanation has been given.
But it is undoubtedly an extremely difficult choice facing a party which was wiped out electorally in 2011. Go into government now and they face dealing with a deep recession due to Covid-19, which severely limits their options to deliver on core policy. Stay outside government and they risk a public backlash for failing to come to the country's aid in a time of dire need. 
A TD from Cork remarked to me this week how Eamon Ryan was always optimistic about what could be achieved but, this deputy felt, the Greens were in a difficult place. You could characterise it, if you were not feeling optimistic, as a Hobson's choice: damned if you do, damned if you don't.