There's a sense of calm and normality inside the Abbot Close care home in Askeaton, Co Limerick, despite the Covid-19 pandemic.
As visitor restrictions move into their eighth week, window visits from family members are now a common occurrence. Everyone is thankful that the weather is allowing it. 
The 57 residents in the 65-bed facility are quite sanguine about the current pandemic. Tommy Bright, who is as positive as his name suggests, is confident it will soon be over.
He's full of compliments for the staff at the home in their efforts to ensure social distancing and HSE guidelines remain in place.
Abbot Close is one of five settings run by the Windmill Healthcare Group, a privately run operation. It has had two residents who had Covid-19, both of whom recovered.
So, how has this nursing home group managed to keep the virus at bay?
The first step it took was to limit visitors and suppliers to the buildings on 6 March. That decision was then escalated to no visitors.
Management believes the reduction in "traffic" going through the home helped greatly.
Then they turned to staff. Rather than telling workers they had to treat Covid-19 patients, they were asked to volunteer to work in the isolation ward with suspected cases.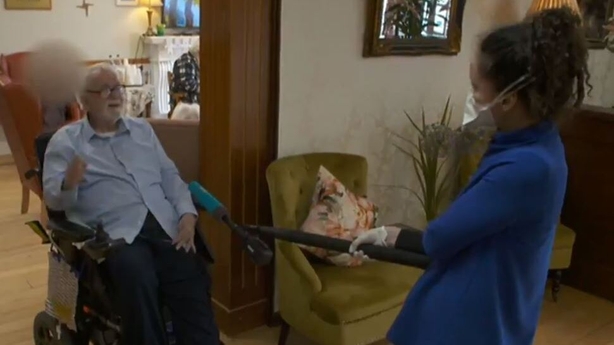 One of those who put her hand up was healthcare assistant Bridget Kelly. Donned in  Personal Protective Gear (PPE) she says: "I volunteered to do it because we still have to deliver care to these people, we can't abandon them." 
Is she scared about being in such close proximity to suspected cases? "I don't feel scared because I know I'm protected and I'm protecting the residents."
Her colleague Mairead Barrett says while the PPE suit is hot, it's necessary to protect the residents. Mairead and Bridget work in the isolation unit of the home, where there are six rooms for residents.
There were four suspected cases when we arrived, by the time we were left a few hours later, the test results were through. All were negative.
Sarah Lynch, who is the clinical nurse manager at Abbot Close, says that initially there was anticipatory anxiety amongst staff around Covid-19.
The establishment of a team meant fewer people moved in and out of rooms. Staff like Mairead and Bridget are providing constant care and support to the residents in isolation, which has lessened anxiety among wider staff.
Windmill Healthcare has also provided accommodation for those who were concerned about moving between both settings.
---
Read more:
Hidden heroes doing vital work behind the scenes
Contact tracing phone app to be introduced next month
Latest coronavirus headlines
---
Operational manager of all the homes, Frances Leighan, says some staff felt uncomfortable going home. "We've provided staff accommodation so they can't bring the risk home," she says.
Ms Leighan is one of the more vulnerable members of staff. She had cancer last year.
"I manage the risk coming in here by complying with the advice given on how to manage residents in isolation - protecting them in the environment."
She says infection prevention control is mandatory training for nursing homes and you only have to be in her company a short time to realise she is a stickler for cleanliness. 
Environmental cleaning has been enhanced across the five nursing homes in the group and she says risks have been appropriately managed. 
Frances says when there's a suspect case, everyone wants PPE. "We were accommodated by the HSE with goggles masks, gloves and gowns. We also got a donation of visors from Boston Scientific and local donations from builders of jump suits, so all of those donations enhanced supply."
Clinical Director Denis McElligott says there's no point in stock piling PPE when it's needed somewhere else.
"Right now, we've a couple of people that may go into isolation in a few days so we'll have enough for that but I think people should work on a three-day cycle." 
Advice from the Infection Control Team, the HSE as well as HIQA inspectors has been invaluable, but compliance to the current restrictions is key.
We need your consent to load this rte-player contentWe use rte-player to manage extra content that can set cookies on your device and collect data about your activity. Please review their details and accept them to load the content.Manage Preferences
"Residents are prepared to do it, they're resolute and resilient - by and large, they'll do what you ask them to do which helps compliance and helps us manage the facility," says Mr McElligott.
No resident in the Windmill Group has passed away from coronavirus - a tragedy that has happened in other nursing homes.
"When you hear of other nursing homes you are devastated," says Mr McElligott. "When there's a loss, we all feel it because that's the way it is.
"It's the same out there in the community, we all know people who have sad stories. We have just got to be vigilant and do what we are directed to do." 
As part of the testing of nursing homes nationwide, Abbot Close staff and residents had swabs taken last Thursday. Like any tests, there's anxiety over the results. 
Mr McElligott welcomes that people in homes are being tested.
"HIQA, the HSE, infection control teams, our doctors and Nursing Homes Ireland have been amazing across the five nursing homes," he says.
"I know people are nit-picking at certain professions at different times but at the end of the day, we're all in this together and our experience has been very positive."