Not all heroes wear capes, and not all work on the coronavirus frontline.
As nurses, doctors and gardaí battle Covid-19 directly, there are other less visible workers doing vital work during this pandemic.
Julia Doyle is one of them.
At 5.30pm on a Wednesday evening she sits, taking a call, in her car in her driveway at her Wexford home. Her boyfriend is changing a bulb on her car that has stopped working.
She returned home just before this after finishing her shift at a laundry facility that washes contaminated hospital linen and scrubs.
She places her phone at a close distance to her mouth.
I'm talking at the other end of the line.
"Hold the bottom of the phone a little more away from your mouth. That will stop it distorting," I say as Julia follows these directions.
This needs to be done to achieve the best sound quality for the interview she is recording for RTÉ Radio One's News At One.
Julia pauses for a moment. There is brief silence. She says she is a little nervous because she hasn't "done this sort of thing before". I tell her we should start the interview and begin by asking her name and title.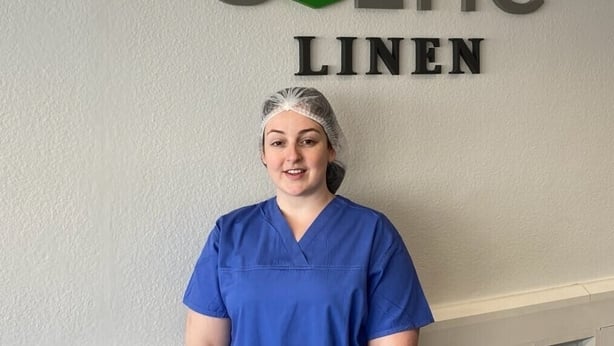 "I'm Julia Doyle. I'm a general operative at Celtic Linen," she says as I confirm I'm happy with the sound quality.
"What exactly do you do?" I ask. "I'm doing all the scrubs for the doctors and the nurses," she replies.
That marks the opening of an interview where Julia speaks with great fluency and clarity.
"We are essential workers. Without us a lot of products won't get to the hospitals," she says.
Julia pauses when asked whether she considers herself a frontline worker.
"At the end of the day, who isn't a frontline worker? When they are dealing with some sort of item that is coming from some area that is affected," she says.
Julia works at the Celtic Linen healthcare commercial laundry facility in Wexford.
Every week it processes up to 38,000 scrubs and other linens for frontline workers battling against the coronavirus.
"We still are getting trolleys, and everything, back from the hospitals. We don't know if the Covid-19 is living on hard surfaces. We don't know how long it is living on it for," says Julia.
"It can be dangerous for us going to work because you don't know who you are going to meet. You don't know who has what, if someone does have the Covid-19, and if we can get it off them or not," Julia adds.
Celtic Linen, a big employer in the southeast, also has a plant in Naas, in Co Kildare.
Before Covid-19 arrived, hotels and the hospitality industry were big customers for the company. Now, however, it is the thousands of sheets and scrubs generated in hospitals that keeps the company's head above water.
It has been heavily hit by the economic slowdown. Overall, it held on to 100 of its 280 staff. In Wexford, it let 120 workers go and held on to 80. The jobs retained are mostly in the Celtic Linen healthcare laundry facility.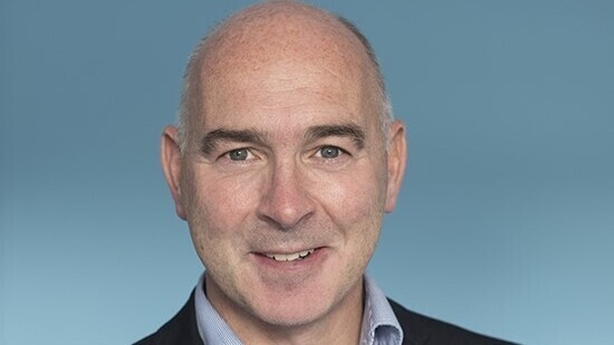 "The hospitality business has completely disappeared. Our volumes have reduced to zero. Our healthcare business continues to tick along," says Celtic Linen's CEO Donald Campbell, who takes a call on FaceTime after a long meeting.
"The linen is thermally and chemically disinfected twice before it goes to be ironed and packed for delivery back out to the customers," Mr Campbell says as he outlines the work the laundry facility can do.
There is significant increase in the numbers of scrubs cleaned and returned to hospitals in the past few weeks.
"The most significant increases in volume coming back from the hospitals are two areas. One is infected linen. Also, the volume of scrub suits that we send out to the hospitals around the country.
"In normal circumstances we would distribute about 16,000 or 17,000 sets of scrubs a week but we are up at 35,000 to 38,000 sets of scrubs a week – so there is a significant increase", says Mr Campbell.
For the workers who've held on to their jobs it hasn't been easy, because some of their friends and family are out of work.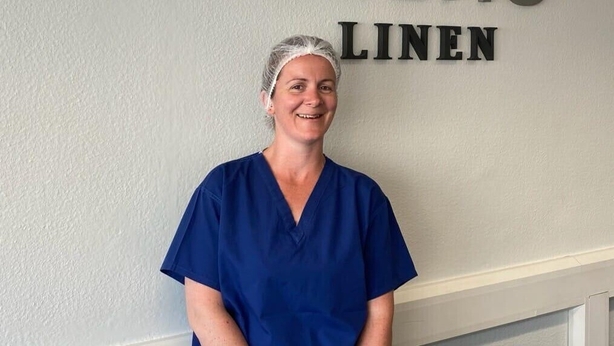 Aileen Clancy, a team leader working in Celtic Linen's dispatch area, says there has been much change. She used to work on the hotel linen, but now is on the scrub suits.
"At the moment I'm working on the scrubs for the healthcare," she explains, on a WhatsApp call from her home.
"Everything has changed, especially when you see some of your friends – like a lot of my friends – were laid off. It's what we call our Celtic family," says Aileen Clancy.
"It has been tough on everybody. There are a lot of couples that one may be laid off – the husband or wife, or girlfriend or boyfriend – and the other is still working," Ms Clancy says.
"Please God, when we get to the other side of this, when we get back to hopefully where we were we can start having everybody back," she adds.
Back in her car, Julia says it is "sad to see people losing their jobs".
"It is hard to see hard workers being let go because there is not enough work there to keep them going. Then the few people that are left in there working are lucky to have a job."
Both women say they are proud to be working at the laundry facility.
"I'd be proud that I can do this," Aileen Clancy says. "We are contributing to keeping everybody safe".
She adds that while doctors and nurses "are frontline staff and get spoken about quite a bit" that sometimes workers like her wonder "do people notice what we do?".
"That's why when we were asked to do this interview myself and Julia were very happy to say: 'we are being recognised'."
Julia agrees and says: "It is nice to be recognised and not to be forgotten about especially when there is someone who has to do all the cleaning of the linen. Sometimes we are forgot about".
"We are an essential worker as well because without us a lot of products wouldn't be getting to the hospitals," said Julia.