Nursing Homes Ireland Chief Executive Tadhg Daly has said there needs to be a "national approach to a national emergency" to tackle the spread of Covid-19 in nursing homes.
Speaking on RTÉ's This Week, he said Nursing Homes Ireland wants to ensure that all the commitments made by Government are delivered on.
However, Mr Daly added they feel "encouraged by HSE comments around PPE" and that Covid-19 testing has greatly improved also.
He also said NHI was concerned that "they were not engaged in the whole NPHET (National Public Health Emergency Team)", and the planning for residential care, when their members provide care to over 80% of the residents nationally.
He said: "There was a sub-group set up on vulnerable persons and also a sub-group particularly on nursing homes, and really we were, to say disappointed is an understatement, that Nursing Homes Ireland was not represented on that vulnerable persons sub-group or subgroup on nursing homes."
However, Mr Daly said it is never too late and they are willing and able to make their opinions known at this late stage to the sub-groups.
He said nursing homes are at a very critical point in terms of staffing and the increase in testing has the potential "to take staff out in the medium term".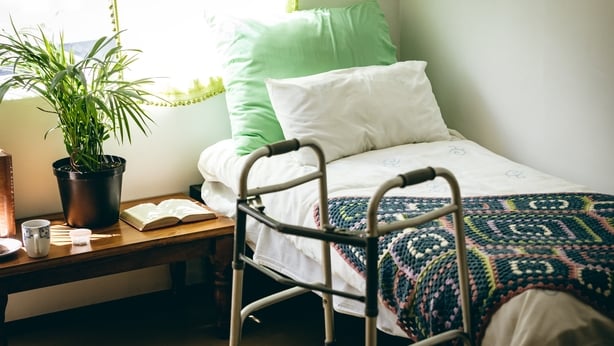 Of long-term residential care facilities, 354 have no confirmed or suspect Covid-19 cases.
A total of 575 registered nursing homes are registered with HIQA; 455 are private facilities and 120 are public.
As of yesterday, there were 248 known confirmed or suspected outbreaks in facilities both public and private.
Health Service Executive Chief Executive Paul Reid today said that 60% of nursing homes did not currently have cases of Covid-19.
Regarding outbreaks in nursing homes, the HSE's Chief Clinical Officer Dr Colm Henry said: "We are not unique, this is a challenge faced by every country where Covid-19 has been."
"It is becoming clearer to us that we need to aggressively test people, identify cases, go beyond the case definition and look at people who don't have symptoms at all, be they healthcare workers or residents."
Dr Henry added the focus is to extinguish outbreaks where ever they are.
A census of mortality in nursing homes has begun as part of measures to assess and deal with the scale of Covid-19 in long-term residential care.
HIQA inspectors will go into nursing homes to assess their level of preparation for an outbreak and the systems they have in place to keep residents safe.
More than 90% of those who have died from the virus were over 65 and nursing homes, in particular, have been seriously affected.
More than half of the deaths from the virus in this country have been associated with nursing homes.
Minister for Business, Enterprise and Innovation Heather Humphreys has said that the Government did not take its eye off the ball when it comes to dealing with Covid-19 in nursing homes.
Also speaking on RTÉ's This Week, she said it was harder to slow the virus down in nursing home settings.
She said the focus was on residential care and thousands of tests had already been carried out this weekend in nursing homes including staff.
---
Read More:
HSE says 'zero backlog' in Covid-19 testing
What is the worldwide impact of Covid-19 on nursing homes?
Testing under way in residential care units
---
Consultant Geriatrician at Tallaght University Hospital Prof Des O'Neill said the crisis at nursing homes has been "long in the making" and blames it on policy-making within the Department of Health
Speaking on RTÉ's The Weekend with Brendan O' Connor, Prof O'Neill said it has been a source of concern for geriatricians for a long time.
He said: "The (nursing home) system has not been set up with clear contracts of care, clear expectations, clear leadership."
Prof O'Connor said successive Ministers of Health over the years have all overseen the privatisation "without due attention to adequate supports system and engagement with the HSE expertise of the nursing home sector".
He said those in nursing homes are a group of people with "sophisticated care needs" and that there is not an appropriate linkage into the public health structures, and into the public infection control structures.
He also said he thinks it is unfortunate the HSE gets criticised when "policy is made by the Department of Health".
He added that he had no criticism of staff at the nursing homes who he said: "Are working in a system that is actually not a system."
Prof O'Neill also questioned HIQA's checks on nursing homes and said the brief it has been given by the Department of Heath "have not adequately put in clinical leadership" and "not clarified the expectations around medical care".
He said HIQA's brief has been "relatively limited."