All residents and staff in long-term residential care units are to be tested for Covid-19 over the next seven to ten days, as part of an effort to tackle the spread of the virus in these settings.
The Chief Executive of the HSE, Paul Reid, said that 4,000 tests have already been completed.
Richard Quinlan, Chief Ambulance Officer of the North Leinster Region for the National Ambulance Service (NAS), addressed around 60 people this morning who will be visiting nursing homes and other care facilities, some of which have up to 300 people to be assessed.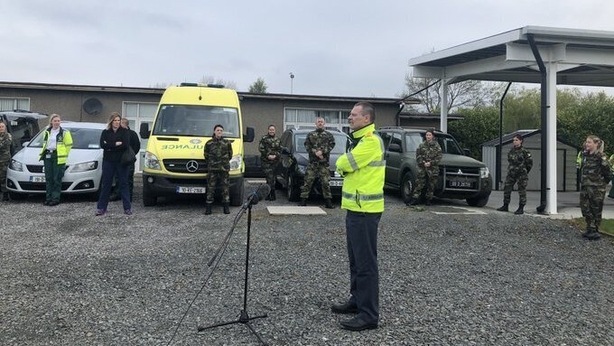 This includes staff from the NAS, but also medics from the Defence Forces and healthcare workers from the Health Service Executive.
More than 3,000 tests were done in the North Leinster region since Friday and this group was told this morning it had enough swab testing kits and personal protective equipment to carry out more than 2,000 swabs today alone.
Mr Quinlan said: "Anyone that is on-site when we arrive will get swabbed. If you have 70 residents and 40 staff on duty, they'll get swabbed. And if we are still there when the next group of staff arrive into work, they'll get swabbed as well."
He said that enough personal protective equipment (PPE) to do a similar number of tests is expected to arrive tomorrow for his teams to continue this scale of testing.
The @AmbulanceNAS is at the forefront of the operation to swab residents & staff in long term residential care- heres some of the North Leinster team heading off this morning. So far @HSELive says 4,000 swabs done since Friday @rtenews pic.twitter.com/zGG8O4aMXX

— Laura Hogan (@LauraHoganTV) April 19, 2020
During this morning's briefing, those carrying out these swab tests were reminded about the proper use of masks and personal protective equipment, and told "you guys have to come home after this".
Once the swabbing is completed, the samples will be returned to Dublin to be sorted and sent off for laboratory testing.
While health authorities said that nursing homes and other long-term settings are a priority for them during this crisis, Paul Reid said that 60% of nursing homes have no cases of the Covid-19 virus.
---
Read More:
HSE says 'zero backlog' in Covid-19 testing
What is the worldwide impact of Covid-19 on nursing homes?
---