Chief Medical Officer Dr Tony Holohan has produced a new graph that indicates a different story about the number of daily deaths in Ireland from Covid-19 to date.
He explained that what the National Public Health Emergency Team reports on a daily basis is the number of deaths notified to them on any particular day rather than the numbers who actually died on that day.
He said that it can take a few days or even longer before any particular death is actually notified to them.
The new graph depicts the number of daily deaths that occurred in any 24-hour period.
This analysis paints a very different picture to that suggested by the figures published to date.
It suggests that daily deaths may have peaked ten days ago on 7 April at 39 deaths, although the reported total that day was 36.
It also reveals that broadly for three weeks before 10 April, the daily reported death toll under-represented the reality of how many people died each day. But in the past week, the daily reported total has been over-representing the actual number of deaths that occurred.
The number of additional deaths officially reported for Friday 17 April is 44, the highest yet. But in reality, only 20 of those deaths actually occurred on Friday.
Based on this current data, the graph indicates the number of daily deaths from Covid-19 in Ireland have reduced since peaking ten days ago.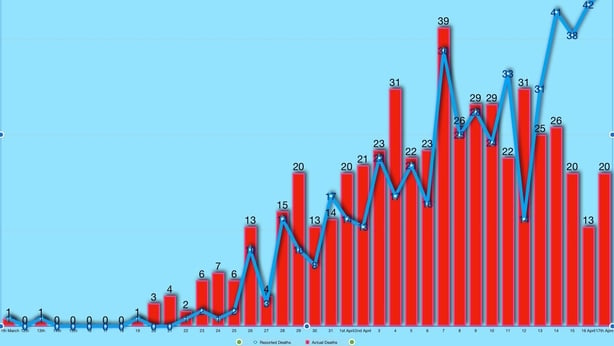 Dr Holohan said, however, this cannot be yet interpreted as a real drop off in mortality.
"That could be just a delay in the notification of those deaths. We have to wait to understand this. There is always a time lag between incident numbers, admission to hospitals and then mortality."
The Chief Medical Officer also pointed out that people have three months to notify the authorities of a death and not all deaths are notified until the end of that period.
He said he has written to funeral directors asking them to work with families to encourage them to notify earlier.
Latest HSPSC figures show 4% fatality rate
Latest detailed data suggests that Ireland has a 4% case fatality rate for Covid-19.
Data from the Health Protection Surveillance Centre is based on 13,012 cases of the virus reported up until midnight on Wednesday 15 April.
From these confirmed cases, 521 people died, giving this 4% mortality rate.
More than 2,000 people with the virus (16%) have been hospitalised, and of these 14% were admitted to intensive care (294).
We know from the most up to date figures presented by the Chief Medical Officer last night that one third of people admitted to ICU with the virus so far are recovering and being discharged from ICU.
To date, 45 patients who were being treated in ICU have died. A further 153 people are still in intensive care.
Dr Tony Holohan said that the numbers being admitted to ICU are continuing to drop.
The HPSC data up to midnight on Wednesday shows there are 436 clusters of infection, linked to 2,723 individual cases.
This 436 figure includes 159 clusters in nursing homes, 68 clusters in residential institutions, 63 clusters in hospitals, and 23 in community hospitals or long stay units.
The HPSC said a cluster is reported when two or more cases are linked.
The percentage of healthcare workers infected with the virus is holding steady representing a quarter of all confirmed cases, however the number has increased to 3,347 people (25.7).
Dublin has the largest number of cases - 6,567 or 50%. Cork has the second highest number (945), followed by Kildare (621) and Meath (421).
While Dublin has the most cases, Co Cavan has the second highest incidence rate of the virus per 100,000 of population.
This data up to Wednesday shows Cavan has 345 confirmed cases.
Additional reporting: Laura Hogan