The man shot dead in Belfast was a notorious Dublin criminal and was a suspect for the murder of 17-year-old Keane Mulready-Woods.
The 35-year-old who lived in Co Meath was shot a number of times at Etna Drive in the Ardoyne area of the city.
The victim is well known to gardaí for his involvement in serious and organised crime.
He was a senior figure in one of Drogheda's feuding criminal gangs and a suspect for the abduction and murder of Keane Mulready-Woods whose dismembered remains were found in Dublin.
He was also a suspect for a number of other gangland murders including those of Kenneth Finn and David Lynch.
He had over 100 previous convictions and had been most recently released from prison in December last year.
He was subsequently warned by gardaí that his life was in danger.
He is believed to have travelled north this morning and three other men suspected of travelling with him have been arrested by the PSNI.
They are being detained at Musgrave Police Station on suspicion of murder.
The gardaí are liaising closely with the PSNI.
PSNI Detective Superintendent Jason Murphy said: "It is too early to speculate on the motive for the murder. I can confirm that I am following a number of lines of inquiry in respect of the investigation.
"A light-coloured car, registration YLZ 7052, was found burned out in nearby Kingston Court and I am currently seeking to establish what relevance this car has to my investigation."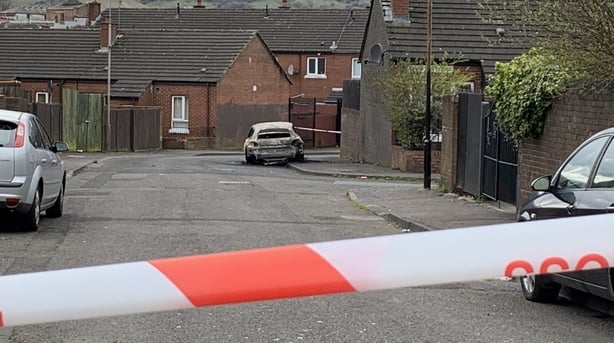 He appealed for anyone who saw the car around the time of the shooting to come forward.
SDLP North Belfast Councillor Paul McCusker said the man was shot in a garden this morning.
Northern Ireland's Justice Minister Naomi Long condemned the murder.
Ms Long said: "I unreservedly condemn this senseless murder and offer my deepest sympathies to the family.
"Those responsible for this appalling crime have left a family grieving and a community in shock. There is no place for the gun in our society and it is time to stop these attacks.
"This appalling crime places additional pressures on our first responders, at a time when they are already dealing with the Covid-19 pandemic and all of the challenges that brings with it."
Additional reporting Gail Conway