Fourteen more patients with Covid-19 have died, the Department of Health has announced - the highest number of deaths recorded here so far.
There have now been 36 deaths in total related to the virus in the Republic of Ireland.
The National Public Health Emergency Team said the 14 deaths were of patients in the east of the country. 
The statement did not report them as having any underlying conditions. 
The median age of the 14 additional reported deaths is 81.
294 new cases of the virus were also announced, bringing the total number of cases to 2,415.
Analysis of the cases so far shows that 53% are male and 46% are female.
There are 14 clusters based in nursing homes and 13 in hospitals as well as three in residential institutions. 445 cases are associated with healthcare workers.
The median age of the confirmed cases is 46 years old. And 70 people are being treated in intensive care units.
Dublin has the highest number of cases at 56% followed by Cork at 10% and community transmission accounts for more than half of the cases where the transmission status is known.
In a statement, Chief Medical Officer Dr Tony Holohan said: "Today, we have our highest recorded number of deaths so far. Our condolences are with the family and friends of all patients who have died as a result of Covid-19.
"We thank all citizens who have complied with restrictive measures, who continue to follow public health advice and remain concerned for those around them.
"We must remain focused in our shared efforts to prevent the spread of this infection, to prevent severe illness especially that which requires ICU admission and ultimately save lives." 
Two further people with coronavirus have died in Northern Ireland, taking the region's death toll to 15.
There were 49 new positive cases of Covid-19 reported there today, bringing the total number of confirmed cases in Northern Ireland to 324, according to the Public Health Agency.
Around 80% of cases of Covid-19 will be a mild to moderate illness, close to 14% have severe disease and around 6% are critical.
Generally, you need to be 15 minutes or more in the vicinity of an infected person, within 1-2 metres, to be considered at-risk or a close contact.
A mandatory order for everyone to stay at home for a two-week period until 12 April, apart from certain exceptions, came into effect across the country.
The significantly stronger measures to boost the fight against Covid-19 came into effect at midnight last night, and include people only being allowed to leave home for essential work, to buy food, or for certain vital reasons such as attending medical appointments. 
Shielding or 'cocooning' for all those over 70 years of age and certain categories of people who are vulnerable to Covid-19 was also ntroduced.
Earlier today, Minister for Health Simon Harris has said the current measures introduced by the Government were "as tough as it can get".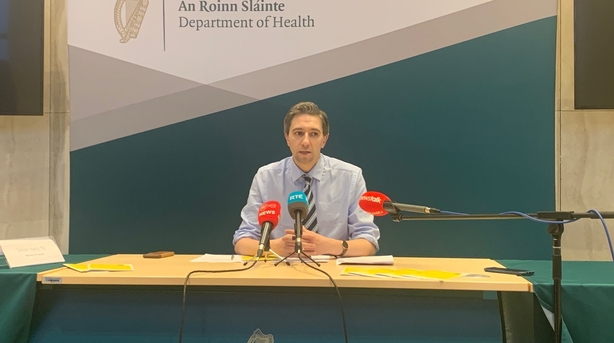 But he said they were brought in to save lives.  
However, he said the measures were so restrictive and so challenging that he was not sure they could be sustained for much longer than the two weeks already signalled by the Government.
Mr Harris said he would hope to see a reduction in our reliance on intensive care beds within ten days to two weeks.
He said the measures would be evaluated on Easter Sunday but he said everything was "not going to be fine" in two weeks' time. 
The minister said he would be signing the regulations giving effect to the legislation which gives gardaí stronger powers to enforce the restrictions, tomorrow morning.
---
Read More: 
New restrictions: Exceptions for leaving your home
Covid-19: The race against time
Garda operation under way as new restrictions begin 
Latest coronavirus stories 
---
Minister Harris held a teleconference with medical professionals to discuss the latest situation. The Taoiseach also joined the meeting.
Mr Harris said the HSE had hired an additional 260 nurses and 63 doctors and was continuing to process further applications.  
He said they also wanted to make use of the skills of those who had applied to help the HSE but did not have a medical qualification. 
Minister Harris said the first consignment of personal protective equipment from China was due into Dublin Airport tomorrow afternoon and the HSE would begin distributing it tomorrow evening.  
He said an agreement with the private hospitals to get access to their capacity, particularly in relation to ICU beds and ventilators was almost completed and that would bring 2,000 extra beds into the system next week including almost 200 additional Intensive Care Unit beds. 
He urged older people not to be frightened by the cocooning measures the Government was asking for. He promised them the Government would not leave them alone. 
The minister said young people had been the ones who led social change and had a strong social conscience.
He said this was a global pandemic and urged inter-generational solidarity and for people to look out for each other. 
Additional reporting: George Lee