Garda Commissioner Drew Harris has said that gardaí will lead a campaign to encourage and inform the public in the current crisis "but also to enforce HSE advice to try to reduce the social transfer of Covid-19".
Gardaí have begun a major policing operation to support public compliance with the emergency health restrictions that commenced at midnight.
Over 2,500 gardaí are on duty across the country to ensure that people are observing the restriction measures, to reassure them and to make sure people are travelling safely on the roads.
Commissioner Harris said gardaí will be stopping people to check that their journey is essential and to check their identification.
Essential journeys include to a medical appointment or chemist, grocery shopping or a trip to an essential workplace.
Exercise within 2km of your home is also allowed, but not trips to a place of exercise.
Commissioner Harris said gardaí are taking a graduated response to engage with people, inform and persuade them to engage with the new emergency regulations now in place.
Further emergency powers are expected to be signed into law this weekend.
Over 2,500 gardaí are on duty right across the country today, says Garda Commissioner Drew Harris, to provide reassurance, along with their usual duties in preventing crime | https://t.co/ACkRXeO1aq pic.twitter.com/65PrIE4JLx

— RTÉ News (@rtenews) March 28, 2020
Mr Harris said the force has been very careful to ensure it can continue to police organised crime and other criminal elements during this time.
The difficulty, he said, is there is some people in society who will make poor choices and there is a whole array of options for the gardaí to deal with those people.
He also warned people to watch out for many scams aimed at deceiving people by selling testing kits and "snake oil" cures.
Commissioner Harris said that gardaí will preserve public confidence in the force and its ethos of community policing by making sure vulnerable people get assistance and urged the public not to panic buy as the supply chains were working well.
---
Read more:
'Stay at home' - Further Covid-19 restrictions
People can only leave home for specific circumstances
Who are the essential workers free to travel for work?
Latest coronavirus headlines
---
Gardaí say they acknowledge that the vast majority of people are being responsible and implementing social distancing guidelines while staying active and taking exercise and fresh air.
There are a large set of essential workers in this country … so there'll still be a lot of people moving to work, says Garda Commissioner Drew Harris | https://t.co/ACkRXeO1aq pic.twitter.com/w319pTC8cS

— RTÉ News (@rtenews) March 28, 2020
They say enforcement is a last resort but they will intervene where venues or groups of people are not in compliance.
Commissioner Harris said their priority is to keep people safe and the policing operation is about providing reassurance and social distancing advice to the public.
Surge in demand for grocery home deliveries, say retailers
Retailers have said they have experienced a surge in demand for grocery home deliveries.
Consumers are opting to avail of home delivery to avoid visiting supermarkets.
Tesco has said it is receiving an extremely high number of bookings on its systems with a large number of customers signing up to the service for the first time.
As a result, the retail giant says there are significant delays in receiving a slot for home delivery.
A spokesperson for Tesco has told RTÉ News they are seeking to prioritise over 65s and they are asking customers who are in a position to visit the supermarket to do so, to ease pressure on the online delivery system.
Tesco has also said that it is seeking to improve and enhance its service to help cope with delays.
Meanwhile Supervalu has said it has also seen a huge surge in demand for online deliveries in the past three weeks.
At present, Supervalu customers are experiencing significant delays getting a time slot and delivery date for home delivery.
Gardaí have been involved in checks at supermarkets all over the country today.
Uniformed officers have been observing physical distancing practices and crowd numbers in stores.
In some instances gardaí intervened to ensure that numbers in store were reduced in line with public health guidelines.
Some popular areas which were thronged in recent weekends, even under the guidelines on social distancing, are all but empty today.
In Tramore in Co Waterford, gardaí made a decision this morning to close the promenade to cars because of concern about people arriving from outside the area to park and then walk along the seafront.
Normally busy on spring Saturdays, the prom is practically deserted, with the nearby shops closed and the beach and walkway dotted with a handful of walkers.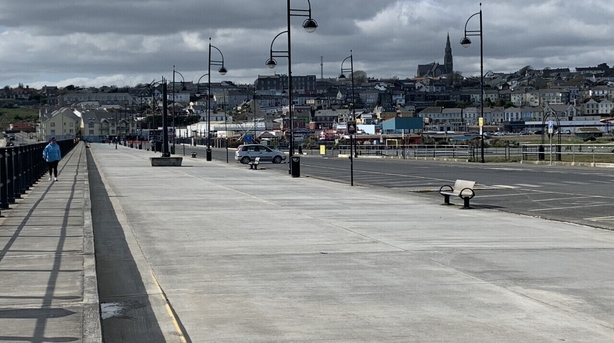 Gardaí say that the vast majority of people are adhering to the new restrictions, but multiple patrols are in place to prevent social gatherings.
Another beauty spot which would normally be packed at this time of year is the Parade in front of Kilkenny Castle, often the venue for kiosk-sellers and market traders as well as a draw for tourists and locals alike.
The castle is closed as is the Castle Park, which is another popular attraction.
Gardaí were out on bicycle patrol in the area and other parts of Kilkenny.
The Waterford Greenway had some activity this morning until an appeal went out on local radio for people to stay away from the route.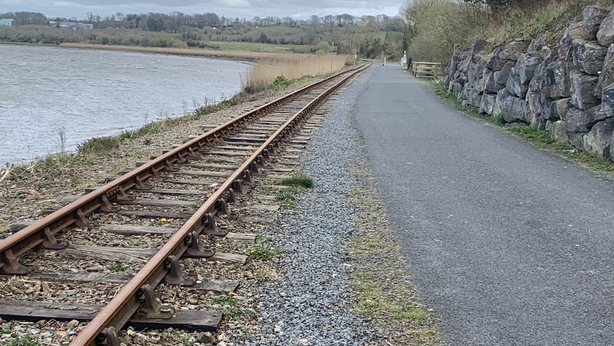 Early this afternoon, the Greenway car parks at Carriganore and Mount Congreve were empty, and the walk itself was also clear.
Additional reporting Conor Kane