A fourth person has died of Covid-19 in the Republic of Ireland while 121 new cases have been confirmed.
The Department of Health said that the man who died was from the east of the country and had an underlying health condition.
There are now 906 confirmed cases of Covid-19 in the state, which is an increase of 15.4% on yesterday's figures.
The median age of confirmed cases as of midnight on Friday is 44 and 211 people have been hospitalised. 
The HSE said this morning that 29 people are in ICU.
They also said that 22% of cases are associated with healthcare workers. 
Dublin has the highest number of cases, followed by Cork and there is now at least one confirmed case of Covid-19 in every county in Ireland.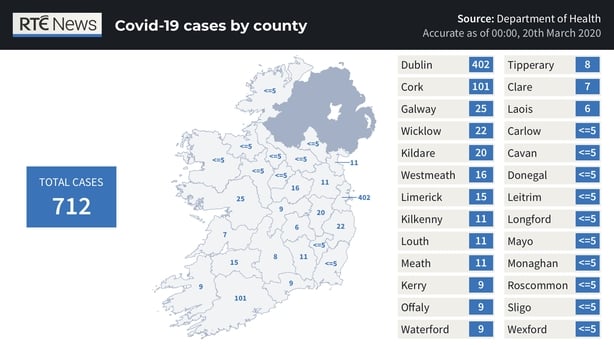 Of those for whom transmission status is known, community transmission accounts for 44%, close contact accounts for 23% and travel abroad for 33%.
There are 1,034 confirmed cases on the island of Ireland.
Chief Medical Officer Dr Tony Holohan said he wanted to extend his condolences to the family and friends of the patient who died today. 
He said these new cases were most likely exposed to Covid-19 before the introduction of the public health measures implemented on Friday 13 March. 
And he reiterated that it was vital that everyone complied with the public health advice on hand and cough hygiene, working from home where possible and practising social distancing of 2m.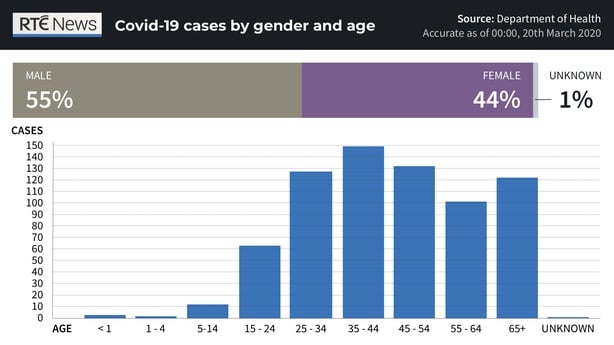 Dr Holohan also said public health doctors carrying out contact tracing were advising that confirmed cases were now reporting fewer contacts, which he said was an encouraging sign that people were following the public health guidance. 
He acknowledged the efforts of everyone adhering to public health advice and said they were actively helping to "flatten the curve" and limit the spread of the virus. 
Dr Holohan said anyone waiting to be tested should act as though their test is positive and should self isolate while waiting.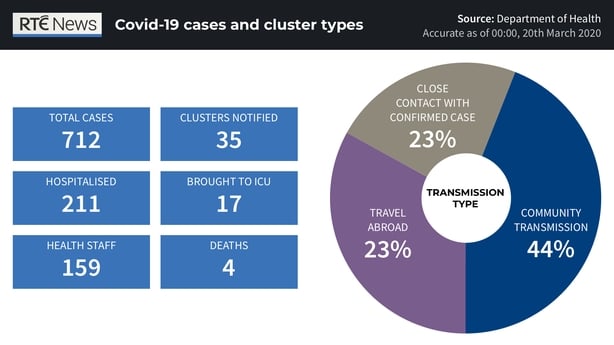 The current wait time for a Covid-19 test is around five days with approximately 40,000 people waiting to be swabbed, the HSE said.
It expects the backlog to be tackled in the coming days. 
HSE Chief Executive, Paul Reid, acknowledged there was a delay in people being tested for the Covid-19 virus.
But he said progress had been made with 40,000 kits being distributed at the moment and 20,000 more would be available on Wednesday.
He said the HSE was in advanced negotiations with China to secure another 100,000.
Community testing for the virus will also be increased from Monday.  
Across Ireland, 50 test centres have been set up. There are 35 are currently operational including the LE Samuel Beckett which began operating as a test centre on Sir John Rogerson's Quay in Dublin this morning.
The largest centre is at Pairc Ui Chaoimh in Cork, which will be able to test 1,000 people each day.  
Mr Reid said in the coming weeks the public would witness the Health system under stress like we had never known before. 
Around 80% of cases of Covid-19 will be a mild to moderate illness, close to 14% have severe disease and around 6% are critical.
Generally, you need to be 15 minutes or more in the vicinity of an infected person, within 1-2 metres, to be considered at-risk or a close contact.
Earlier, Dr Holohan said there were "encouraging signs" that measures introduced to slow the spread of Covid-19 could be working.
He said that public health doctors who are carrying out contact tracing report that the majority of contacts now being identified are "mostly household contacts".
He said that this tells us people are following guidance, they are not out and about and contacting significant numbers of people.
"That's giving us good encouragement that we might see an impact over the next one to two weeks", he said.
Dr Holohan said the risk of contracting Covid-19 in Ireland remains low, but "it is increasing."
Of all of the cases that are tested, a percentage of those are positive. "That's gone from 1% to 2% to 4%," he pointed out.
He added that he "expects to be reporting a further doubling of that this week and that means the virus is more common in the community," and urged anyone with symptoms to suspect Covid-19 is causing the symptoms. 
Dr Holohan said that while there is currently a delay in testing, people waiting should still stay at home and isolate, along with their household contacts. 
" Imagine or pretend it is the disease, assume that that's the diagnosis until you hear and even if you're waiting longer than you would like or we would like, assume the diagnosis is positive. 
"Follow advice of public health doctors, isolate and your household contacts should also isolate.
"That is the measure that will interrupt and delay and slow the transmission of the virus in the population."
If health officials do not see an impact of the current measures like social distancing to combat the virus, they "will not hesitate" to recommend further measures to the Government.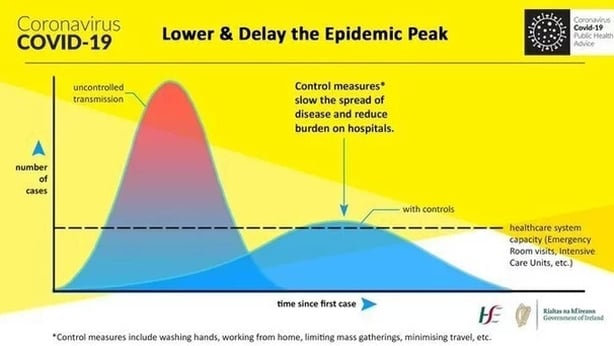 Meanwhile Minister for Health Simon Harris has warned that if people gather in large numbers in public areas they are not maintaining social distancing. He said he understands people need to get out and exercise but they need to maintain the two metre distance from others.
Speaking at a press briefing at the Department of Health, he said the National Health Emergency Team will be looking again in coming days on measures required to slow the spread of the coronavirus and if new restrictions or advice are needed.
Asked if a lockdown is on the cards he said that any decision "will not be based on my political gut or populism but on the public health evidence" and the National Health Emergency Team will be discussing what needs to be done when it meets on Tuesday.
Mr Harris thanked retailers who had taken measures such as putting tape on the floor to encourage people to maintain a safe distance but said this is not happening everywhere.
March 22, 2020
He said that anyone operating at a popular location who finds they cannot operate safely they should show leadership and close it down in the way that Wicklow County Council did with the car parks and food franchises at Glendalough.
Mr Harris said the HSE has done a very good job increasing testing capacity but is trying to put in place a system that would normally take months to put in place in the matter of a few days.
He said the Chief Medical Office has said that if social distancing works the rate of growth in new cases should begin to slow down by the end of this month or the begininng of April. There would still be new cases but at a slower rate than before. He said that is the big prize that every citizen is working towards.
---
Read more:
From here in the US, home has never felt so far away
Retired GP: 'I want to come back and help people'
Warnings were ignored - then Covid-19 struck
---