The global spread of the coronavirus has reminded us all how small our world is but for many of us living abroad, we've never felt further from home.
The St Patrick's Day period is about celebrating a shared sense of Irishness that connects us around the globe but with travel bans, flight restrictions and social distancing those bonds are being tested right now.
The annual White House visit by the Taoiseach is always a busy time but this year's event was like no other.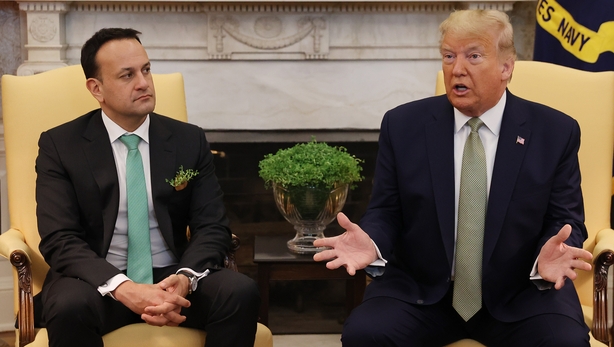 For a time, it wasn't even clear if the trip would be going ahead at all.
In the end it did, but in a far more scaled-back way.
News broke of Donald Trump's travel ban on European flights while we were at the first of Leo Varadkar's US engagements but this shock decision would be surpassed a few hours later by the Taoiseach's own dramatic announcement.
Standing a few metres from the White House, he confirmed that back home in Ireland schools would be closing, mass gatherings banned and workers would be encouraged to work from home.
A week later, Mr Varadkar made another statement, this time from Dublin. We watched his St Patrick's Day address from our home in Washington as I'm sure thousands of Irish expats did around the world.
We need your consent to load this rte-player contentWe use rte-player to manage extra content that can set cookies on your device and collect data about your activity. Please review their details and accept them to load the content.Manage Preferences
He spoke of coming together by staying apart. A statement that felt all the more poignant for those who are thousands of miles from home.
Around 80% of cases of Covid-19 will be a mild to moderate illness, close to 14% have severe disease and around 6% are critical.
Generally, a person needs to be 15 minutes or more in the vicinity of an infected person, within 1-2 metres, to be considered at-risk or a close contact.
When it comes to the coronavirus here in Washington, most of the focus is on the daily media briefings being given by US President Donald Trump, but surrounding the White House is a city that has ground to a halt.
The National Mall is a long strip of land framed by some of the city's best-known monuments and museums, now all closed.
There was some activity on the Mall this week with groundskeepers trimming the lawns which are lined by cherry blossom trees, currently in full bloom.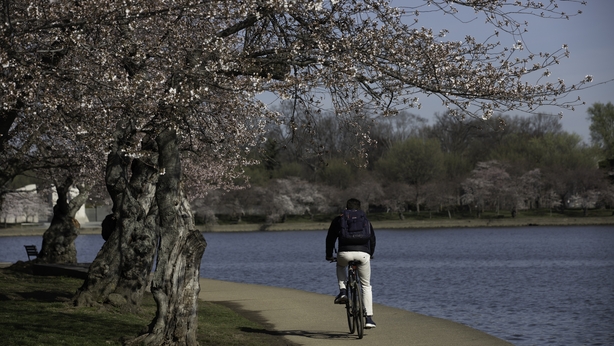 It was idyllic scene that would normally attract lots of tourists and office workers on their breaks but only a handful of people were out and about, among them Patricia Ripley.
She's been working from home since early on in the coronavirus outbreak because as a cancer survivor, she is in a high-risk category.
"I went through chemotherapy and radiation a couple of years ago so that was kind of like boot camp training for this in terms of social distancing and good hand hygiene," she said.
"A lot of my survivor friends were really well aware of what we need to do, tapping into grocery deliveries and leveraging the healthy folk to help the high-risk folk and there's a big community spirit here in DC."
Jack Gunsten is from Missouri and was working as an intern on Capitol Hill.
"I'm actually leaving Washington because of this. Everything's been shut down and it's just becoming harder to do anything," he said.
Scott Cullinane's travel plans have been disrupted.
"I have family near Galway and I was hoping to be with them this week. Now that's not possible but I am hoping to make it to Ireland when all of this disruption is over," he said.
Not far from the National Mall is a Spanish restaurant called Jaleo. Like all eateries in Washington, it has been ordered to close except for offering takeaway and delivery options.
At Jaleo, a community kitchen has been set up.
Food is available at reduced prices and if you can't pay you'll get your meal for free.
Peter Johnson is the General Manager of Jaleo and says there is a lot of uncertainty and nervousness in Washington right now.
"The world has never gone through anything like this before. That's why we're here, to maybe take some of the pressure off those who are struggling and provide them with some food," he said.
Markings on the street outside the restaurant ensure diners who are lining up for food practice social distancing.
Among those in the queue was Tyese Browne who has lost her job as an in-home carer because of the virus.
"My clients are afraid to let anyone into their homes because they are elderly and high-risk so the situation now is I don't even know how I'm going to pay my rent this month," she said.
"I have to find different ways to get food so I think this community kitchen is a great thing."
Tyese said that having to queue for free food was a little demoralising but she is trying to stay positive.
"We have to protect ourselves but we also have to work, we have to eat, we have to live. My message for people is not to be afraid," she said.
It is a message of hope that rings true for us all right now, no matter what country we are in.